Let's face it over the past twenty or so years the Irish Pub has become a global phenomenon. From Cairo to Chicago and from Stockholm to Sydney, you can bet your bottom dollar you'll be sure to find an Irish themed pub. Like French restaurants or Italian pizza parlours, the Irish pub has become a worldwide marketing entity. But! And it's a big but; many of these far-flung bars are just that — foreign, marketing ploys designed to cash in on what is quintessentially Irish and can only be Irish. In this feature, journalist and occasional pint drinker, Ger Leddin looks at ten things that make an Irish pub special for the visitor and locals alike.
1. Age and experience
The Irish have been drinking alcohol since Adam pulled his first pint for Eve, or thereabouts. In fact, rumour has it that the apple with which Eve tempted Adam was intended to be shipped to Ireland to make cider. But seriously the oldest pub not only in Ireland — and there are a few which make that particular claim — but on the continent of Europe is reputed to be Sean's Bar in Athlone. Well, that's according to the Guinness — familiar name — Book of Records. Sean's dates back to the year 900 AD. While the bar staff has changed occasionally since then, it's not often you can sit and sip in a bar which is almost two-thousand years trading. In fairness they must be doing something right, mustn't they?
2. A Place Where Everybody Knows Your Name
Where Everybody Knows Your Name is the theme song from the nineties American sitcom, Cheers, staring Ted Danson as barkeep Ted Malone — Malone, now there's an Irish name — in the Irish 'parish' of Boston Massachusetts. But it's true; all regulars of a true Irish pub will be recognised and called by their first name. Even if you're a first-time visitor most good Irish barmen will do their level-best to recognise and salute you on any future visit.
From O'Donoghue's one of the oldest and busiest pubs in Dublin to Joseph McHughs in the tiny seaside village Liscannor in West Clare, a good Irish barman will have your name the next time you visit.
3. Decor
As Ripley said, "believe it or believe it not." During the early part of the 19th century, Ireland had an active temperance movement. Founded by the Catholic priest Fr. Theobald Mathew in 1838 the Teetotal Abstinence Society did its best to rid Ireland of the 'Demon Drink' this growing temperance movement and the subsequent decline in alcohol sales forced many Irish pub owners to diversify their business slightly. Many pub owners chose to combine the selling of alcohol with the selling of groceries, in order to make up for lost revenue. This resulted in a unique Irish pub architectural genre known as the long-bar, with fifty-percent of the width of the premises behind the bar allowing for the display of both alcohol and groceries and fifty-percent allocated to customers. Many pubs in Ireland still maintain this feature, The Long Hall pub in Georges Street Dublin would be a fine example of this traditional design.
4. Spontaneous Traditional Music Sessions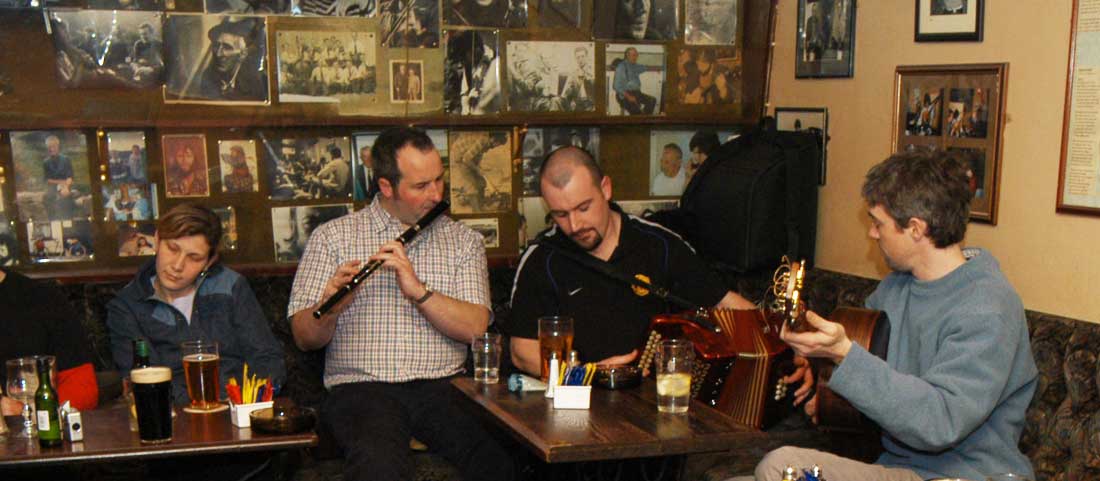 Stay a while in any traditional Irish pub and you're bound to witness that little bit of magic when somebody produces a fiddle and starts softly playing. Lo and behold, the next thing you see is someone else starting to strum a guitar. Then from out of his pocket a big hairy chap will pull a tin-whistle and before you know it you're listening to the best of music; music that can be as diverse as The Beatles to a few jigs and reels. While Siobhan sings a few songs you take a few sips from your pint, order another and soon you too are singing along in what you hope is perfect harmony. That's part of the magic, just go with the flow.
5. The barman as a Father Confessor
Not many people are aware of this but I'm going to let you in on a little secret. You see all Irish barmen are subject, priest-like, to the seal of the confession. Basically, this means if you tell them something, that's it, it won't go any further. If you go into any real Irish pub at about three in the afternoon, when it's quite and not busy you'll notice the barman quietly hearing the confessions and innermost thoughts of one of the regulars. They will most probably be huddled, heads close together, one on one side and the other on the other side of the bar, and with muted voices, sins are confessed and penance dispensed. Then a drink is bought and the age-old incantation of "sur you'll have one yourself," is muttered and everyone is happy. This ceremony is not to be confused with the traditional Cheltenham racing festival week, when of an afternoon and upon wandering into a pub, you might come across barman and customer huddled in the same conspiratorial position. Only this time they will likely be whispering racing tips, with no thought of sin or penance.