Guinness in Dublin is like pizza in Rome or baguettes in Paris, it is the fruit of our people, and damn, we do it well! In fact, the St. James's Gate Brewery which was founded by Arthur Guinness himself in 1759 is located on the River Liffey in Dublin city.
People come from far and wide to experience a pint of Guinness in Dublin, and for those who are local to Dublin town, it's as commonly consumed as a cup of tea.
For all of you curious to know where to get the best pints of Guinness in Dublin, check out these top 10 places!
10. Kehoe's Pub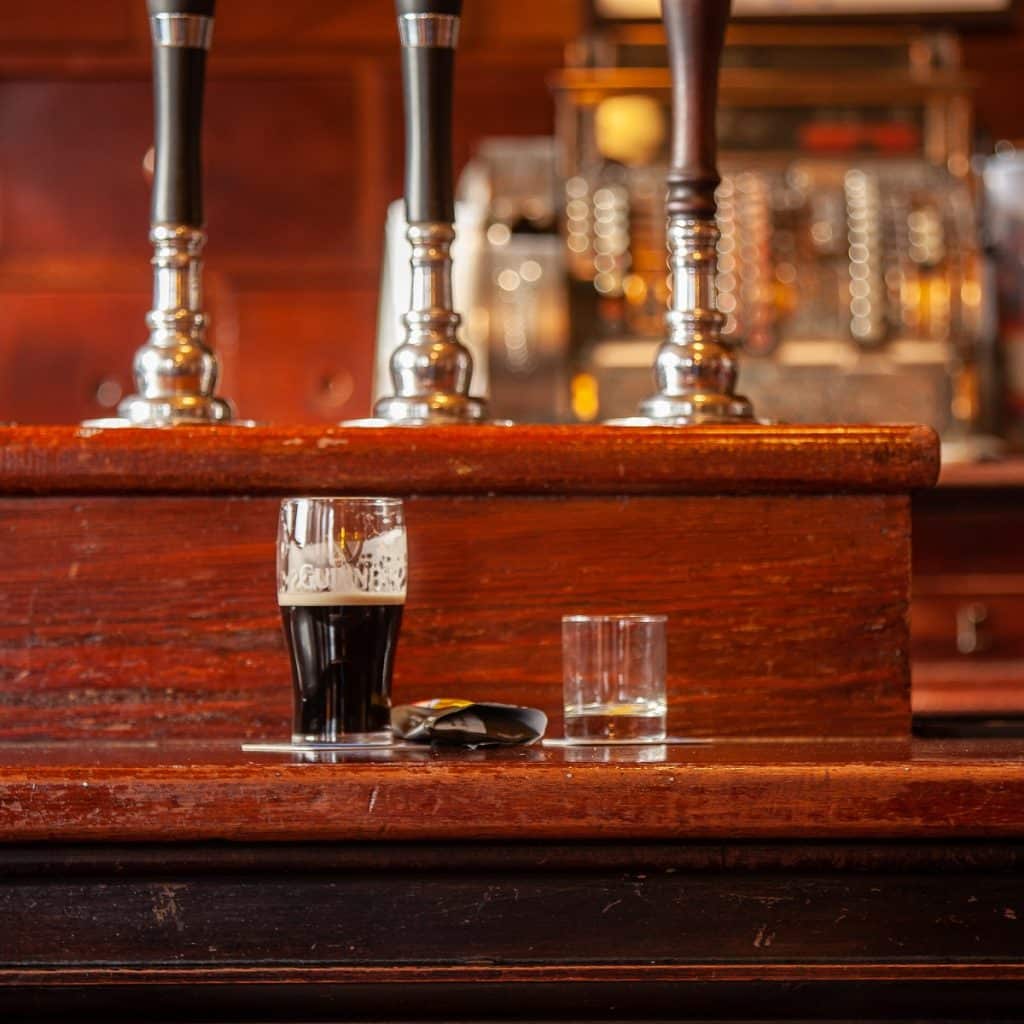 Kehoe's is a traditional Irish pub located in the heart of Dublin city on South Anne Street (just off Grafton Street – the leading retail destination in the capital). It is small and snug and mostly crammed with locals who B-line to the watering hole when the day is done for the freshest pour of Guinness.
Traditional décor, cosy snugs for intimacy and a strong accent on wood make this one of the most atmospheric pubs on the go in Dublin city, not to mention its Guinness is second to none!
Location: 9 South Anne St, Dublin 2, Ireland
9. McDaid's
Another top pub, just off the main shopping street (Grafton Street) in Dublin city is McDaid's. This is another traditional Irish pub through-and-through, so it comes as no surprise that Guinness is the drink of choice here. Saying that, this has got to be one of the best pints in all of Dublin town.
Location: 3 Harry St, Dublin 2, Ireland
8. O'Donoghue's
Not far from Stephen's Green Park in Merrion Row is O'Donoghue's, a classic Irish pub with one of the best atmospheres in all of Dublin. Expect live music, friendly locals and some of the creamiest Guinness you'll find all across the Emerald Isle.
They even have a B&B above, should you have one too many pints of "the black stuff" (a.k.a Guinness)!
Location: 15 Merrion Row, Dublin 2, Ireland
7. The Stag's Head
This little local spot is somewhat of a hidden gem. It sleeps on a side street close to Dame Street and Grafton Street, but is often off the beaten track for tourists, meaning that locals who love their Guinness end up here often! Saying that, it's a super laid-back vibe, so come one come all!
Location: 1 Dame Ct, Dublin 2, Ireland
6. Mulligan's
Situated on Poolbeg Street, close to the River Liffey and Tara Street DART (Dublin Area Rapid Transit) Station is Mulligan's, a local haunt that serves one of the finest pours of Guinness in all of Dublin. Mark our words, if you weren't a fan before, you will be after one sip of Guinness at this pub.
Location: 8 Poolbeg St, Dublin 2, Ireland
5. Neary's
Neary's is a fine old bar in Dublin city. It is one of the few traditional pubs that has refused to change with the time and remains void of televisions and music – just like the ole' days! Not only does it pour one hell of a Guinness but it is also a UNESCO City of Literature Bar.
Location: 1 Chatham St, Dublin 2, Ireland
4. The Palace Bar
The Palace Bar is an oldie Victorian Irish pub with endless charm and character. The Guinness here is just another reason to love this place, and believe us: it's some of the best in Dublin!
Location: The Palace Bar, 21 Fleet St, Temple Bar, Dublin 2, Ireland
3. The Long Hall
This is one of the oldest pubs in Dublin. With a charm that takes you back to the Victorian era and Guinness to boot, we bet this will become a regular on your rotation of Dublin city pubs.
Location: 51 South Great George's Street, Dublin 2, Ireland
2. Toner's
Toner's proudly state that they serve one of the best pints of all Guinness in Dublin, and truth be told: we have to agree with them. Toner's also has an epic beer garden – the place to be for post-work pints.
Location: 139 Baggot Street Lower, Dublin 2, Ireland
1. Grogan's
This is your typical no-nonsense Irish traditional pub: small, cosy, atmospheric and packed with pints of Guinness. It's safe to say, this is the best pint of Guinness in all of Dublin. Don't believe us? Give it a try for yourself!
Location: 15 William St S, Dublin 2, Ireland
Get featured on Ireland Before You Die
Do you want to get your Irish business more online exposure? Especially to those interested in travelling the best places in Ireland? Then why not get a dedicated feature on Ireland Before You Die. Find out more 
here.