Ireland is consistently being chosen as a destination to shoot scenes and make epic movies. Here are ten famous filming locations in Ireland you can actually visit.
Our magical landscape and mythical structures make Ireland a haven for directors to film. From North to South and East to West, you'll constantly find remnants of history, such as abandoned houses, old forts or castles and rugged wild landscapes, that have been the backdrop throughout the years to famous movies.
With steep cliffs, stretches of wild coast and small quaint towns, Ireland is the perfect setting for any director to choose. Many films and TV shows have been shot in Ireland over the years, some of which may be surprising, and some of which most will already know.
Without further ado, let's take a look at 10 famous filming locations in Ireland you can actually visit.
10: Curracloe Strand – for the D-Day landings
Film: Saving Private Ryan, Brooklyn
Believe it or not, this long sandy stretch of beach, popular for locals and tourists, was actually the scene recreating the D-Day landings in Normandy; Curracloe Strand doubled as Omaha Beach!
Not only was this its claim to fame, it was also featured in the movie Brooklyn, when Saoirse Ronan's character returns home, and walks this very beach with Domhnaill Gleeson.
Address: Coolrainey, Curracloe, Co. Wexford, Ireland
9: Kilmainham Gaol – discover Ireland's history
Film: Michael Collins
This popular tourist attraction in Dublin City Centre has been featured in many movies, one of the most famous being Michael Collins, with a starring role from Antrim actor Liam Neeson. With all the history to discover, this is one of the most famous filming locations in Ireland.
Address: Inchicore Rd, Kilmainham, Dublin 8, D08 RK28, Ireland
8: Dingle Peninsula – bringing Hollywood to Kerry
Film: Ryan's Daughter
During a time when Ireland was quite different than it is today, the production of this movie brought Hollywood to the small peninsula of Dingle. The movie directors even building a false village they called Kirrary especially for the movie, making this one of the most famous filming locations in Ireland.
7: Wicklow Mountains – one of the most famous filming locations in Ireland
Film: Vikings
Featuring many spots around the Wicklow Mountains as well as Blessington Lakes and Powerscourt Waterfall, you'll have a lot to discover in Ireland's Ancient East if you are a Vikings fan, and if you are then this will certainly be one of the best and most famous filming locations in Ireland for you.
6: The Cliffs of Moher – use your wizardly skills
Film: Harry Potter
The Cliffs of Moher and Lemon Rock were both featured in the sixth Harry Potter film, Harry Potter and The Half Blood Prince, an amazing area worth visiting even if you haven't seen the movie. There are also many other movies that feature the Cliffs of Moher.
Address: Lislorkan North, Co. Clare, Ireland
5: Grafton Street – sing alongside the buskers
Film: Once
Follow in the footsteps of 'Guy and Girl' as you stroll along Dublin's most famous pedestrian street. Watch buskers perform here, just as Glen Hansard also did in the movie.
There are also many other sights to spot from the movie in and around Dublin such as Stephens Green and Killiney Hill.
Address: Grafton Street, Dublin, Ireland
4: Cong, Co. Mayo – a quiet tour of the Galway/Mayo border
Film: The Quiet Man
Situated smack bang on the border or Mayo and Galway, this town was put on the map having been featured in this John Wayne and Maureen O'Hara classic.
There is a museum in the town dedicated to the movie and you will also spot the statue of the pair in the village. Guided tours are available to take you to more of the movie's locations.
3: Trim Castle, Co. Meath – a famous filming location in Ireland from a famous movie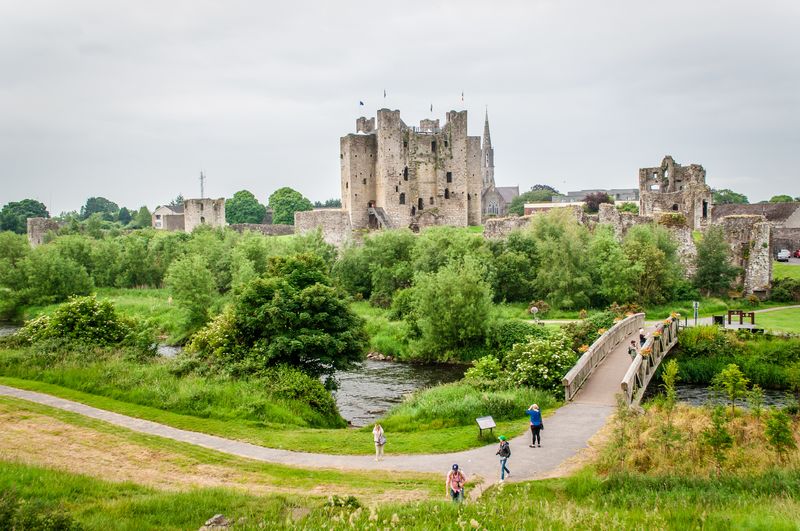 Film: Braveheart
Yes, this movie about the first Scottish War of Independence was, in fact, shot in Ireland. One of the main places is Trim Castle, Ireland's last Norman Castle, but many other sights were used too including, The Curragh and Blessington Lakes.
Address: Castle St, Trim, Co. Meath, C15 HN90, Ireland
2: Skellig Michael – an island far, far away
Film: Star Wars
Star Wars is the movie that made Skellig Michael even more famous than it was. While looking for a spot to act as the planet of Ahch To which featured at the end of The Force Awakens, it was decided that Skellig Michael was to be the galaxy far, far away. Luckily for us, it's not so far away to visit!
Address: Sceiling Mór, Skellig Rock Great, Ireland
1: Co. Antrim – winter is coming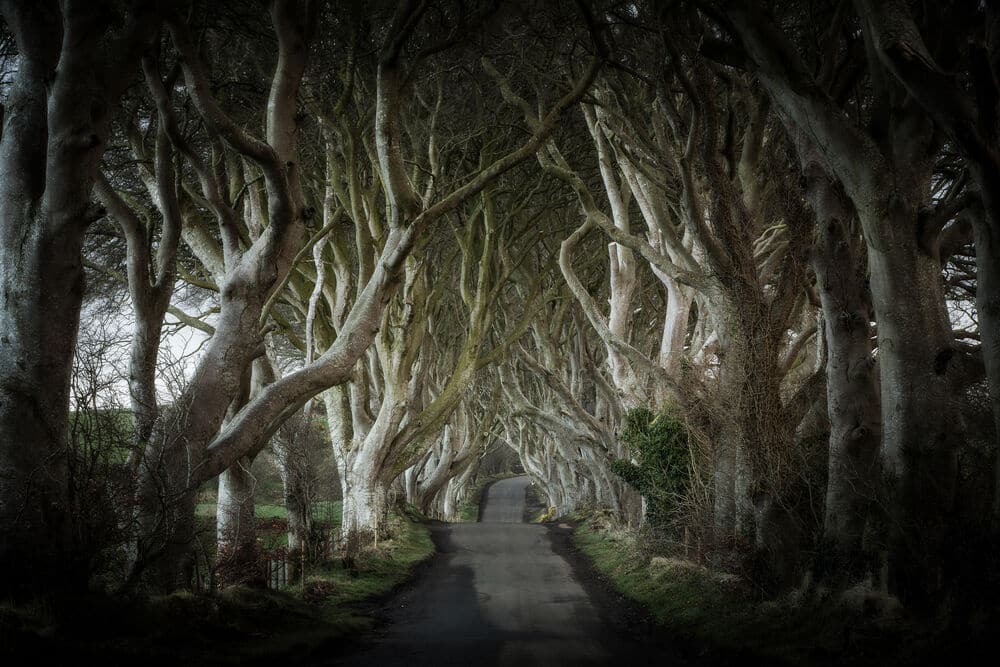 TV Show: Game of Thrones
Considering this hit show was filmed here over an eight-year period, there are many locations to be discovered, mainly in County Antrim, who have 49 filming locations to be exact.
From Winterfell and The Dark Hedges, to the House of Stark, you will be inundated with places to visit while in the north, making Co. Antrim perhaps the most famous filming location in Ireland today.
So movie and TV show fans, you have a lot of sightseeing to do when it comes to discovering famous filming locations Ireland. Although a lot of these places can be discovered by yourself, especially the Wicklow Mountains and Cliffs of Moher areas, it is so worth considering a film location tour for Game of Thrones, The Quiet Man and Skellig Michael.
Many of these tours give you some inside knowledge and will also take you to a few other spots featured on screen. You never know, maybe your guide was even an extra and can give you the inside scoop on these famous filming locations in Ireland!