To the layman or amateur drinker, an Irish pub is an Irish pub the world over, true? Well actually not so true; you see there is one Hell of a difference.
In this feature travel journalist Ger Leddin, takes an in-depth and slightly tongue in cheek, look at the sometimes minuscule, sometimes major difference between Irish pubs both on the Emerald Isle and those across the Globe.
Please note the author has travelled both Ireland and various places around the globe in search of the holy grail of the perfect Irish pub, 'tis a hard old station, but sure, someone had to do it.
10. Staff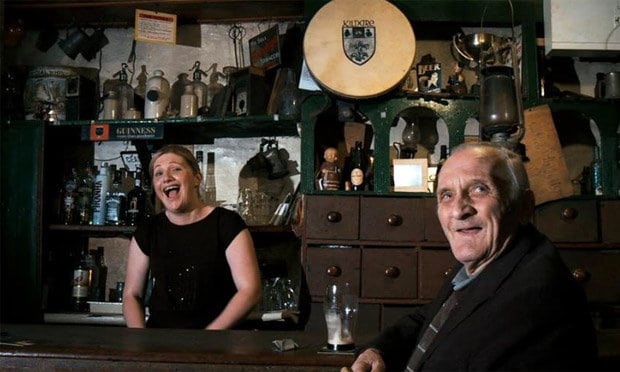 One of the things an Irish pub on the old sod has to offer is the quality of its staff. Normally expert in pulling pints, telling jokes, and perhaps extending the occasional bit of credit to regulars and of course giving racing tips; an Irish barman is a breed apart, and to be honest you probably won't find his like out foreign.
Ok, so you might strike it lucky in the States where for example if you wander into Molly's on 3rd Avenue in Manhattan you might be served by Sean who is working in NYC for the summer and is a dab hand at the pulling of a decent — well decent enough — pint.
But as Guinness is reputed not to travel all that well (more about that later) poor old Sean has his work cut out for him.
Anyway, normally between Madrid and Madras you'll be hard-pressed to find an Irish barman who speaks the old English never mind one who can give you a tip for the four o' clock at Nass.
9. Decor
Let's face it, many if not all bars on the Iberian Peninsula are a bit on the plastic side when it comes to interior design. And those in North America fluctuate from the grotty to the sumptuous with no middle ground.
However, the good Irish pub out foreign, like its Irish forefathers will stand out from the crowd.
Ok, so they might go a bit overboard with the IrishRail " Please keep the gates closed," notices and the road signs proclaiming Dingle as being only ten miles up the road from Buenos Aires but they all have that beautifully crafted solid timber bar, the comfortable bar stools and proudly display the bottles of Paddy and Jameson in front of the mirrored shelves.
A fine example of a tastefully appointed Irish bar out foreign is Morrissey's Irish pub in Malaga. To be honest you would swear you were sipping your Draught Pint back home and just a few yards down the road from St. James's Gate.
8. The perfect pint
Let's face it again when out foreign you're not going to get the perfect pint. You might get a hastily pulled Guinness — the kind you might expect in an Irish nightclub close to closing time.
Anyway, most hardened Guinness drinkers will tell you that this nectar just doesn't travel all that well. Don't despair, there is an alternative; I have sampled it and can report that it's not all that bad, a good substitute in fact.
I'm talking about the magical device called the Guinness Surger. This is some sort of an electronic gizmo which sits on the bar and sends ultrasonic sound waves or some other science thingy through a pint glass filled with the dark-stuff which has been just poured from a chilled can. Actually, I can attest after sampling a few pints in Portugal, it's fairly alright.
7. Tapas, and why very few Irish Pubs serve them
In all Spanish speaking countries most if not all bars serve a very tasty and very cheap snack, referred to as tapas. The origin of the tapas is lost in history but many myths exist as to how this tradition first started.
Some noted culinary historians believe that there once was a King of Spain who while recovering from an illness found he could only digest food and drink in small amounts, his servants therefore only served him small but tasty morsels, and thus the tradition caught on.
Another story revolves around the habit in warmer climates to cover drinks with small cuts of bread in order to prevent flies from dive-bombing your beer. But my personal favourite is that the term tapas, evolved from the Spanish verb tapar, to cover. Years ago if you wanted to sample what was cooking in the kitchen pot, you were served a bit on the lid of the saucepan, called a, yes you've guessed it a tapa.
As we all know it would be a brave fly who would venture out to your local on a cold Irish winter's night. And to be honest, if an Irish barman let you eat from the lid of the pot, it wouldn't be long before the health authorities got stuck in. Therefore the whole tapas thing never really caught on, on the Emerald Isle. Pity really.
6. Opening hours, Ireland Versus the Rest of the World
Ok, so the Irish Government have finally copped-on and allowed the introduction of Good Friday pub opening. But we all know that many visitors to Ireland often stand in amazement when asked to "drink up now lads," just as the craic is getting started, and they are turned out on their ear into the rain and the inevitable long taxi queue.
Not so in the rest of the world, where more sensible licensing laws exist, and the foreign Irish bars take full advantage of this. So don't worry if you're sipping your pint and enjoying the session in either Fado's Irish pub in Miami or Tír na Nóg's in Times Square, you won't be thrown out on the street until the sing-song ends of its own accord.
5. Language barriers when ordering
Most foreigners are grand: easy enough to get on with but always remember when you, as a Paddy, are abroad, in actual fact 'tis you who is the foreigner. As mentioned above, most of the staff in Irish pubs abroad are natives of the country in which they work, and while many speak English, nuances like "throw me on an auld pint there Mick, like a good man," won't always translate. So the survival tip any travelling Paddy should learn is how to order a drink.
Odd things happen, in America, for example, you can buy beer by the Jug full — isn't it a great country all the same — whereas the Spanish have more different glass sizes than you could shake a stick at, learn them, it's important.
A Caña is a tiny glass of beer; hardly worth talking about. A Tubo is a tall thin glass, around the size of a half-pint and a Tanque is what Paddy would consider a pint. Well worth knowing the difference.
One more point worth considering is that if sipping your pint on the patio of some fine Irish bar while working on your suntan. The heat of the sun can warm up your pint no end, so either buy a smaller glass or down yours a bit faster than you would back home.
4. Sister pubs are great, but they just aren't the original
We all know the name of a good Irish pub in Ireland, most of us would consider our locals as being eligible to make the list. But the Irish diasporas have not only taken their drinking habits with them but also the names of the pubs back home.
So much so that when the Irish Times ran a competition to find the best Irish pub abroad during 2015 it was no surprise that among the short list were names like The James Joyce in Prague, The Drunken Poet in Melbourne, Healy Macs in Kuala Lumpur and even that old Irish family name The Auld Shillelagh in London. However, these pubs just aren't the real deal.
3. Pubs in Ireland has more-familiar surroundings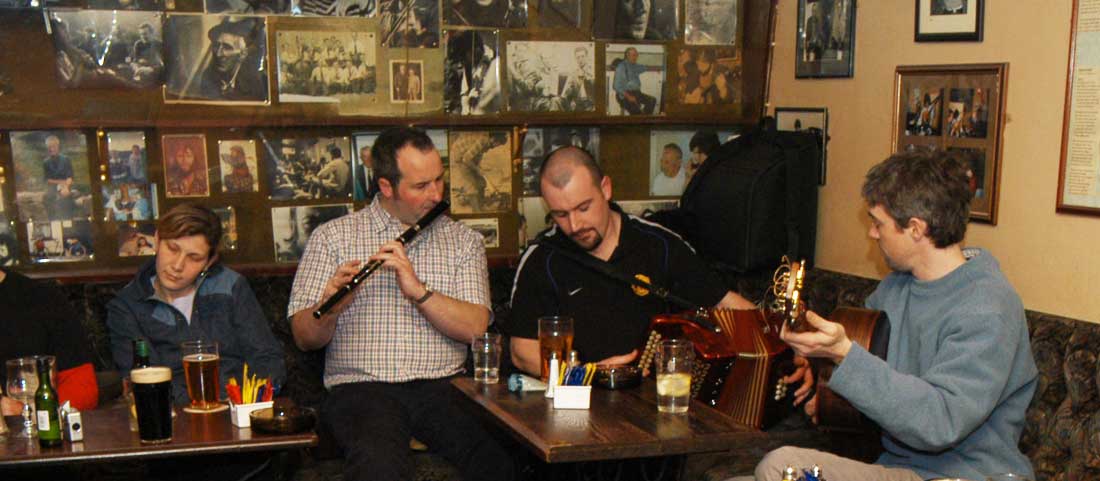 Horse riding on the Pampas, or paddling up the Amazon is all very well, but at times isn't it nice to be on your own and in familiar surroundings. This is where the out-foreign Irish pub comes into its own.
One thing all Irish pubs have in common is that you are guaranteed to strike up a conversation with, if not fellow Paddies, at least an interesting fellow customer.
After all didn't the chap drinking beside you come in for the same thing you did, good drink, good conversation and the chance of a bit of fiddle music.
2. There are things that just don't work in an Irish pub abroad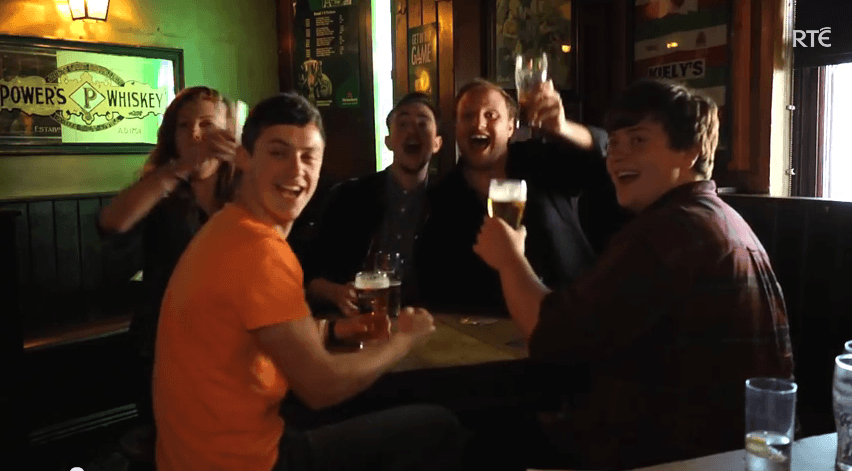 Right so! What not to do in a foreign Irish pub. Well, for a start observe local customs. Don't just ask for a cerveza, it just simply means beer, try to remember the glass sizes as detailed above.
Try and throw in the odd "por favour," and even the occasional "gracias." Unlike in Ireland, many foreigners actually use words that fit the purpose. Not like in Ireland where a nod and a wink and terms like "sound-man yourself" will be readily understood.
Tipping is a bit like rocket-science, nobody understands it. Learn what the accepted practice is and stick to it. Again unlike Ireland, America has a strong tipping culture and in Irish pubs across the states a decent tip is expected, remember that if you want to get served on your next visit.
1. You're an ambassador abroad, not a local
Unlike Irish embassies abroad, the foreign Irish pub doesn't have Irish soil diplomatic immunity, so be careful unlike at home you won't know must of the clientele and you can't run around the corner to your grannies and like any public establishment, you will find villains and rogues. Keep an eye on your belongings, drink responsibly and most of all have the auld craic.
Get featured on Ireland Before You Die
Do you want to get your Irish business more online exposure? Especially to those interested in travelling the best places in Ireland? Then why not get a dedicated feature on Ireland Before You Die. Find out more 
here.