A country brimming with scenic coastlines, forest parks, and winding rivers, Northern Ireland is home to some beautiful spots perfect for a relaxing stroll.
A haven for walkers, Northern Ireland is full of stunning scenery and trails to suit all abilities. Here are the top ten best walks in Northern Ireland (NI).
From beautiful coastal paths to serene forest parks that wind their way through the luscious countryside synonymous with the Emerald Isle, Northern Ireland really does have it all when it comes to scenery.
So, if you're looking to get out about and make the most of nature, then here are the ten best walks in Northern Ireland, ranked.
10. Binevenagh – incredible views for miles around
This majestic mountain, which stands proudly over the lowlands of Limavady and the north-west coastline, is definitely one of the best walks in Northern Ireland (NI).
This 4.8 km (3 miles) circular route follows over the forest track and offers views as far as Scotland on a clear day.
Address: Limavady, BT49 0JG
9. Fair Head – step into the land of Game of Thrones
Situated on the north coast of County Antrim near Ballycastle, a walk around Fair Head will make you feel like you have stepped into a whole other world.
Several walks over the headland vary from 2.4 km to 5.5 km (1.5 to 3.4 miles) and offer incredible views over the surrounding coastline, where many of the iconic scenes from HBO's Game of Thrones were filmed.
Address: Ballycastle, BT54 6RD
8. Rathlin Island – experience island life
Just off the coast of Ballycastle is Rathlin Island, home to splendid wildlife, including the famous Rathlin puffins.
Take in the rugged coastal scenery of this quiet island on the 6.4 km (4 miles) trail that takes you along the length of the island.
Address: Rathlin Island, Ballycastle BT54 6RT
7. Oxford Island – marvel at Lough Neagh
This National Nature Reserve sits on the southern shores of Lough Neagh in County Armagh.
Covering 282 acres of land, this beautiful nature reserve offers incredible views out over Lough Neagh, which are even more beautiful at sunset, and play host to a variety of flora and fauna.
Address: Craigavon, BT66 6NJ
6. Murlough National Nature Reserve – immerse yourself in nature
Many people will recognise Murlough Beach, which lies in the shadows of the Mourne Mountains that rise to the sky above. However, the incredible nature reserve the beach backs onto is just as worth a visit.
With a range of habitats that play host to a vast diversity of flora and fauna, a walk through this nature reserve comes in at 7.6 km (4.7 miles) in total.
Address: Newcastle BT33 0NQ
5. Delamont Country Park – incredible views over county down
Delamont Country Park in Killyleagh, County Down, is definitely one of the best walks in Northern Ireland (NI).
Located on the shores of Strangford Lough, making your way around the trails of this country park will offer you some of the best views out over the Ards Peninsula and County Down.
Address: 90 Downpatrick Rd, Killyleagh, Downpatrick, BT30 9TZ
4. Tollymore Forest Park – at the foot of the Mournes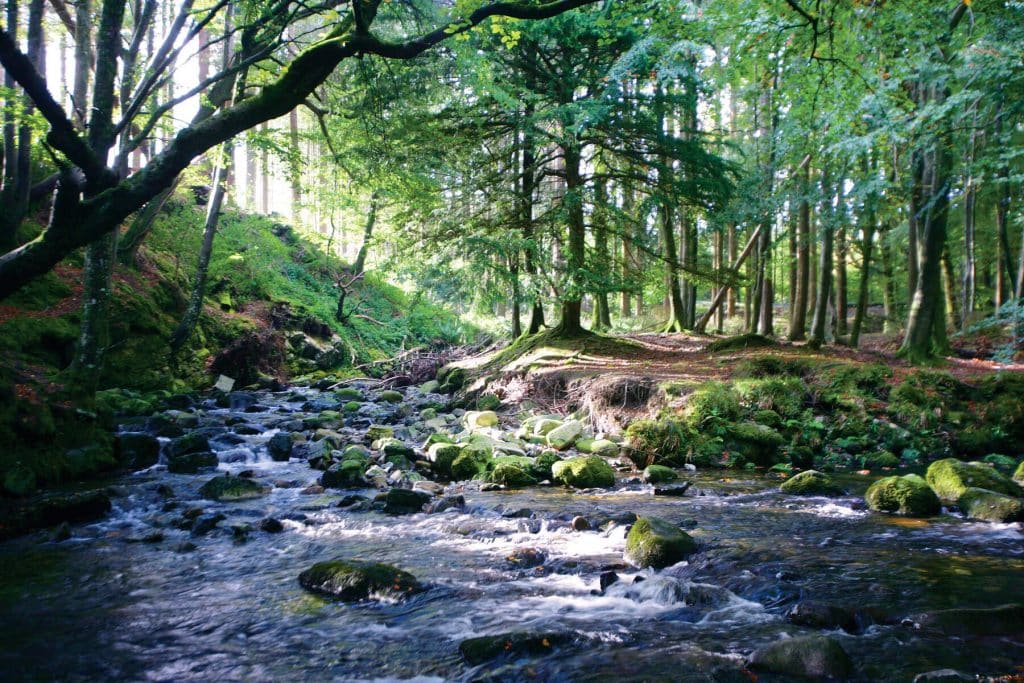 Sitting at the foot of the incredible Mourne Mountains, Tollymore Forest Park is a great place for a walk any time of the year and also has one of the best camping and caravan parks in Northern Ireland.
The River Shimna winds its way through this 630-hectare forest park, with several walking trails following alongside. Check out the beautiful stone bridges and historic structures, such as the stepping stones and ruins.
Address: Bryansford Rd, Newcastle BT33 0PR
3. North Down Coastal Path – Holywood to Bangor
Taking you along the coastal path from Holywood to Bangor, this scenic walk passes over beautiful spots like Cultra and Helen's Bay.
This mostly tarmac route is 16 km (10 miles) in total and is the perfect scenic walk not too far outside of Belfast City Centre.
Address: Holywood, BT18 9HZ
2. The Causeway Coastal Route – one of the main reasons to visit NI
The Causeway Coastal Route is one of the main reasons many people choose to visit Northern Ireland, thanks to its popular attractions, including the Giant's Causeway and Dunluce Castle.
The full coastline hike is 33 km (20.5 miles), so if you fancy a challenge, this two-day hike is well worth it. However, if you are in the mood for a shorter walk, there are plenty of great options along this coastal stretch.
Address: 29 Donegall Rd, Belfast BT12 5JJ
1. Glenariff Forest Park – a stunning forest walk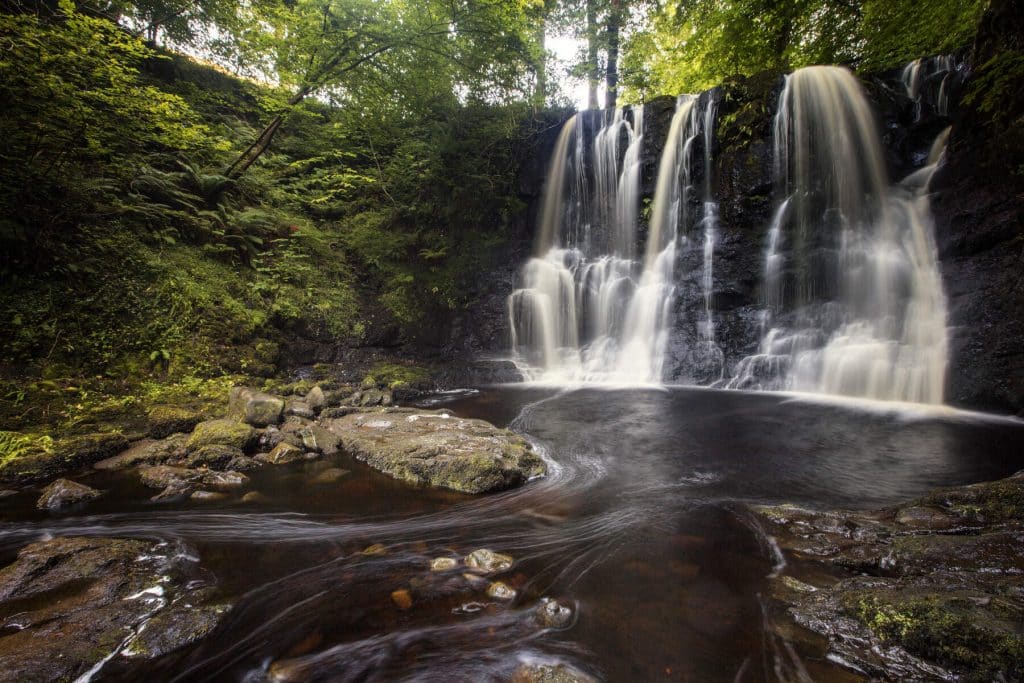 Glenariff Forest Park, set in the heart of the incredible surroundings of County Antrim, tops our list of the best walks in Northern Ireland (NI) – and for good reason, too.
Known as the Queen of the Glens, Glenariff Forest Park covers 1,000 hectares of land and is one of the nine Antrim Glens. Offering a range of different routes from a 0.6 km (0.4 miles) walk to a longer 10 km (6.2 miles) trek, there is a walk here to suit all abilities.
The highlight of this park is definitely the stunning waterfalls that punctuate the forest trails.
Address: Glenariffe Rd, Ballymena BT44 0QX