From history and branding to texture and flavours, we take a look at the Tayto versus Hunky Dorys debate.
The Irish love their potato crisps, that's for sure. And with such a vast amount of types, textures, and flavours available, there are tonnes to choose from.
In fact, you could even argue that Ireland, or more specifically Dublin, is home to the modern-day potato crisp. It was here that the first-ever seasoned potato crisp was invented by Joe "Spud" Murphy, founder of Tayto.
Perhaps it's a cultural thing that the Irish love to take sides and stand loyal and true to one side only. So, the age-old debate remains: Tayto versus Hunky Dorys. Which is better?
From history and branding to texture and flavours, let's take a closer look at these two popular Irish crisp brands side by side.
History
Tayto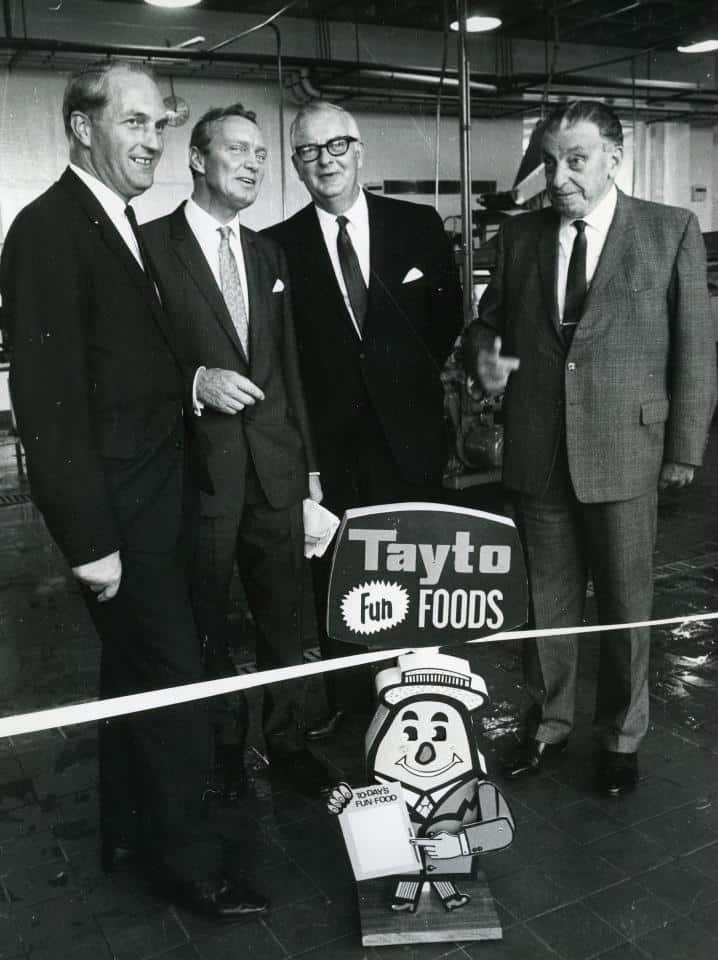 Tayto is the original crisp. The brand was born in Dublin in 1954 and invented by Joe "Spud" Murphy, who wanted to create the first-ever flavoured crisp. Enter: Tayto's cheese and onion flavour.
This ground-breaking discovery led to crisp manufacturers worldwide looking to purchase Tayto's recipe. The brand changed the face of the crisp industry and led to its modern-day popularity.
Tayto has a range of products and snacks under its brand name.
The Tayto name and branding arguably monopolise the potato crisp industry in Ireland and have also become a synonym for "home" with Irish expats abroad.
Hunky Dorys
Hunky Dorys were developed and launched in 1993, and the brand's marketing strategy was to become an alternative "chunkier" crisp in comparison to what was then available on the market. It is not only the most popular crinkle-cut crisp on the Irish market, but also the fastest growing product in its sector.
Hunky Dorys truly made its mark on the crisp industry with the launch of a new "Buffalo" flavour, inspired by a herd of grazing Buffalo near the factory in County Meath.
The crisp brand is owned by Tayto Snacks of the Largo Foods company, which represents a series of other brands such as Tayto, Hula Hoops, Skips, KP, Rancheros, and King.
Branding
Tayto
Tayto's branding and use of the mascot Mr Tayto is undoubtedly imprinted on the mass minds of Irish residents. The crisps packets are coloured or designed according to the specific product range, although Mr Tayto plays a pivotal role in branding and marketing all products.
In 2007, the potato-man mascot was the face of a mock general election poster, which encouraged members of the public to vote for him. In 2010, Tayto Park, a theme park in his honour, opened in County Meath.
Hunky Dorys
Although owned by the Tayto Snacks division of Largo Foods, Hunky Dorys does not have any visual or verbal marketing association with the Tayto brand.
Hunky Dorys are marketed to be the "meatier," "chunkier," or "denser" alternative to a standard crisp. The brand has an "extrovert and cheeky personality with strong flavours."
The marketing team behind this crisp brand loves to play with campaigns and is known to offer those that grab the public's attention, such as the "Satisfy Yourself" campaign.
Most notably, the brand's logo and package design launched in tandem with the launch of Buffalo flavoured Hunky Dorys in 1993.
Flavours
Tayto
The original Tayto Crisp product range includes cheese and onion, salt and vinegar, prawn cocktail, and smokey bacon. Other ranges include Tayto Snacks, Tayto Bistro, Tayto Popcorn, Trebble Crunch, Ripples, and Occasions.
Hunky Dorys
Flavours include buffalo, cheddar cheese and spring onion, sour cream and chive, salt and vinegar, and smokey bacon. Limited edition favours are released on an ad hoc basis.
Texture
Tayto
Tayto crisps are light, crumbly, crispy, and salty. They're easily broken, thus making them a fantastic option for inclusion in a crisp sandwich (an Irish delicacy).
Hunky Dorys
Hunky Dorys are thick and dense. They're not as flimsy as Tayto crisps, so they offer a "meatier" crunch. They, too, make a fantastic selection when it comes to a crisp sambo.
Overall
Overall, when it comes to Tayto versus Hunky Dorys, both of these Irish crisps get a five-star rating. They both offer a completely different type of crisp experience, so it really depends on what you're after.
If you're craving the best classic cheese and onion crisps on the go, it has got to be Tayto cheese and onion. If you're looking for something a little more exotic, exciting, and taste-bud-blowing, however, it is Hunky Dorys all the way.
If it must come down to a single winner, though, it would have to be Tayto. It's the first and the best. Sure, it's a bloody Irish mascot for crying out loud.