They may look the same (somewhat). They may share a similar potato-styled mascot. They may taste the same. But Tayto snacks—the iconic potato crisps (also called potato chips)—actually have differences in Northern Ireland versus the Republic of Ireland.
In order to get a full understanding of how these two separate brands came to be and how this divide has led to the ultimate question of "WHICH IS BETTER?" for over half a century, it is probably best to start at the beginning.
Here's a look at the history and offerings of Tayto in Northern Ireland versus the Republic of Ireland.
The beginning: a delicious idea
The original Tayto potato crisp was invented in the Republic of Ireland. Its inventor—a savvy Dublin entrepreneur named Joe "Spud" Murphy—saw a gap in the market and chose to fill it.
At that time, all potato crisps were being imported into Ireland from mainland UK. They were void of flavour, apart from the sachet of salt that came with each packet and was added to enhance the taste. Overall, from what we understand, these potato crisps were thoroughly underwhelming.
"Spud" thought: "What if there was a flavoured potato crisp?" Enter Tayto.
Murphy founded his first factory in 1954. With a close-knit team of only eight employees, it wasn't too long before Murphy was credited as having invented the first-ever cheese and onion flavoured crisps.
As news of these newfound golden pieces of crispy goodness spread like wildfire across the country (and the world!), soon every crisp manufacturer on the planet wanted in on its recipe.
The middle: a decision in 1956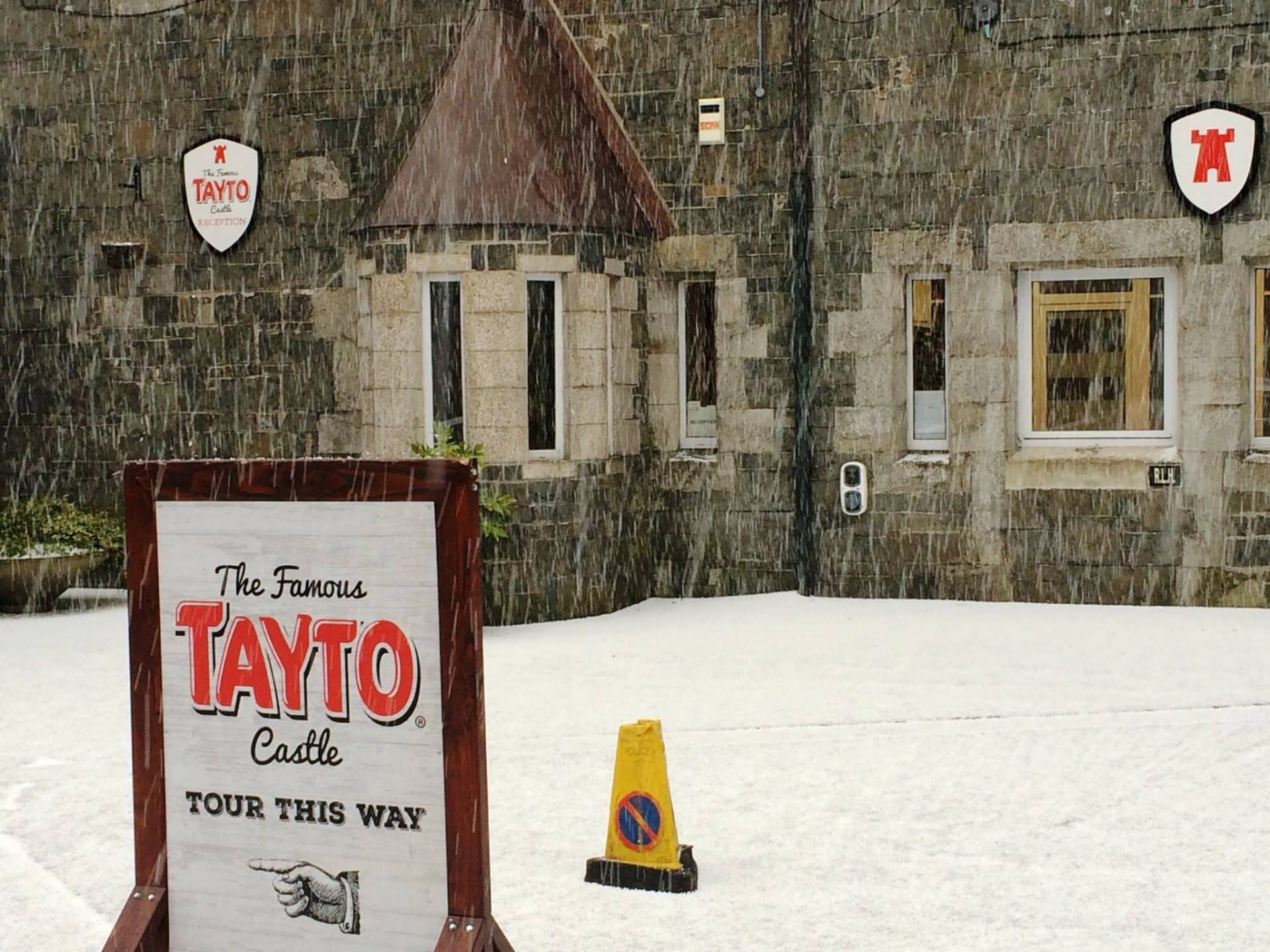 It was at that moment that a wise family from Northern Ireland decided to get in on the action. The Hutchinsons purchased the rights to the name and the recipe to make their own version of the ultimate cheese and onion potato crisp in 1956.
Since then, they have continued to grow and expand their business along with their product range, which is wildly different than that of their Southern counterpart.
According to Northern Ireland's Tayto brand, "set deep in the heart of the Ulster countryside in Tandragee is Tayto Castle where Tayto crisps and snacks have been made for the past 60 years." There is no mention of the brand's connection with the Republic of Ireland's recipe or patent.
Although they don't seem to celebrate their old ties, they do take similar pride in their longstanding place in their respective markets. The Republic of Ireland's Tayto proudly states online, "Tayto crisps have been a firm family favourite in Irish households for over 60 years."
With all that said and done, though, take one step across the border (in either direction), and your Tayto crisp option will reflect your location. While they may share many similarities, branding is not one of them, so you'll certainly be able to spot the difference, regardless of whether you're from the north or the south of the island.
The end: cheese and onion unites us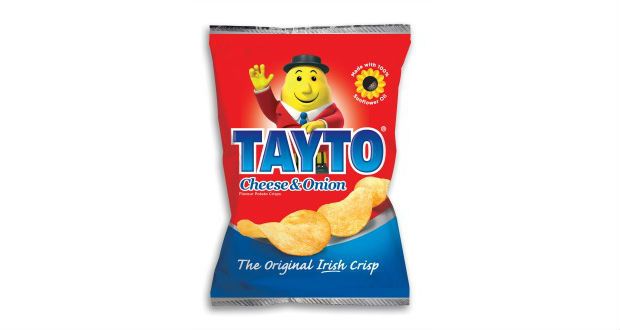 When it comes to Tayto in Northern Ireland versus the Republic of Ireland, one thing does unite them. Whether you're craving a crisp from up north or down south, branding aside, you can be sure that they both lead their product ranges with the classic flavour of cheese and onion.
This means, regardless of where you are on the island of Ireland, you'll be able to get your Tayto fix.
Product range: north versus south
One of the most distinct differences between these two brands is their offerings.
In the Republic of Ireland, the original Tayto crisp brand has evolved over the last 60 or so years to offer a broad range of crispy-fried products. The brand first launched with the classic cheese and onion and salt and vinegar flavours, closely followed by the smoky bacon flavour.
The last addition to the classic crisp range was prawn cocktail flavour. Other product ranges from the Republic of Ireland's Tayto include the Tayto Snacks, Tayto Bistro, and the Tayto Popcorn range, as well as Occasions, Trebble Crunch, and Ripple.
Northern Ireland's product range differs drastically, bar sharing the same leading product: cheese and onion. Tayto Chips, High Fives, Onion Rings, Bikers, and Spirals are just some of the product ranges Northern Ireland's brand develops.
Flavours such as pickled onion, spring onion, roast chicken, and Worcester sauce are also popular.
There you have them—the main differences between Tayto in Northern Ireland versus the Republic of Ireland. As far as we're concerned, you can't go wrong crisp-wise on either part of the island!