Let's take a look at how the Irish celebrate St. Patrick's Day in New Zealand.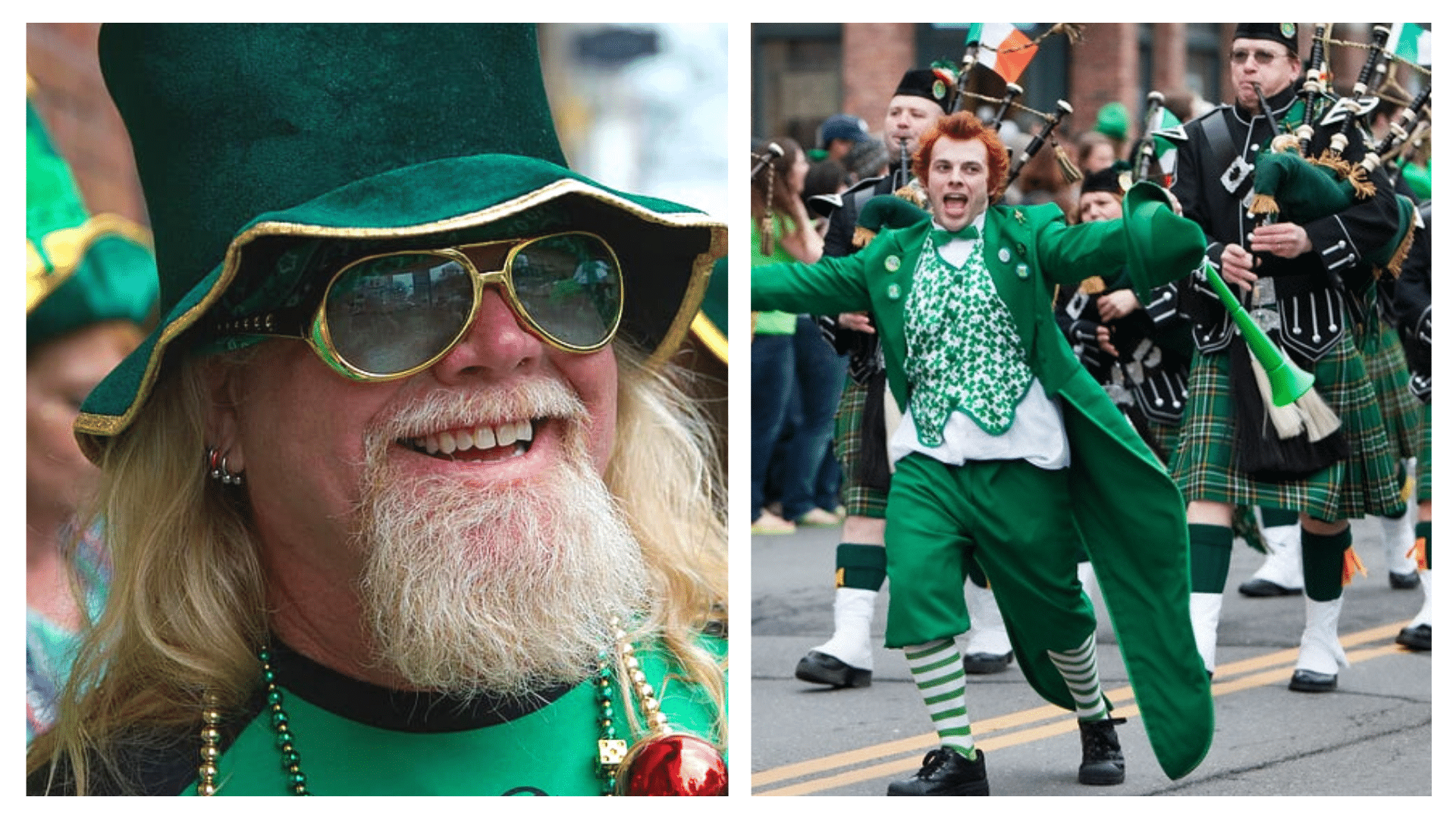 17 March marks the day when people dress in green, don shamrocks, and raise pints of beer to the patron saint of Ireland.
This day's celebrations commemorate St. Patrick, who is said to have brought Christianity to Ireland in the 5th century.
But St. Patrick's Day has evolved into more than just a religious holiday – it's now a cultural phenomenon that people of all backgrounds celebrate.
In Aotearoa, the holiday is celebrated uniquely, showcasing the country's rich Irish heritage. The Kiwis know how to put on a show, from green parades to fun casino games.
In this article, we'll explore how St. Patrick's Day is celebrated in Aotearoa and what makes it memorable.
How the capital transforms for the special day – a remarkable transformation
On St. Patrick's Day, New Zealand's capital city, Auckland, undergoes a remarkable transformation. It does this to embrace the spirit of the Irish festival.
The city comes alive with vibrant displays of green, symbolizing the essence of this festive occasion. This AKLD celebration showcases the city's vitality and pays homage to Irish traditions.
One of the most striking transformations is the central tower. It is illuminated in brilliant green, casting a mesmerizing glow across the city skyline.
This captivating sight serves as a beacon of festivity and invites locals and visitors alike to partake in the festivities. Also, the streets are adorned with green street lights, further enhancing the beautiful space.
Also, as you stroll through the city, you'll find souvenir shops brimming with Irish-themed merchandise. As a result, this allows residents and tourists to embrace the spirit of Ireland.
They don shamrocks, leprechaun hats, and other luck symbols. The vibrant displays and lively decorations create an immersive experience. Thus, they envelop the Auckland sky in the joyous ambience of the 17th day of March.
How to celebrate it vividly – how to celebrate St. Patrick's Day in New Zealand
St. Patrick's Day offers a multitude of exciting activities and traditions. They are the perfect way for Irish descendants and non-Irish to immerse themselves in the spirit of the national holiday.
But how can you celebrate St Patrick's Day vividly? Here are some cherished customs and experiences that may make your day truly memorable.
5. Green parade through the central streets – a true spectacle
To enjoy St. Patrick's Day to the fullest, you can't miss the vibrant green parade that takes over the central streets. These lively St. Patrick's Day parades are a true spectacle, showcasing the rich Irish community heritage.
It displays the culture that permeates the celebration. More enters space as the St Patrick's Day parade winds through the sky tower streets. Participants dressed in traditional attire create a dazzling display.
Floats adorned with green decorations also enhance this display. The atmosphere is electric, with spectators lining the sidewalks, cheering in unison. These spectators fill the air with infectious energy and a sense of unity.
The St. Patrick's Day parade captures the essence of the ceremony. It brings together people from all backgrounds to honour Ireland's traditions and heritage. It's an experience that immerses you in the spirit of the ceremony.
Further, it leaves you with lasting memories of the joy and excitement that defines these special day celebrations.
4. Dance to national Irish music – immerse yourself in songs from Ireland
Next, enjoy St. Patrick's by immersing yourself in the lively beats of songs from Ireland to embrace the joy of traditional dances.
A ceremony for this holiday from Ireland would only be complete with the vibrant sounds that accompany it. Throughout NZ, numerous events and gatherings provide the perfect opportunity to join in the revelry.
Hibernian music bands and dance troupes take centre stage at pubs, community centres, and unique venues. They invite everyone to tap their feet and dance to the infectious rhythms.
These lively performances create an atmosphere of energy and camaraderie. Thus, they foster a sense of community as people come together to appreciate the essence of Hibernian heritage.
3. Catch your luck in the casino – feeling lucky?
For those feeling lucky on St. Patrick's Day, why not try your hand at the All Slots, Jackpot City, or any other pokie casino? Aotearoa offers a variety of casinos where you test your fortune and potentially strike it rich.
One reputable platform to explore is CasinoTop.co.nz, as it provides a comprehensive list of trusted online casinos for players from New Zealand.
From classic free pokies to roulette and blackjack, these games offer excitement and the possibility of winning big. Choose from a variety of games to play with unique rules and strategies:
Pokies: These popular slot machines provide endless entertainment. They make this possible with their vibrant themes, bonus features, and the chance to hit the jackpot.
Roulette: Test your fortune by betting where a ball will land on a spinning wheel. The anticipation and suspense make it a favourite among casino enthusiasts.
Blackjack: It's a strategic card game where players aim to beat the dealer's hand without exceeding 21. It requires skill and decision-making, adding an element of excitement to the gameplay.
2. Drink a pint of Guinness in local Irish pubs – a must on St. Patrick's Day
Visiting and drinking at the local Irish bars is necessary to embrace the St. Patrick's Day spirit fully.
These places serve as lively hubs where people gather to raise a glass, socialize, and revel in the festive atmosphere. Some popular Irish bars in NZ include:
O'Hagan's Irish Pub: It's known for its warm and welcoming ambience. Besides this, it offers a wide selection of Hibernian beers, including the iconic Guinness. Live music and traditional Irish cuisine further enhance the experience.
Danny Doolans: This authentic Irish pub captures the essence of Ireland with its cosy setting and friendly staff. Enjoy a pint of Irish whiskey while listening to live music performances.
The Bog Irish Bar: Located in the heart of Queenstown, The Bog boasts a lively atmosphere and live entertainment. Raise a glass with locals and tourists and soak up the festive spirit of these day celebrations.
1. Celebrating with family – a fun-filled, family day out
St. Patrick's Day is a family-friendly anniversary, and many people in Aotearoa choose to mark it with their loved ones.
Family events include anything from cooking Hibernian dishes together to attending local events. It is also an excellent opportunity to teach children about Irish culture and history.
Some families opt to attend the local St. Patrick's festival parade together. Here, they enjoy the festive atmosphere and watch the colourful floats go by.
Others might spend the day having a picnic or a barbeque and enjoying the day off together. There are more options for those who want to remember the day at home.
Many easy and fun DIY decoration ideas are available online that help create a festive atmosphere. But whatever the choice, celebrating the day with family is another excellent way to make lasting memories.
Related: 20 hilarious St. Patricks Day memes.
Summary – St. Patrick's Day in New Zealand
St. Patrick's Day in NZ is a vibrant and spirited anniversary that embraces Hibernian traditions. It creates a festive atmosphere for people of all backgrounds to enjoy.
The capital city of Auckland transforms into a sea of green, inviting locals and visitors to partake in the festivities.
Also, there are plenty of ways to immerse oneself in the joyous spirit of the day. For those feeling lucky, trying your hand at the casino allows you to catch your good fortune and win big.
And, of course, visiting local Irish pubs, raising a pint of Irish whiskey, and celebrating with loved ones add a special touch to the day.
Besides this, celebrating the day with family creates cherished memories that will last a lifetime. Overall, celebrating St. Patrick's Day in New Zealand provides a joyful experience for everyone involved.
Get featured on Ireland Before You Die
Do you want to get your Irish business more online exposure? Especially to those interested in travelling the best places in Ireland? Then why not get a dedicated feature on Ireland Before You Die. Find out more 
here.