Maybe you're raising money for charity or you just want to enter the holiday season fresh; these ten fun alcohol-free activities will make you forget about the pub this Sober October.
The island of Ireland is renowned across the world for its home-produced beers and iconic pub culture. So, going alcohol-free can often seem like an impossible task on the Emerald Isle.
However, there are plenty of fun alcohol-free activities in Northern Ireland that all ages can enjoy. From hiking to theatre and more, these exciting activities will leave you feeling fresh the next day while also saving you some money.
So, whether you're doing Sober October or you just fancy staying off the beers this weekend, read on. Here are our top ten fun alcohol-free activities in Northern Ireland.
10. Game of Thrones Studio Tour ‒ immerse yourself beyond the wall
The fantastic Game of Thrones Studio Tour first opened to visitors earlier this year. Since then, it has become a hit among fans of the HBO fantasy drama.
Book yourself a tour, and you'll have a chance to get up close and personal with the actual sets and costumes used throughout the series. For us, this is definitely one of the most fun alcohol-free activities in Northern Ireland.
9. Take a tour of the city ‒ see the sights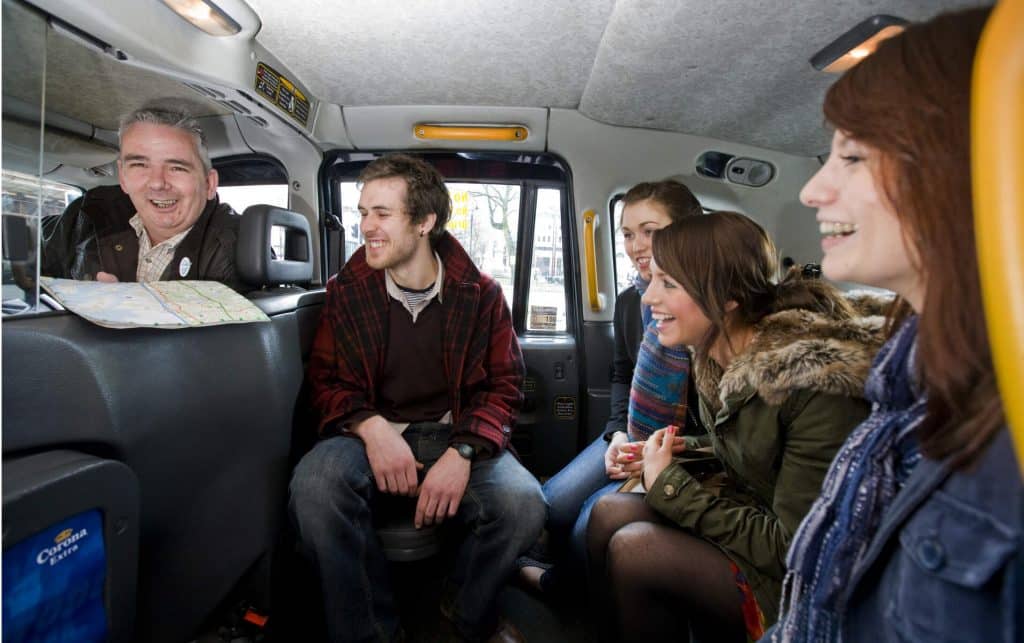 Whether you're a local or a tourist, taking a tour of the city is a great way to learn something new and see Belfast in a new light.
Whether you opt for a walking tour, an open-top bus tour, a bike tour, a boat tour, or a Black Taxi Tour, you are sure to leave feeling like a fount of knowledge!
8. Embrace adventure ‒ for the thrill-seekers
Life Adventure Centre in Castlewellan offers a fantastic range of activities suitable for all ages.
From getting out on the water in a kayak or paddleboard to shredding the trails on a mountain bike, renting some equipment and heading outside is a fun group activity for this Sober October.
7. Go see a show ‒ plenty to choose from
Northern Ireland is home to some fantastic theatres, including the Grand Opera House and The Lyric. Why not indulge yourself in the arts by going to see a show at one of these fantastic venues?
From comedy to drama, music, and more, there is something for everyone going on throughout Belfast and beyond.
6. Go see the animals ‒ petting zoos, open farms, and more
There's just something about playing with animals that unfailingly lifts your spirits. Thankfully, Northern Ireland offers a whole host of animal activities perfect for all ages.
From walking alpacas in Cranfield to playing with puppies at Streamvale Farm, spending the day with these cuties is sure to make you completely forget about alcohol.
5. Head to the beach ‒ plenty closeby
No matter where you happen to be in Northern Ireland, you will never be far from the sea. For this reason, heading to the beach is one of the fun alcohol-free activities in Northern Ireland.
From braving a cold-water dip to enjoying a BBQ by the water, there are plenty of ways to enjoy a sober day out by the sea.
4. Visit a museum ‒ plenty to choose from
Northern Ireland is home to a vast array of fantastic museums, covering everything from local history to ancient artefacts.
From the Ulster Museum and Titanic Belfast to the Ulster American Folk Park and the Museum of Free Derry, there is something to learn no matter where you find yourself.
3. Enjoy a day at the Ice Bowl ‒ ice skating, bowling, mini golf, and more
For an action-packed day of activities, we recommend heading to the Ice Bowl in Dundonald. Whether you want to spend a couple of hours or an entire day, you'll be spoilt for choice of activities on offer here.
From ice skating to bowling to Pirates Adventure Golf and Escapade HQ Escape Rooms, you could easily spend an entire day here making the most of all the activities.
Afterwards, you can even head over to the Eastpoint Entertainment Village across the road for a great selection of eateries.
2. We Are Vertigo ‒ perfect for kids big and small
We Are Vertigo is one of the most popular indoor activity centres in Northern Ireland, making it a sure bet for a fun and alcohol-free day out.
Whether you want to bounce until your heart's content at their Inflatable Park or try out indoor skydiving, this is sure to be a day out to remember.
1. Go for a hike ‒ get out in nature
If the weather allows, one of our favourite fun alcohol-free activities in Northern Ireland is going for a hike. We're blessed with some stunning natural landscapes, including the iconic Mourne Mountains, that give us the opportunity to get out and explore nature.
So, this weekend, why not pack a bag, stick on your hiking shoes, and take to the trails?