Your ultimate guide to exploring the Slieve Bloom Mountains – one of Ireland's most epic mountain ranges.
Ireland is known for its enchanting backdrops; it is a country rich in dramatic stretches, lush vegetation, impressive cliffs, and remote beaches. Its wild beauty is unrivalled.
Mountain ranges make up a significant part of Ireland's impressive landscape. Should you be keen to take on a dynamic destination, we suggest the Slieve Bloom Mountains.
Located between County Laois and Offaly, this range is one of the most stunning and challenging stretches of Irish terrain.
Planning a trip? Here is all you need to know about the Slieve Bloom Mountains.
Overview – what to know
Ireland's Slieve Bloom Mountains are ancient and epic. Much like France's Massif Central highland region, the Slieve Bloom Mountains are the oldest in Europe.
Today, they stand at 1,729 feet (527 metres), although generations ago they towered to a whopping 12,139 feet (3,700 metres).
Linking the counties of Laois and Offaly, the Slieve Bloom Mountains are a postcard-worthy picture featuring forest trails, rolling hills, outdoor activities, and wondrous waterfalls.
When to visit – to make the most of your experience
Each season brings its own charm and character to the Slieve Bloom Mountains.
Spring offers a perfect chance to discover budding flora; summer allows visitors some added warmth with temperatures rising to an average high of 19 °C (66.2 °F).
Autumn is an excellent time to explore as the leaves start to change, and the park becomes a palette of orange and red hues.
Winter may include the coldest months of the year. Still, the Slieve Bloom Mountains are a stunning sight amongst frosty foliage while wearing a winter warmer.
What to do – hiking and more
Depending on your preference, there is much to see and do in the Slieve Blooms.
Top attractions include biking, horse riding, hiking, scenic drives, bird watching, and fishing.
We suggest you try mountain biking during your visit. Even if you're a novice, you'll have the chance to hit the trails which span over 35 kilometres (21 miles) alongside a trained mountain guide.
Another must when visiting the Slieve Bloom Mountains is a walking/hiking trail. There are 17 looped walks to choose from – all of which offer varying lengths and difficulty levels. There are even weekly guided group hikes every Sunday for only €5 per walk.
What to see – gorgeous landscapes
While the mountain range itself is a hub of activity, many other attractions are embedded into its landscape.
Towns fit for a fairytale rest within the domain of the Slieve Blooms. We recommend Castletown and Coolrain for the world-renowned Irish hospitality.
Heritage sites make a fantastic addition to any Slieve Bloom trip, too. We suggest checking out the Rock of Dunamase – an early Christian settlement that was attacked and overrun by Vikings in 842.
Another epic sight to see is Kinnitty Castle. This impressive gothic revival was wrestled between the hands of Norman invaders and the powerful Gaelic clan: the O'Carrolls.
Directions – how to get there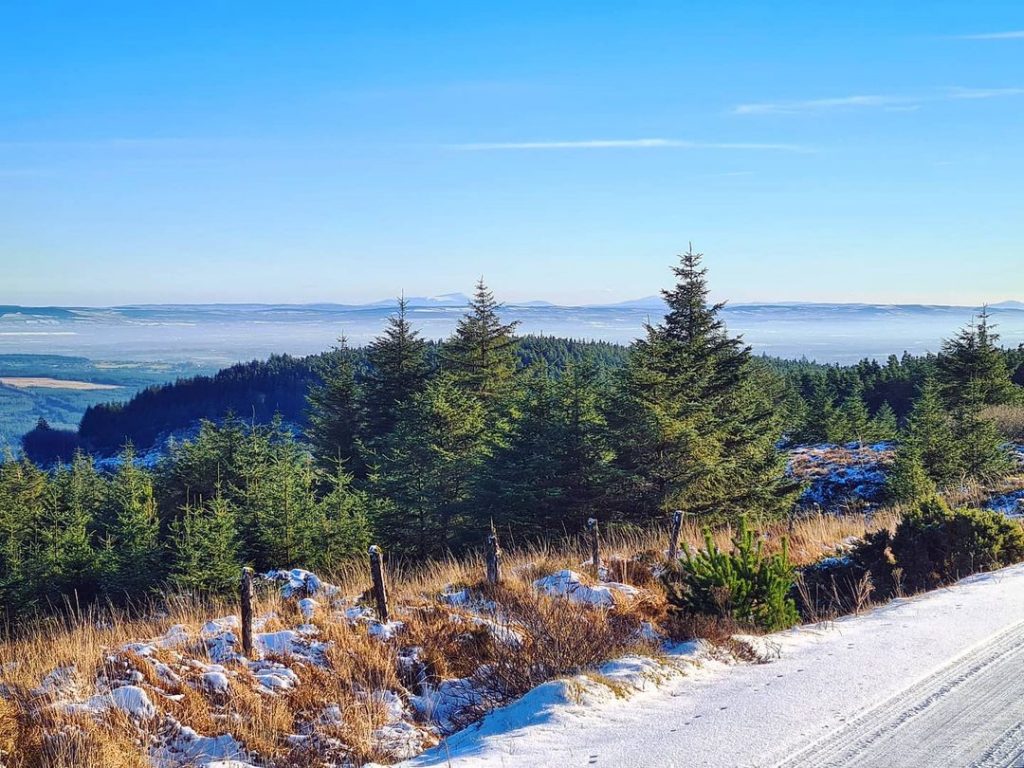 Located in the centre of the Emerald Isle, the Slieve Bloom Mountains are perfectly placed no matter which direction you're coming from.
The mountain range can be accessed in just over an hour from Dublin, two hours from Cork, or three from Belfast.
How long is the experience – how much time you will need
Depending on what you choose to do on your Slieve Bloom adventure, you may stay for a few hours or a few days.
Should you wish for a multi-day stay, we suggest you read on to find out our top accommodation suggestions.
What to bring – pack appropriately
Given that you'll be enjoying the great outdoors, we advise you to pack appropriately.
Comfortable walking shoes, as well as a rain jacket and water, are a given. We also encourage you to bring bug repellent, sunscreen, and a camera to capture the magic.
Where to eat – delicious food
The Pantry in Portlaoise is key for breakfast or lunch. The cafe has a gorgeous walled garden for dining al fresco, and it offers a range of veggie, vegan and gluten-free options, too.
For dinner, we suggest you try out The Thatch in Birr. This mid-priced restaurant is perfect for a warm meal after a long day exploring the mountain range. Or, if you're feeling fancy, head to Slí Dala in Kinnitty Castle.
Where to stay – fantastic accommodation
If you're inclined to enjoy luxury, check out Ballyfin Demesne for maximum grandeur. Alternatively, Monaincha House is an upmarket B&B with a wellness spa on-site to help you unwind.
The Forum-Mountmellick is the perfect choice for travellers looking to meet other like-minded souls with private as well as mixed dorms.
However, there are also self-catering lodges, country house escapes, glamping, and camping on-site should none of the above tick the box!
ADDRESSES:
Slieve Bloom Mountains: Location: Laois/Offaly, Ireland
Rock of Dunamaise: Address: Dunamaise, Aghnahily, Co. Laois
Kinnitty Castle: Address: Birr, Kinnitty, Co. Offaly
The Pantry: Address: 13 Market Square, Kylekiproe, Portlaoise, Co. Laois, R32 N5N0
The Thatch: Address: Military Rd, Ballinree, Birr, Co. Offaly
Slí Dala: Address: Birr, Kinnitty, Co. Offaly
Ballyfin Demesne: Address: Cappanrush, Ballyfin, Co. Laois
Monaincha House: Address: Monaincha, Roscrea, Co. Tipperary, E53 RW74
The Forum-Mountmellick: Address: Patrick St, Townparks, Mountmellick, Co. Laois