Located in County Antrim, the Slemish Mountain walk is a short but strenuous experience that will offer breathtaking views over the Northern countryside.
Located in County Antrim, Slemish Mountain stands tall from the terrain, stretching 1,500 feet (457 metres) to the sky. Follow our guide if you're planning to do the Slemish Mountain hike.
Read on to learn more about this popular mountain trail in Northern Ireland, including when to visit, where to stay, and things to know before planning your visit.
Basic info – the essentials
Route: Slemish Mountain Walk
Distance: 1.5 kilometres (0.9 mi)
Start / End Point: Slemish Car Park
Difficulty: Moderately strenuous
Duration: 1-2 hours
Overview – in a nutshell
A dramatic sight set against the lazy landscape of rolling fields and pastures, it comes as no surprise that the Slemish Mountain walk is popular with day-trippers and those keen to take on a quick but challenging hike when in the locale.
Slemish Mountain is the last remains of an ancient Irish and long-extinct volcano. Aside from its geographical significance, the site is also linked to Ireland's patron, Saint Patrick. It is said that Slemish Mountain was, in fact, his first home.
When to visit – the time in question
The best time to enjoy a Slemish Mountain hike is on a dry and calm day in spring or autumn.
During these seasons, you'll experience less footfall along the trail and, with fewer fellow hikers to contend with, will be able to enjoy the true bliss of this peaceful site.
Weather plays a significant role in choosing when to take to the trails. Avoid days of high wind, poor visibility, and rain.
Directions – how to get there
The Slemish Mountain walk is located just 10 km (6 miles) from the town of Ballymena.
This takes about 20 minutes by car. Slemish Mountain is well signposted when in the area and cannot be missed along the skyline.
Distance – the fine details
This trail may be short in distance (1.5 km/0.9 mi), but don't let that fool you: it can be quite a challenge.
From the top, you will be rewarded with views of Ballymena, Lough Neagh, the Sperrin Mountains, the Bann Valley, and the Antrim Hills on a clear day.
Things to know – local knowledge
Slemish Mountain is located in an Environmental Sensitive Area (ESA). When visiting the area, make sure to adopt a 'leave no trace' policy, and do not litter. If you experience wildlife, keep a safe distance and do not feed the animals.
According to legend, Slemish was the first home of Saint Patrick in Ireland. It is said that in the 5th-century, after being captured and brought to Ireland as a slave, he worked as a shepherd on the foothills of this majestic mountain.
What to bring – your packing list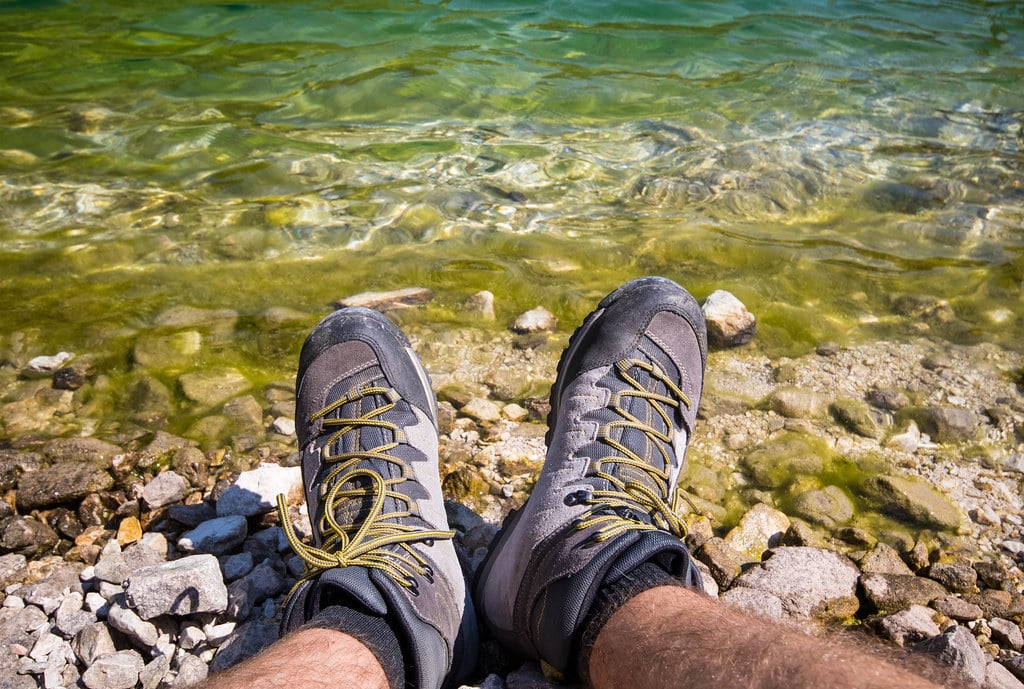 Sturdy, all-terrain walking shoes are a must when tackling any mountain trail, and the Slemish Mountain walk is no exception.
Regardless of the time of year, always pack a rain jacket. As you may know, the weather in Ireland is famous for flipping from one extreme to another.
There are no facilities along this route, so make sure to pack supplies (for example, water and snacks) for your comfort.
A camera is always advisable, especially with such scenic views from the top of the Slemish Mountain hike.
Where to eat – for the love of food
Before or after you've tackled Slemish Mountain, enjoy a bite to eat in Ballymena.
For a morning feed, head to Nobel Cafe, where an Irish breakfast reigns supreme. Follow Coffee and Middletown Coffee Co. are two other local favourites with fresh dishes and fantastic brews.
The Pizza Parlour is a great spot for filling plates of Italian fare. Alternatively, the Castle Kitchen + Bar offers cool vibes and cocktails.
Where to stay – for a golden slumber
The no-frills 5 Corners Guest Inn is complete with a restaurant and pub and ideal for those seeking a social stay while exploring the area and tackling the Slemish Mountain walk.
If you're seeking something full of character, we suggest the Victorian three-star Tullyglass Hotel and Residences.
The four-star Leighinmohr House Hotel is a good shout for those seeking an added dash of luxury throughout their stay.