How many of these 7 activities and iconic attractions have you crossed off your Ireland bucket list?
7. The Guinness Storehouse, Dublin
Once you make a trip to the Guinness Storehouse, you'll see why it's Ireland's most popular tourist attraction.
Located in the original Guinness brewery, the tour charts the history of the iconic black stout through detailed exhibitions, demonstrations and tasting rooms.
End by savouring a complimentary pint in the Gravity Bar, a 360-degree panoramic bar with views across Dublin City.
6. The Skelligs, County Kerry
What do Jedi, hermit monks and puffins have in common? They all lived on Skellig Michael at one time or another, a remote island that rises from the Atlantic.
The massive outcrop appeared in Star Wars: The Force Awakens and will have an even bigger role in Episode VIII. Boat tours – not the Millennium Falcon – can take you there in 2017.
5. Glendalough, County Wicklow
If you plan a trip to Ireland, you need to see Glendalough. Part of the Wicklow Mountains National Park, this glaciated valley is a haven of woodlands, moors and lakes.
It was first inhabited by St Kevin in the 6th century, whose monastic site can still be seen in the round tower and Celtic crosses that remain at the lower lake. Hey, if it's good enough for a saint…
4. Titanic Belfast, Belfast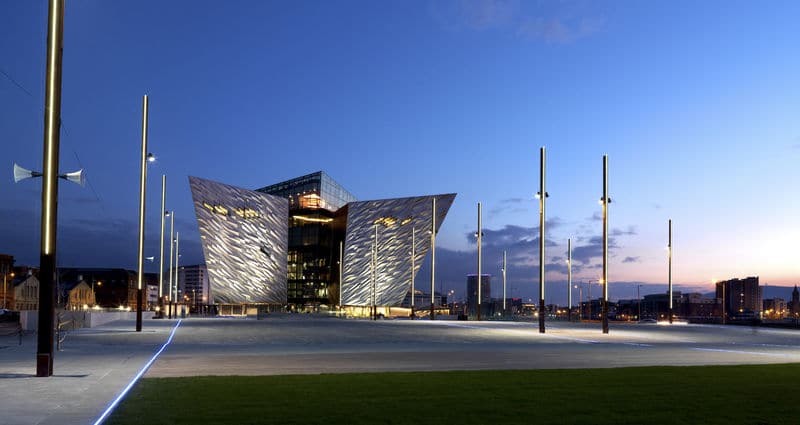 The pride of industrial Belfast, this tribute to the Ship of Dreams truly is the stuff of dreams. Recently named the World's Leading Tourist Attraction, it's situated on the exact spot the Titanic was built over a century ago.
Equal parts museum and interactive exhibition, you'll have no time to argue over whether Rose really could have shared that piece of wood with Jack Dawson…
3. The Giant's Causeway, County Antrim
Northern Ireland's coastline is dotted with crumbling castles, rugged islands and secluded beaches.
But the most impressive of all its coastal quirks has to be the Giant's Causeway, a sweeping path of 40,000 hexagonal stone columns that tumble into the sea in a blaze of black basalt.
Some say it was made by warring giants, others volcanoes. Whatever you believe, there's no doubt that this is a must-see stop.
2. The Cliffs of Moher, County Clare
There's a good reason why almost 1.5 million people visited the Cliffs of Moher last year alone. First of all, look at them!
Considered one of the natural wonders of the world, the dramatic cliffs stretch for 5 miles and soar over the churning Atlantic below.
Getting a photo here has become a rite of passage for those travelling in Ireland – just watch out for the 30,000 pairs of seabirds photobombing!
1. Game of Thrones® Territory, County Antrim
Any Game of Thrones® fans worth their salt wives need to make the quest to the real-world Westeros in 2017 – Northern Ireland, to be exact.
Home to more Seven Kingdoms locations than anywhere else, you can dress up in authentic costumes and combine epic location tours with activities like archery and medieval banquets. This is as close as you'll ever get to claiming the Iron Throne.
Thanks to Ireland.com for this contribution.