Climate change and global warming are real, and life in Ireland will change dramatically in the next decades. Don't believe us? See the areas to be underwater by 2100 below.
If you have watched Sir David Attenborough's new film A Life On Our Planet on Netflix (or followed the actions of Greta Thunberg and environmental groups such as Extinction Rebellion), you are certainly aware that climate change is the number one challenge we face this century.
Caused mainly by burning fossil fuels, be it oil, gas, or coal, by general pollution, deforestation, agriculture, and air travel, we keep releasing a ridiculously high amount of carbon dioxide into the air, resulting in the planet to heat up – threatening our environments, wildlife, and our own lives.
One of the most apparent consequences of global warming is the rise of sea levels due to land ice melting and seawater expanding, increasing flooding. Eventually, parts of our country will be lost to the ocean forever.
Read on to find out about the areas to be underwater and start acting NOW! In the words of Sir David Attenborough, "Time is running out!"
5. Waterford – Ireland's oldest town might be underwater by 2100
Founded by Vikings in 914 A.D., Waterford went into the books as the oldest city in Ireland. Sadly, however, the southeastern town could soon write history as one of the first to disappear due to global warming.
Waterford City & Council have already raised warnings of what might be underway.
Their website outlines a plan "to reduce the vulnerability of Waterford to the negative effects of climate change", including the replacement of old street lighting fittings with LED lighting, encouraging citizens to cycle instead of taking cars, increasing recycling as well as building flood barriers.
Obviously, Waterford alone won't be able to stop climate change, so it's in all our hands to protect the city from being one of the areas to be underwater by 2100.
4. Galway – the West coast gem faces regular flooding, storms, and worse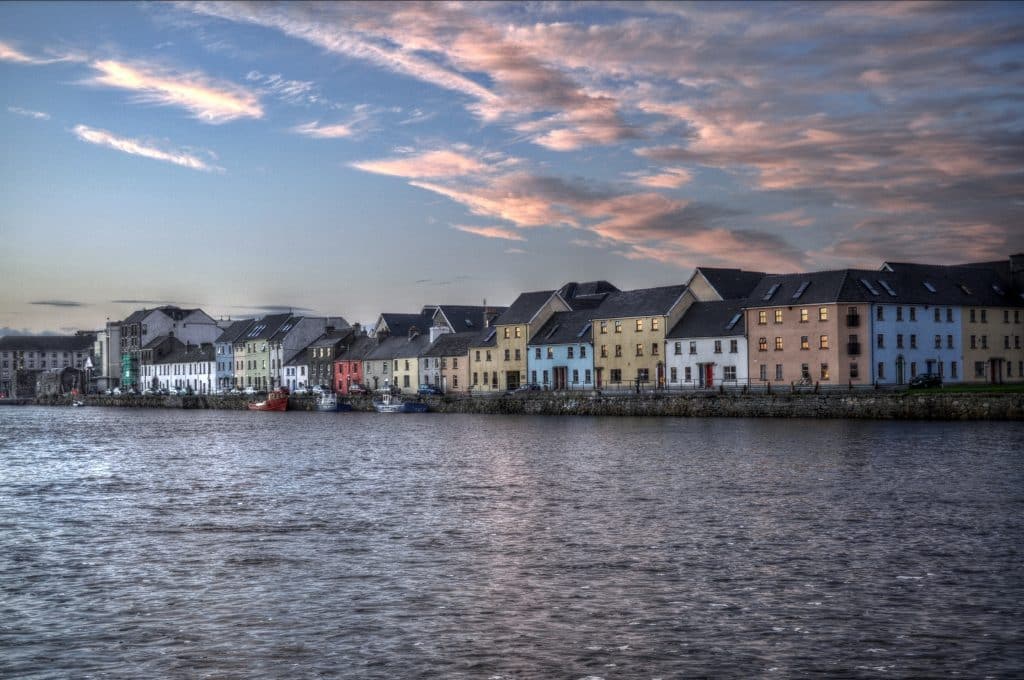 Remember Storm Ophelia in 2017? Ireland's West coast has gotten its first taster in recent years of what is to come if global warming keeps progressing – and it's not pretty.
Parts of Galway City already experience flooding on an increasingly regular basis, costing private households and businesses thousands of euros to repair the damage. Scientists predict heavy storms and floods will become the norm rather than the exception in the decades to come.
And if we don't manage to stop or at least slow down global warming, the whole city of
Galway will most likely be one of the areas to be underwater by 2100.
3. Belfast – the hometown of the Titanic might be gone in just 80 years
The capital of Northern Ireland and its surroundings is another of the areas to potentially be underwater by 2100 if things continue as they are going right now.
During the Ice Age, Northern Ireland was covered by a massive sheet of ice up to three kilometres thick that pushed the land beneath down.
After it melted, the areas around Belfast started to rise again, currently at around 0.4 mm per year. However, at the same time, the sea level is rising 3.4 mm per annum, posing a serious danger to the area.
While regular flooding is unpreventable at this point, worse is under the way.
2. Dublin – our capital faces serious challenges in the coming decades
But Belfast isn't the only major town under threat. Scientists suggest Dublin and its bay could join the areas to be underwater by 2100.
While the capital's hilly surroundings are relatively safe, the prospects for Dublin itself are pretty grim. A new report by Gamma Location Intelligence suggests that more than 23,000 city properties are at risk of disappearing by 2050.
The whole Docklands area might be unrecognisable by then due to the rising tides.
Scientists predict Bull Island will be gone for good in 30 years, and popular living areas such as Sutton, Baldoyle, and Portmarnock will be severely affected. By 2100, the whole Dublin Bay and most parts of the city could have sunk into the sea.
1. Mayo – the county might be gone entirely by the turn of the century
Mayo in the North-West of Ireland ranks among the most beautiful parts of the country, but it's also worryingly high on the list of areas to be underwater by 2100.
In recent years, heavy storms and flooding have increased, but while, for now, Mayo has bravely resisted the elements, the whole county could be lost to the sea in just 80 years.
Mayo County Council has implemented a plan "to minimise the level of flood risk to people, business, infrastructure, and the environment through the identification of existing and potential future flood risks".
However, we all know that risk management, while necessary, won't be enough in the future, so let's start acting now and protect Mayo and the rest of our beautiful island for generations to come.