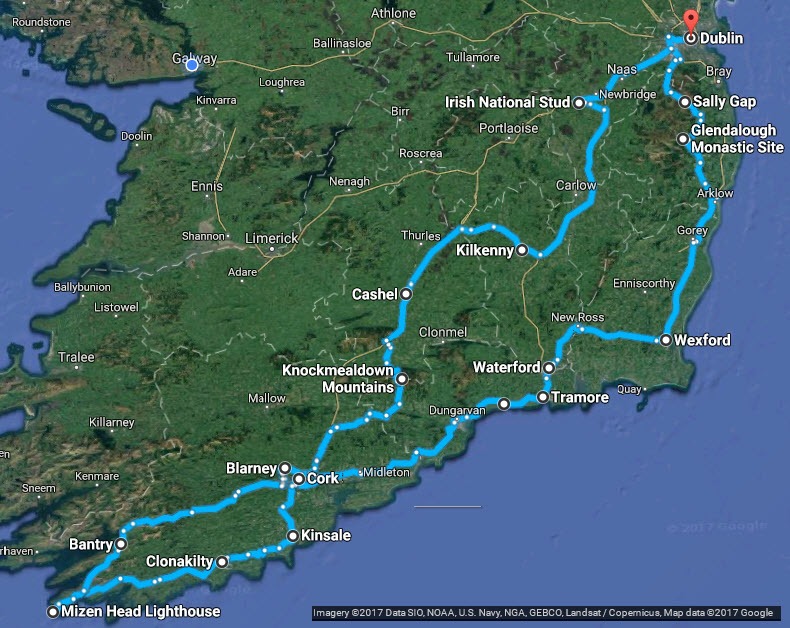 This 5-day road trip has it all: beautiful beaches and breathtaking mountains, lively cities and friendly towns, medieval monuments and houses of landed gentry, food markets and craft stores, famous sites and hidden gems. It starts and ends in Dublin, taking the coast road through Wexford, Waterford and Cork, and returning inland via the Rock of Cashel and Kilkenny. What are you waiting for?
Day One: Dublin to Wexford
Sally Gap
Head south of Dublin city towards the Wicklow Mountains, following the signs for the gorgeous Sally Gap. You won't believe such stunning vistas exist so close to the capital.
Glendalough
Those old monks picked some great sites! The medieval monastery of Glendalough ("valley of two lakes") was founded by St Kevin in the 6th century, and in the present day it offers both history and scenery to the visitor. Parking may be at a premium in high season.
Wexford
Turn towards the coast road, and enjoy the mountains on your right and the sea on your left. You'll finally reach the buzzing town of Wexford, home to many fine pubs and restaurants. Nearby attractions include the Irish National Heritage Park and the Wexford Wildfowl Reserve.
Day Two: Wexford to Cork
Waterford
Head westwards to Waterford, home of the famous Crystal Factory. Tours are available if you want to see how the intricate glassware is produced.
Copper Coast
Drive towards the seaside resort of Tramore. Depending on the time of year, you'll find it buzzing with holidaymakers or enjoying a quiet off-season. Then take the glorious Copper Coast drive, where you'll find gems like Kilfarrasy Beach and the Stone Age remains at Annestown.
Cork City
Finish your day in Cork City, the "real capital of Ireland" according to its inhabitants. Walk down Patrick's Street, across the bridges over the Lee, and around Fitzgerald's Park. Pick up some snacks at the famous English Market. Saint Anne's Church and Cork City Gaol are also worth a visit.
Day Three: Cork to Bantry
Kinsale
Historical, colourful Kinsale has been developing a name for itself as a culinary town. You'll definitely want to spend some time wandering its streets, and perhaps stop enjoy a spot of brunch! There are many fine walks along the harbour, and the historic Charles Fort is a popular attraction.
Wild Atlantic Cork
Follow the signs for the Wild Atlantic Way, which takes you through lovely villages like Clonakilty (home of the famous black pudding), Skibbereen (the nearby Liss Ard estate contains the unusual Irish Sky Garden), and Baltimore (boats here will take you whale and dolphin watching).
Mizen Head
Drive all the way out to Mizen Head and walk across the footbridge towards the lighthouse. Hold onto your hat if it's windy! You can't go any further west from here unless you want to sail to America.
Bantry
Have a well-earned rest in the friendly town of Bantry. If it's Friday, you might catch the street market. Bantry House and Gardens have great views of the bay.
Day Four: Bantry to Cashel
Blarney Castle
Head eastwards and inland towards the 15th-century Blarney Castle. Stroll around its beautiful grounds, and climb the tower to kiss the stone and receive the "gift of the gab".
Knockmealdown Mountains
Head via Lismore into the wonderfully-named Knockmealdown Mountains. This scenic drive is one of inland Ireland's hidden gems. Stop at "The Vee" for spectacular views of South Tipperary.
Rock of Cashel
Have you had enough history and scenery yet? The 12th-century Rock of Cashel offers both, and is a must-see for anyone travelling through this part of Ireland. Finish your day in one of the B&Bs in Cashel town.
Day Five: Cashel to Dublin
Kilkenny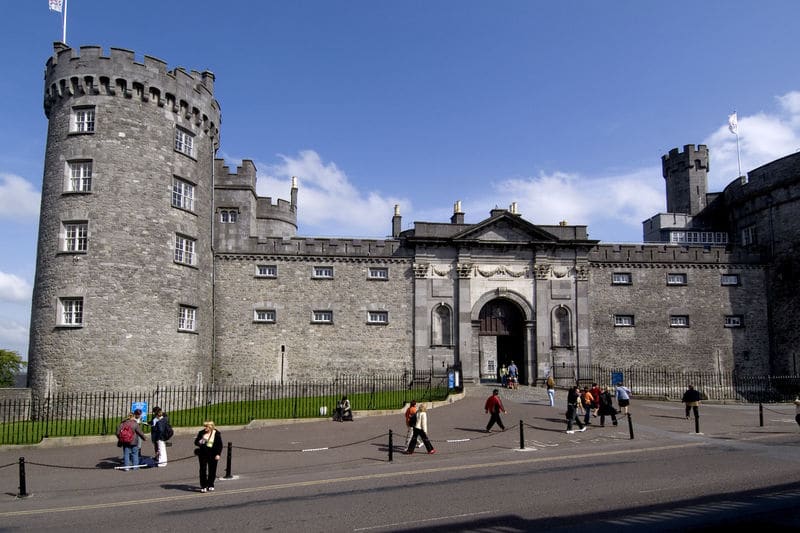 On the home stretch now! Drive north-east to Kilkenny, home of one of the best-preserved castles in Ireland and a must for any history lover. Afterwards, you might want to visit the imposing Black Abbey, or pick up some souvenirs at the many craft shops in town.
Kildare Stud and Japanese Gardens
The Irish National Stud in Kildare offers tours to see the horses (including, if you're lucky, some wobbly-kneed foals). On site, you can also stroll around the Japanese Gardens, a meeting of east and west in the heart of Kildare.
Dublin
Finish up full-circle back in Dublin, just in time for a pint of Guinness to celebrate your journey!