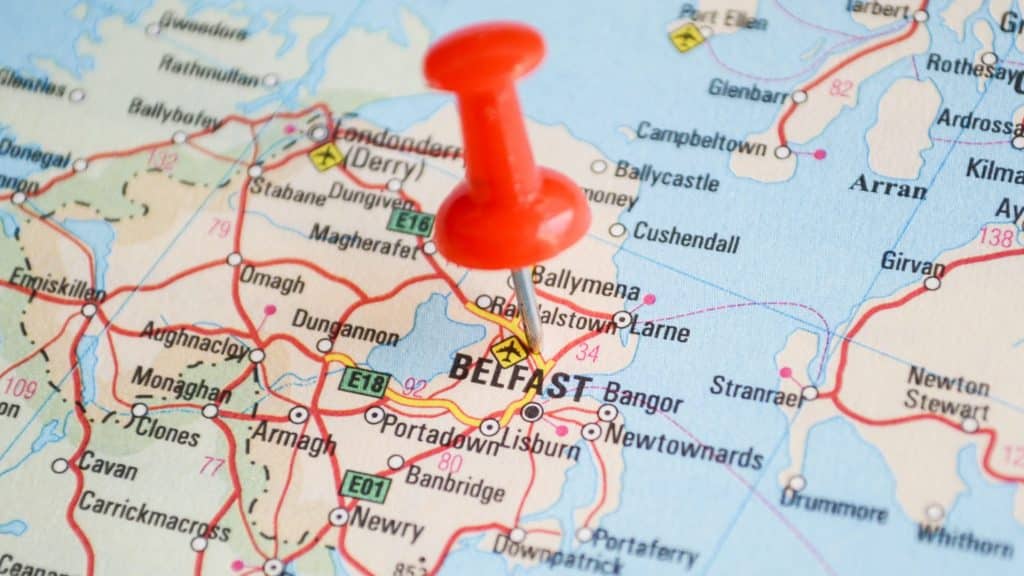 Names are a massive part of personal identity. Names can tell a story or track heritage, they can give a sense of place or a nod to a person's roots, whatever they may be.
Ever wondered what the most common surnames in Belfast were? Well, here they are now!
20. O'Neill
This surname traces back to the Irish name Eoghan, the son of a 5th century High King of Ireland. The name itself bears a strong tie with the esteemed sept (clan/family group), the O'Neills of Tyrone, members of whom were often High Kings of Ireland.
19. McDermott
The McDermotts were a sept from Roscommon and linked to the O'Connor sept. McDermott is a popular name in Belfast, today.
18. Lynch
This family name is popular across Antrim and Derry. The name is to have derived from the word "mariner", or sailor.
17. Hamilton
This name is of Scottish origin, although it is an extremely popular name in Belfast and in Northern Ireland. The name is associated with the Scottish landowners who ruled lands in Antrim, Fermanagh and Tyrone.
16. Duffy
This Irish surname is linked back to two separate septs in Ulster, the first from Monaghan and the other from Donegal. Over generations, it has become an extremely popular name in Belfast.
15. Coyle
The surname Coyle means "son of the servant of Comgall", an early Irish saint. This name is linked back to a sept from Donegal.
14. Brown
Brown is, in fact, of English and Scottish descent. The name derived from the nickname for someone who would have had brown hair or skin.
13. Boyle
This Irish surname spawns from a sept located in Donegal. The Boyle sept would have been held high esteem, ruling the northwest alongside the O'Dohertys and the O'Donnells in medieval Ireland. Today, it is a very popular name in Belfast.
12. Hegarty
Alike the surname O'Neill, Hegarty also traces its roots back to Eoghan, son of the 5th century High King of Ireland. The Hegarty's were lower on the totem pole than the O'Neills but had status nonetheless.
11. Harkin
Harkin is a family name which is popular today in Belfast. It spawns from the Donegal sept of the same name who resided near Malin Head, the most northerly point of Ireland, a stunning peninsula which juts out into the Atlantic Ocean.
10. O'Donnell
O'Donnell is a strong Irish name. It has much history in its roots and dates back to a Donegal sept. The O'Donnells along with the O'Neills led the Ulster Rebellion of 1594-1603 against the English. Today, it is a popular name in Belfast.
9. McDaid
The name McDaid is linked to the Dohertys who were a popular sept in Donegal, also. In some cases, however, the name McDaid could be an Irish variation of the Scottish name, Davidson. Regardless, the family name is popular in the Northern Capital, today.
8. Campbell
This is a Scottish-Gaelic family name deriving from the nickname "crooked mouth". The Campbells of Argyle was a very powerful sept in Ireland in the 17th century and the name lives on today.
7. Gallagher
Gallagher is an extremely popular name in Belfast. The name originally links back to a Donegal sept who controlled territories in the north of Ireland.
6. Johnston
This name is originally of Scottish origin, however, it is prevalent in Ireland's past and is still extremely popular in Belfast, today.
5. Smith
This name shares Irish, English and Scottish origin. It is thought that this popular name is an Anglicisation of the name McGowan.
4. Kelly
An impressive amount of septs shared this family name – at least seven, that we know of – meaning it was as popular in the old days as it is now. The Kellys are to have been a powerful clan, ruling territories in Northern Ireland.
3. McLaughlin
This hugely popular Irish surname traces back to a Donegal sept. It also shares lineage with Eoghan, son of the 5th century High King of Ireland and is as popular today, as ever.
2. Moore
Moore shares in Irish, English and Scottish heritage, but remains one of the most prolific surnames in Belfast. The O'Mores were a leading Irish clan in history and one of the Seven Septs of Laois who ruled County Laois alongside six other leading septs.
1. Doherty
Doherty is the most common surname in Belfast. The Irish family name again originates from a Donegal sept. The Dohertys were a powerful clan in Irish tradition, ruling territories and leading rebellions.