Although this annual holiday of love is celebrated worldwide, many people are utterly unaware of its history. While people's relationship with Valentine's Day – which takes place on 14 February each year – differs vastly, the roots of this holiday are often left unspoken.
In the modern day, people often fob this holiday off, insisting it is a "made-up" notion spearheaded by gift corporations such as Hallmark or chocolate companies.
And (on the flip-side) many people rejoice in this one day-festival which offers a unique 24 hours window, dedicated to sharing your love and care for another.
Regardless of one's relationship with the day in question, however, the mysterious history of St. Valentine and Valentine's Day is interestingly linked to the Emerald Isle.
Saint Valentine
Interestingly, for such a popular saint, there is little certain fact surrounding the life of St. Valentine and Valentine's Day. Three stories fight for the status of "accurate account", although one, in particular, is considered to be the preeminent record of Saint Valentine.
The first (and most widely accredited story) goes like so: Valentine was a priest in the 3rd century in Rome. When the Emperor, Claudius II, decided to outlaw marriage – believing love was far too distracting for his soldiers – Valentine took it upon himself to wed courting couples in secret.
A second story suggests that Valentine was the first to ever send a love letter, signed "from your Valentine", thus beginning a custom that would define romance over generations.
The last story insists that Valentine was a priest martyred from helping Christian soldiers escape the wicked wrath of Roman troops.
Although the accounts of Saint Valentine vary greatly, common threads, such as his unequivocal belief in love, empathy and passion, are uniform.
Valentine's Day
Contradicting beliefs around Valentine's Day exist, too. Whilst some believe the date (14 February) marks his death, it is widely agreed that this holiday was actually imposed by the Christian Church in a bid to override the Pagan holiday of Lupercalia.
Marking the beginning of Spring, the fertility festival, Lupercalia, traditionally began on 15 February and consisted of a series of rituals dedicated to the founders of Rome (Romulus and Remus) and the Roman God of Agriculture (Faunus).
It was on 14 February around 498 A.D. when Pope Gelasius declared the day in question to be called Valentine's Day, overriding the previous Pagan rituals, which had come to be thought of as un-Christian, by the Church. It is since then that we have officially celebrated Valentine's Day.
Over Generations
Throughout the centuries Valentine's Day evolved to become one of the defining holidays of the calendar year.
Mainstream acknowledgements of the holiday began in the UK in the 17th century. Whilst showing signs of affection has always been intrinsic to Valentine's Day, the act of sending cards and love-letters was only truly popularised in the 18th century.
With continued growth in technology and the introduction of printed cards at the end of the 18th century, Valentine's Day has grown to become the second most popular card-sending holiday, after Christmas.
Saint Valentine and Ireland
Interestingly, Ireland has a unique tie with Saint Valentine and the holiday in question.
In 1836, a highly esteemed Irish priest called Father John Spratt gave a sermon in Rome which earned him much respect and attention from the Christian community.
Father Spratt was showered with gifts of affection and appreciation, but the most significant gift of all came from none other than Pope Gregory XVI.
The gift in question: a relic of Saint Valentine himself, along with a letter claiming the relic's genuine authenticity.
These precious holy gifts were received in the Carmelite Whitefriar Street Church (located on what is now called Aungier Street) in Dublin City, where they remain today.
The shrine, which is said to house Saint Valentine's remains is open for viewing to the public and gives Ireland a unique and ever-lasting relationship not only with Valentine, the saint of love, but also a holiday that is loved (and detested) worldwide.
Valentine's Day Traditions in Ireland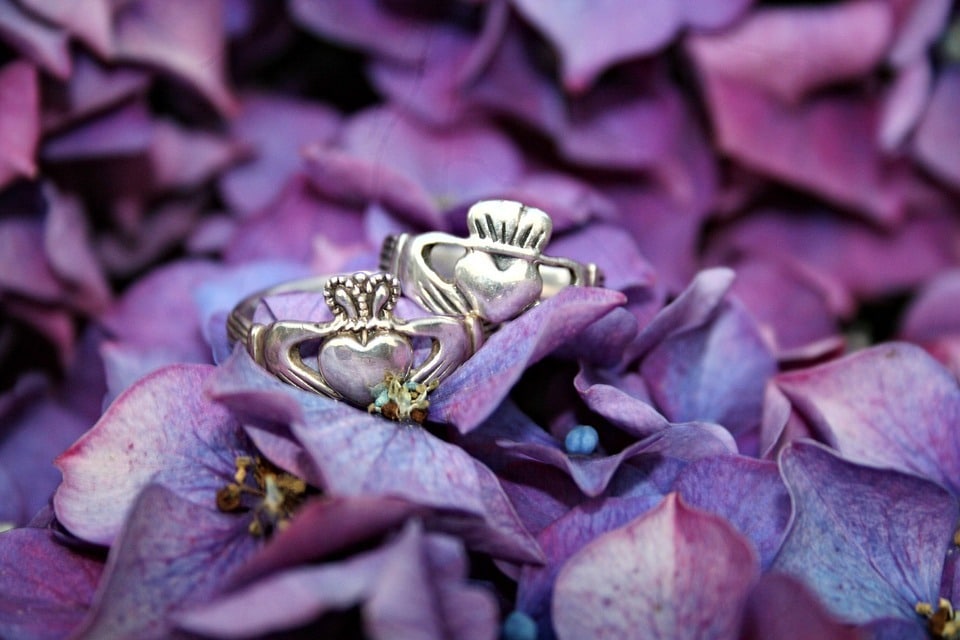 Although there are no celebrations or traditions for Valentine's Day that are completely unique to Ireland, one gesture which is inherently Irish – and commonly seen on Valentine's Day – is the exchange of Claddagh Rings.
Claddagh Rings originated in the town of Claddagh in County Galway. They represent love, loyalty and friendship and have been in production since the 17th Century.
The world's oldest maker of Claddagh Rings still exists today in Galway, and there's no greater gesture to the one you love than the sharing of a symbol of love everlasting: a Claddagh Ring.