Ah Ireland, where the idea of 'heading to the pub for just one' is as mythical a concept as unicorns themselves. Safe to say, in the Emerald Isle, we respect your right to kick back and enjoy a pint.
To help you on the quest to find the ultimate spot for a legendary session, we have undertaken pain-staking research, ('Jesus, me head. Does anyone have any Panadol?') and compiled a list of the best towns in Ireland to have a big night out!
15. Gorey, Co. Wexford
Nestled in the heart of Banville country, Gorey is a perfect night out for those with an adventure in mind. The planning permission Gods have seen fit to design Gorey as one long street, so you may take that as a divine direction to partake in a legendary pub crawl.
So, pack up the van and bring your crew along to explore what the night out in Gorey has to offer.
14. Kinsale, Co. Cork
Well-known for its eccentric beauty, this charming Cork town has a reputation as a haven for foodies and creatures of the night alike. After you've had your fill of the local cuisine, you can wash it some pints at one of Kinsale's many classical pubs.
The town's winding streets packed to the brim by charming shops, galleries and pubs, providing a peaceful oasis away from the hustle and bustle of Cork city centre.
13. Clifden, Co. Galway
Set between the Atlantic Ocean, 12 Ben Mountains and preserved boglands, lies the town of Clifden on the Coast of Connemara. This breath-taking town, that's known as the unofficial headquarters of Connemara is simply enchanting.
After a long journey through some of Ireland's top scenery you'll be ready for pints and luckily enough, there's a main street full of amazing bars to help you achieve that.
12. Ballina, Co. Mayo
Ballina is a town famed for its wild nightlife. There's no other spot in the rugged land of Mayo that can compare. Beware: A night out in Ballina is not for the faint-hearted. With it's fantastic array of pubs and clubs, you'll be spoilt for choice.
So, you'll have to set yourself the task of visiting them all. Best have your Weetabix.
11. Portrush, Co. Antrim
Boasting three wild Atlantic beaches, this Northern Irish seaside town is a real treat for the eyes. Its distinct night-life is defined by the local music scene. So, while strolling the promenade in search for the perfect pint, why not see some live bands?
Portrush is also a spot for surfing, eating amazing food, playing golf or more importantly drinking pints and hitting the nightclubs. A deadly night out by all accounts.
10. Muff, Co. Donegal
Muff is a town for traditionists at heart. Located in the hills of Donegal, this fascinating little
town acts as a geographical time-capsule of sorts. It's old school in the truest sense of the term.
While in Muff, you'll be visiting The Squealing pig. How do I know that? Because it's the only pub in town. That's how.
Fear not, the nightlife in Muff provides the quintessential Irish night out experience. Anyone for a bit of trad?
9. Skibbereen, Co. Cork
Ah, Skibbereen. The town that gifted the world with the O' Donovan brothers. Handsome Irish athletes aside, Skibbereen is an absolute beaut for a night out. Located at the very end of Ireland, Skibbereen has its own distinct culture and ways.
A night out in Skibbereen is a truly unique experience, so slap on a smile and pull up a barstool, for no night in Skibbereen is complete without meeting the colourful locals.
8. Lahinch, Co. Clare
A real surfers paradise, Lahinch is a great place for thrill seekers and party people alike. It's beautiful beaches and throbbing tourist season mean that Lahinch is packed the brim from travellers the world over.
Why not try a pub crawl in Lahinch at the height of summer? If that doesn't float your boat, there are plenty of restaurants and clubs to keep you happy.
7. Lismore, Co. Waterford
This captivating Waterford town is a real treat for those of us in need of a blast from the past. Why not polish your brogues and go for a pint at Booley's? Where they bring tradition to life via storytelling, Irish Dancing and a good aul bit of trad! If that's not your cup of tea, take yourself into town, where you can enjoy a quiet pint while you bask in the sheer beauty of Lismore scenery.
6. Bundoran, Co. Donegal
Ah, beautiful Bundoran! Located along the Wild Atlantic Way, this coastal town isn't nicknamed 'fundoran' for nothing. The scenic Donegal town boasts extraordinary beaches that surfers have flocked to for decades.
The town also has a selection of late-night pubs and clubs where locals and tourists alike can throw shapes to dance and house music.
5. Sligo, Co. Sligo
Sligo is quickly developing a reputation as a fan favourite for stag/hens looking for something a bit out of the ordinary. Known as the Vegas of the West, Sligo town has a diverse nightlife that offers everything from classic pub trad sessions to drum and bass sets.
Sligo isn't a massive town, so everything is conveniently situated within a reasonable walking distance.
4. Carlingford, Co. Louth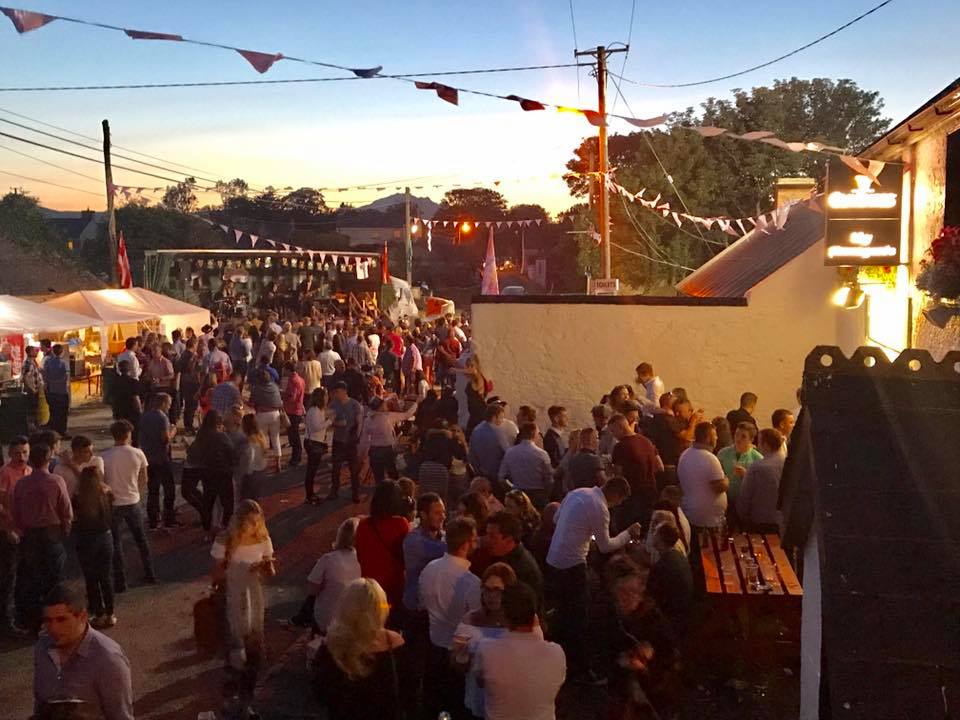 Carlingford is a must-do for any adventurous stag/hens in Ireland. While this beauty of a town has much to offer in terms of sightseeing, history, hotels, restaurants, it also offers a wide range of outdoor pursuits that will challenge that most competitive of stag/hens.
Like all good Irish towns, Carlingford has plenty of welcoming local pubs where the craic is legendary.
3. Dingle, Co. Kerry
Can you order a pint as Gaeilge? You better break out your L.C. Irish notes if you're planning a sesh in Dingle. Framed by its fishing port, the Gaeltacht peninsula's gorgeous little 'capital' manages to be charming without even trying.
Some shops moonlight as pubs, so you can enjoy Guinness and a singalong among screws and nails, wellies and horseshoes. Who doesn't enjoy a good screw on a night out?
2. Carrick-on-Shannon, Co. Leitrim
Don't let the beautiful scenery fool you, Carrick-on-Shannon is well on its way to becoming the Magaluf of the West. Situated in the heart of lovely Leitrim, Carrick-on-Shannon has long held a reputation as a Stag/Hen mecca.
1. Kilkenny, Co. Kilkenny
A popular stag/hen location is always a good sign that a place has a good nightlife and the same is true for Kilkenny. As a medieval town, Kilkenny has been hosting elegant soirees since the dark ages. It's a city that prides itself as a historical hub, with lots of fascinating, fun activities to do during a weekend trip. The town is an excellent spot for a night out with a pub at almost every corner of the town centre.
Get featured on Ireland Before You Die
Do you want to get your Irish business more online exposure? Especially to those interested in travelling the best places in Ireland? Then why not get a dedicated feature on Ireland Before You Die. Find out more 
here.