At nearly 400 feet (122 m), Powerscourt Waterfall is one of Ireland's most majestic natural sites. From when to visit and where to eat nearby, here's all you need to know before visiting.
Ireland is a hive of hidden gems and natural wonders. Hidden not far from city hubs or touristy trails, you can find some of the most unforgettable displays of nature at its best. Powerscourt Waterfall finds itself on that list.
Mindblowingly beautiful, this is a sight for sore eyes and one to see year-round. Keen to learn more? Read on to learn all of our insider knowledge to help you plan your trip.
Overview – located in the garden of Ireland
Powerscourt Waterfall is located on the Powerscourt Estate in County Wicklow, a county lovingly known as the 'garden of Ireland' for its immense beauty.
The waterfall is the highest in Ireland and stands at 396 feet (121 metres). There are trails, facilities, and additional attractions on-site. Thus, making a trip to Powerscourt Waterfall worthy of a full day of adventure.
When to visit – open all year round
Summer sees the highest number of travellers in Ireland – be it local or international. The island is at its driest and warmest during these months, and the gentle vibrancy of summer fun fills the air.
Saying that, it is also the busiest times to visit Irish attractions like Powerscourt Waterfall.
Spring or autumn sees fewer crowds, and the weather can still be quite mild if you're lucky.
Winter is another season suitable for visiting Powerscourt Waterfall; although it will be considerably colder, you may have the entire place to yourself!
What to see – impressive surroundings
After you've seen the impressive cascade, make sure to leave time to explore the natural surroundings. Giant Redwoods – which grow up to 262 feet (80m) high and survive a whopping 4,000 years – thrive around here.
Make time to enjoy a spot of shopping at Powerscourt. Here you can pick up some stunning Irish made crafts and gifts. There is also a luxury golf course and distillery on-site with tours available.
Directions – how to get there
Powerscourt Waterfall is easily accessible and only a short one hour drive from Dublin. If you're travelling from further afield, simply head to Wicklow. Once in the area, all signs will point to Powerscourt Estate.
Parking facilities are available on-site for guests use.
Things to know – useful info
Powerscourt Waterfall is a paid attraction. Adults pay €6.50 for entry; students and seniors can enter for €5.50; children until 16 years of age pay €3.50; and under two years go for free. A family ticket can be purchased for €16.
Your furry friends are welcome to join, too. Just make sure to keep them on their lead and pick up after them.
How long is the experience – how much time you will need
Powerscourt Waterfall could be enjoyed in under an hour, but where's the fun in that?
Pack a picnic and enjoy lunch al fresco as you listen to bird song and embrace the magnificent surroundings.
What to bring – come prepared
Although the pathways are maintained, this is a natural outdoor environment, so ensure you wear strong, sturdy, broken-in walking shoes and always bring a rain jacket.
During summer, a refreshment stand with drinks, snacks, and ice cream is on-site, although you may want to bring your own water and lunch as there are picnic tables available.
Where to eat – for tasty cuisine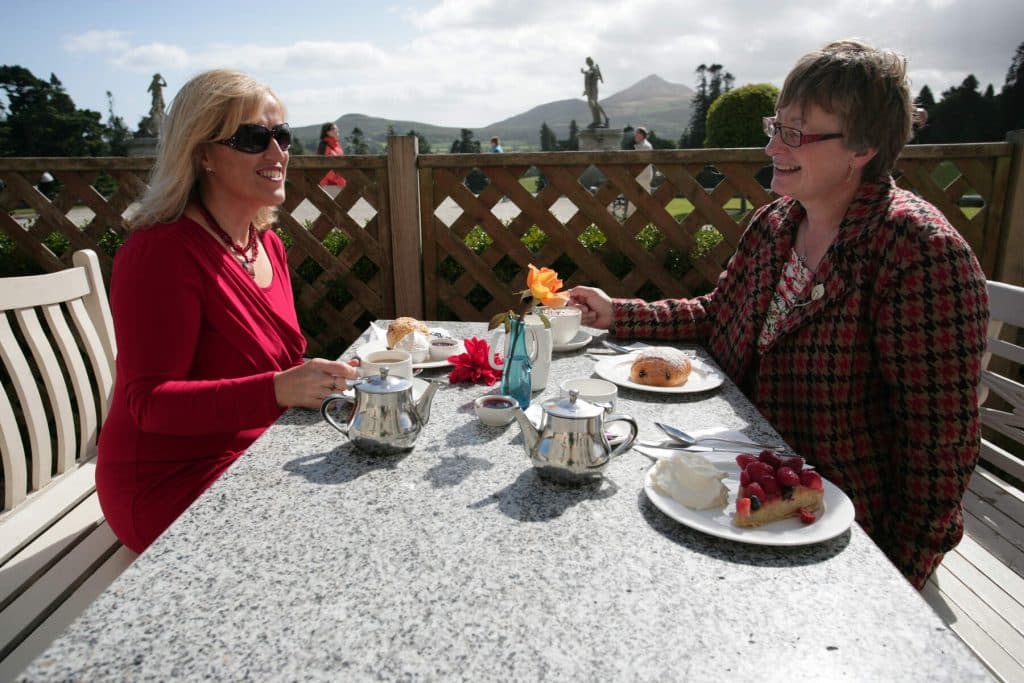 Enjoy your own picnic or grab food in the Powerscourt Avoca Cafe. This local produce cafe highlights the best of Irish home cooking, not to mention it boasts stunning views over the estate.
If you're looking to get off the property, drive 25 minutes to the Happy Pear in Greystones – one of Ireland's leading vegan and health food cafes. Don't let the sound of that fool you, though; this is perhaps the most indulgently delicious menus you may find in Wicklow!
Where to stay – cosy accommodation
For those keen to live it up, stay a night at the five-star Powerscourt Hotel. This opulent destination is the height of contemporary luxury in the heart of Wicklow.
Alternatively, the four-star Glenview Hotel and Leisure Club is more traditional nearby.
If something truly unique and centred around health and wellness sounds to your liking, check out the Powerscourt Springs Hotel.