Present from parties to wakes, poitín is a traditional Irish drink with a fascinating history.
When you think of Irish drinks, we would forgive you for only thinking of whiskey and Guinness, both fantastic Irish tipples in their own right. But you may be surprised to hear there is another drink, perhaps even more Irish than Baileys or Jameson.
But what is this drink, we hear you ask? Well, that drink is poitín, an ancient Irish beverage still a favourite spirit of Irish people today.
We are here to lay down some facts about this infamous Irish drink and highlight some of its remarkable history.
What is poitín? – here is everything you need to know about the notorious spirit
Poitín is an ancient farm-based spirit, often described as Ireland's answer to moonshine. The drink was made initially in rural areas, where the gardaí (police) would be less likely to find the illegal setups.
The beverage is traditionally made from starchy foods such as potatoes and grains and is clear in its colour.
Only the toughest people would stomach poitín as it was traditionally made, for it was known for its incredibly high potency, thought to be so strong it could bring blindness to those who drank it.
If you know any Irish farmers, chances are they know a thing or two about making poitín, or they at least have a relative who dabbled in it.
Farm sheds were perfect places to brew the potent beverage, as their remote locations meant there was less chance of interference from the authorities.
The drink's history is fascinating, so let us proceed with more facts about our Irish poitín.
READ: Our guide to the legal drinking age in Ireland.
The history of the drink − its ancient beginnings
The earliest poitín recipe can be dated back to 6th-century Irish monks. Their recipe involved the fermentation of malted and unmalted barley in a small pot.
The etymology of the word 'poitín' comes from the small pot it was brewed in. Tthe Irish word 'pota' means 'pot', while the Irish word for a hangover is 'póit'; thus, the name for the drink was a clever play on words.
The distillation of spirits was taxed from the late 1600s, leading to much secrecy in home distilling. While poitín can be legally distilled today, it was predominantly made in illegal rural dwellings until the late 1900s.
These illicit drinks were said to have been around 90% ABV, which caused many health concerns and rumours of blindness to those who consumed them.
Despite the murmurings of blindness and fears about deaths from poitín, the drink was also used to aid pain conditions such as arthritis. However, it was advised to rub it on the problem area rather than down it.
In Ireland, the idea of 'legal poitín' is contested, with many saying that only illegally made poitín is the real deal. Because of this, poitín can still be found in the traditional sense, but we didn't tell you anything about that.
There was also a rise in poitín amongst the Irish diaspora in the 19th century. There was guaranteed to always be a poitín maker close by in any Irish neighbourhood in New York, Boston, and all over America.
READ MORE: IB4UD's guide to the best Irish alcoholic drinks.
Poitín over the years − how the drink has stood the test of time
Because of how the drink was made, there was no way of regulating the recipe or potency. Indeed, the formula would vary depending on the area it was brewed in, the time of year it was made, or even the family who made it.
The tax on poitín distillers was made payable to the British government, which drove more home brewers underground, making the drink even harder to regulate.
King Charles eventually banned the production of the Irish drink in 1661, which we can proudly say didn't do much to stop the passion of the Irish distillers.
If anything, banning the liquor merely encouraged them in their traditions, and they continued to brew the potent beverage during its ban.
It wasn't until 1997 that the ban was lifted, with poitín being legalised for sale in Ireland, provided the drink and its potency were regulated.
While not everyone agreed on the regulation (particularly on the strength reduction), lifting the ban showed a significant step forward for the Irish drink.
In 2008, poitín received a Geographical Indicative Status by the EU, meaning the drink has to be made in Ireland to carry the poitín name.
LEARN MORE: The IB4UD guide to other strange laws in Irish history.
Where to find it – some of the legal offerings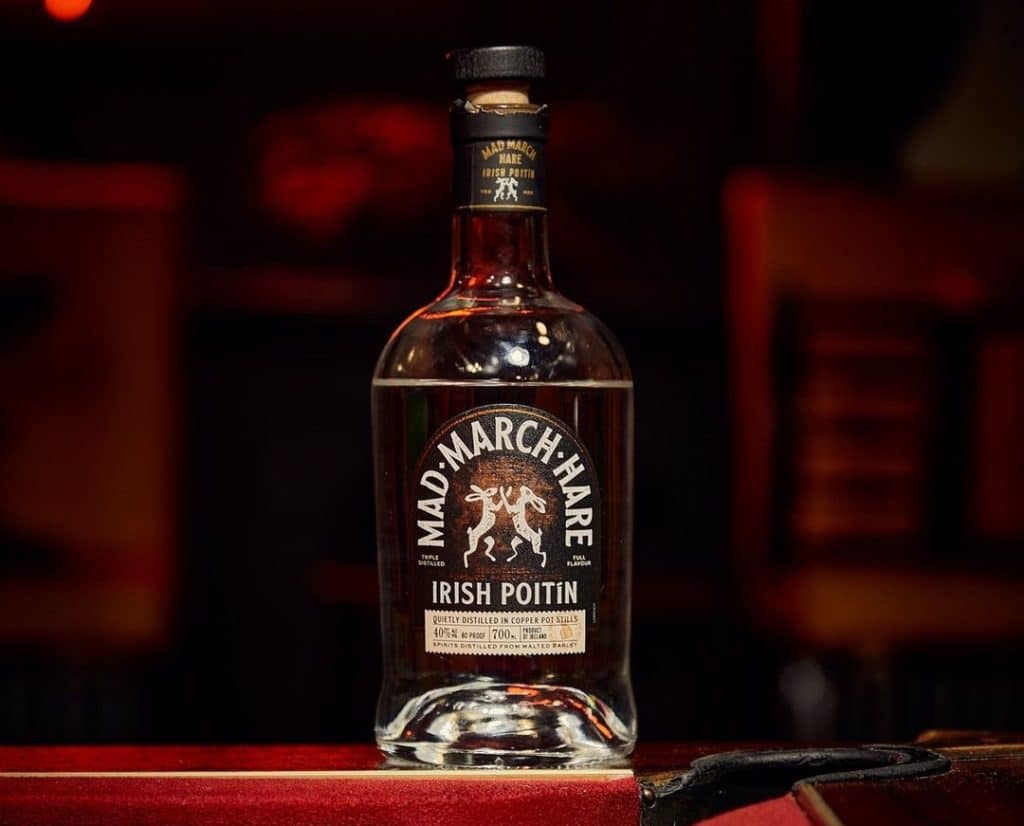 We cannot condone illegal activity, but many safe and legal ways exist to attain the traditionally illicit spirit today. Knockeen Hills Irish Poteen is a Waterford brand that has been distilling its recipe for over twenty years.
The Kilkenny-based Ballykeefe Distillery also distils its own Ballykeefe Poitín, a firm favourite for those who love the drink. These distilleries have won awards for their level of expertise in the craft.
The makers of Mad March Hare Poitín use barley that grows near the distillery and small pot stills made of copper. Mad March has won the Best Poitín award at the Irish Whiskey Awards twice, as well as a slew of other prizes.
Micil is another poitín master. Founder Pádraic O'Griallais distils Micil out of Galway using Irish barley and the Connemara botanical bogbean.
As you can see, there are many legally produced poítins today, but it is crucial to ensure it's made in Ireland; otherwise, it's not really poitín. 
READ ALSO: 50 shocking facts about Ireland you probably didn't know
Your questions answered about poitín
Has our guide to poitín whetted your appetite? Then read on, as we answer some of our readers' most frequently asked questions and popular questions that have been asked online about this Irish drink.
Is poitín a vodka or a whiskey?
Poitín is a spirit of its own accord and neither whiskey nor vodka. However, it would be more closely associated with vodka.
Why was poitín banned?
Poitín was banned in 1661 as the British government wanted to tax all alcohol. Due to the private brewing of the drink, it was difficult to tax, resulting in a ban.
How do you drink poitín?
To drink poitín like a genuine Irish person, we advise you to drink it straight from a shot glass.