To the east of Ireland lies the Irish Sea and the United Kingdom; to the west lies the wild Atlantic Ocean offering a straight shot to Canada and the United States. There are plenty of places to see dolphins in Ireland.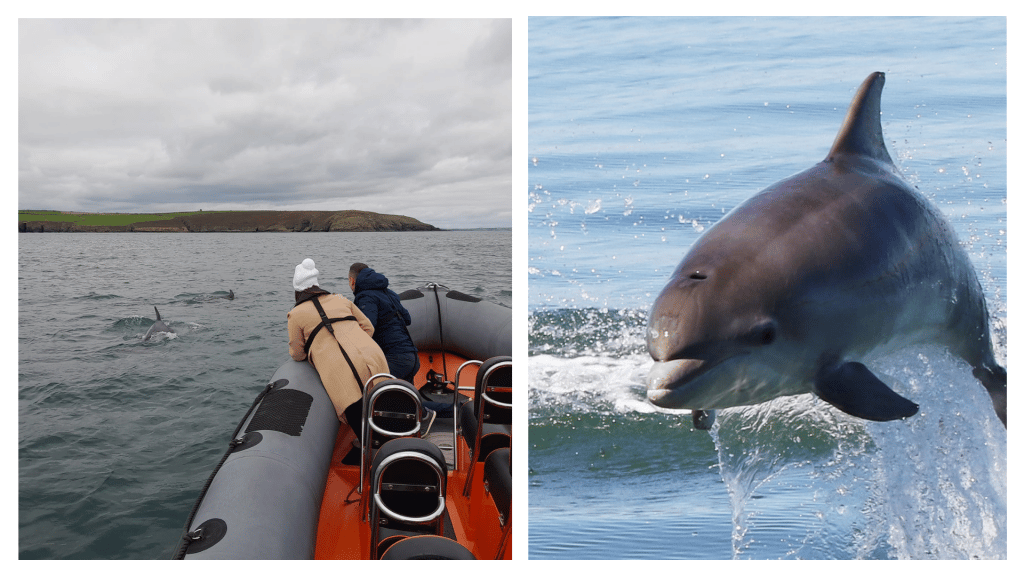 The Emerald Isle is known for its dynamic native flora and fauna. Ancient and electric, the Irish landscape – and waterways – are bursting with life, offering tourists and locals natural attractions which are unique to Ireland.
Watching for dolphins is a popular sport in Ireland. Many tours offer the exciting opportunity to experience these intelligent mammals in their natural habitat just off the coast of Ireland.
Tempted yet? Check out the top five best places to see dolphins in Ireland.
5. Donegal Bay, Co. Donegal − a county full of incredible wildlife
Located in the northwest of the country is the remote county of Donegal. It could be argued that Donegal is the most authentic slice of true Ireland that still exists today.
It is primitive in many senses. Its landscape has been left to bloom without the pressures of modern development.
The Irish language lives on with purpose and pride. Traditional culture is celebrated in a way seldom seen in city spots. It is true Ireland at its finest.
What better place to experience the beauty of the waterways than in this stunning and secluded setting? The Donegal Bay Waterbus is the clear answer here.
This robust and comfortable boat offers daily rides around Donegal Bay, with up-close views of off-shore islands as well as striking shots of the Bluestack Mountains.
You'll often spot the common dolphin, the harbour porpoise, minke whales and more dolphin species off the coast of Donegal.
Address: Quay St, Glebe, Donegal, F94 E023, Ireland
4. Galway Bay, Co. Galway − the capital of culture
There are many reasons why visitors choose to seek out Galway. It possesses the essence of Irish culture. It is known worldwide for its food (particularly Galway Bay oysters). Galway is home to world-class entertainment.
And, to top it all off, it has been named the European Capital of Culture 2020. Need another reason to visit this captivating county on the west coast of Ireland? Dolphin tours!
Galway Bay Boat Tours is a terrific company which offers sea safaris along the Galway coast. This family-run, intimate excursion is best suited for small groups or families, and a dolphin sighting is usually thrown in for good measure!
Address: New Docks, Galway, Ireland
3. Cork Harbour, Co. Cork − great opportunities to spot dolphins
Cork Harbour is one of the most popular places where you can see dolphins in Ireland. Set in County Cork in the southwest of the country, this seaside setting is favoured by those who love a little local culture, top-notch food, and entertainment.
Cork Sea Safari offers daily tours from the harbour, which all but guarantee dolphin sightings. The tour claims the harbour is the "'2nd largest natural harbour in the world by navigational area after Sydney, Australia".
The tour, which is undertaken on a high-powered speed boat, offers visitors an adrenaline-pumped nature excursion on the wild Atlantic Ocean.
As one of the best things to do in West Cork, another great tour is Whale Watch West Cork, if it's whales you're after, from mid-June onwards you have the best chances of seeing humpback whales.
Address: Hugh Coveney Pier, Crosshaven, Co. Cork, P43 XT97, Ireland
2. Dingle, Co. Kerry − vast marine wildlife in Irish waters
Dingle is a remarkable little seaside town in the sleepy and secluded county of Kerry. Surrounded by nature in full bloom, Dingle is a true sight for sore eyes.
Sitting on the Dingle Peninsula, which juts out dramatically into the roaring Atlantic Ocean, Dingle Bay makes for one of the most postcard-worthy settings in all of Ireland.
It was also home to Ireland's most famous dolphin, Fungie. This friendly sea-dwelling local was around for decades and was known for his impish and playful manner in and around Dingle Harbour.
Sadly, there hasn't been a confirmed sighting of Fungie since October 2020 and given his age at the time, there is speculation that Dingle's famous resident has passed on.
Regardless, Dingle Dolphin Boat Tours operate every day (weather permitting) and offer visitors an incredible opportunity to spot dolphins, whales, seals, and more. Dingle Sea Safari is also a great tour agency in the area.
There is a bronze statue immortalizing the friendly bottlenose dolphin – who was a Dingle resident for over 30 years – on the pier.
Address: The Tourist Office, The Pier, Unit 2, Dingle, Co. Kerry, V92 A6XT, Ireland
1. Kilrush, Co. Clare − one of the best places to see dolphins in Ireland
Located along the coast of County Clare is the town of Kilrush. Sitting along the Shannon Estuary, which flows into the vast depths of the Atlantic Ocean, Kilrush is, in fact, the location of Ireland's only (known) pod of bottlenose dolphins.
The area itself is a hotbed of activity in the summer months as vacationers and Irish residents look to catch a breath of salty sea air, as well as some dolphin sightings, too.
This Special Area of Conservation is also the site of dolphin breeding between May and September, making it the ultimate destination to snag a sight of the friendly sea-dwellers.
A tour with Dolphin Discovery is the best you can get. With over 30 years in marine tourism, you can be assured that safety and respect for marine life are above board.
Address: Merchants Quay, Cappagh, Kilrush, Co. Clare, Ireland
Other notable mentions
Slea Head: If land-based dolphin watching is for you, Slea Head is a great place to settle in and look to the seas. Years ago, there were even sightings of blue whales here.
Blasket Islands: An uninhabited group of islands off the west coast of the Dingle Peninsula, tours that head this direction often spots dolphins.
The Aran Islands: While touring the Aran Islands, many people have sightings of many different species of dolphin as well as minke whales.
FAQs about where to see dolphins in Ireland
What do you call a group of dolphins?
A group of dolphins is called a pod.
What species of dolphin can you find in Ireland?
The most common species you will see around Ireland are the short-beaked common dolphin and the bottlenose dolphin.
What species is Fungie the dolphin?
Fungie the beloved dolphin was a common bottlenose dolphin.