Looking for a getaway with magical vibes? Here are our five favourite fairy-tale Airbnbs in Ireland.
It is well-known that Ireland is one of those places that hosts an abundance of enchanting landscapes, bewitching views, and tantalizing experiences that all evoke a sense of something fantastical and almost child-like.
With its picturesque rolling hills, timeless towns, and awe-inspiring landmarks, it's easy to see why the island offers visitors fuel for the imagination, and there are so many places to stay that look like they're straight out of a fairy tale too!    
From timeless thatched cottages to captivating castles, here are five fairy-tale Airbnbs in Ireland you must stay in before you die!
5. 150-year-old thatched cottage – book a stay in an authentic Irish abode
First on our list is this quaint homestead in Portsalon, County Donegal. This pretty property is one of a handful of authentic thatched cottages remaining in the county, and its peaceful rural setting and charming original features remind us of something straight out of an old fairy tale.
This 150-year-old dwelling could belong to Little Red Riding Hood's granny with its delightful décor and romantic aesthetic. A tranquil lake is within walking distance, and surrounding the cottage is miles and miles of the breath-taking Irish countryside.
The cottage can host up to four guests and has been sensitively restored with many original features retained and features wood burning stoves in both the living room and dining room/kitchen area. This cottage is the perfect spot to experience an authentic rural Irish stay and enjoy the stunning surroundings of Donegal.
Click here for more information.
Location: Portsalon, Co. Donegal
4. The Wonderly Wagon – savour a magical experience in a whimsical wagon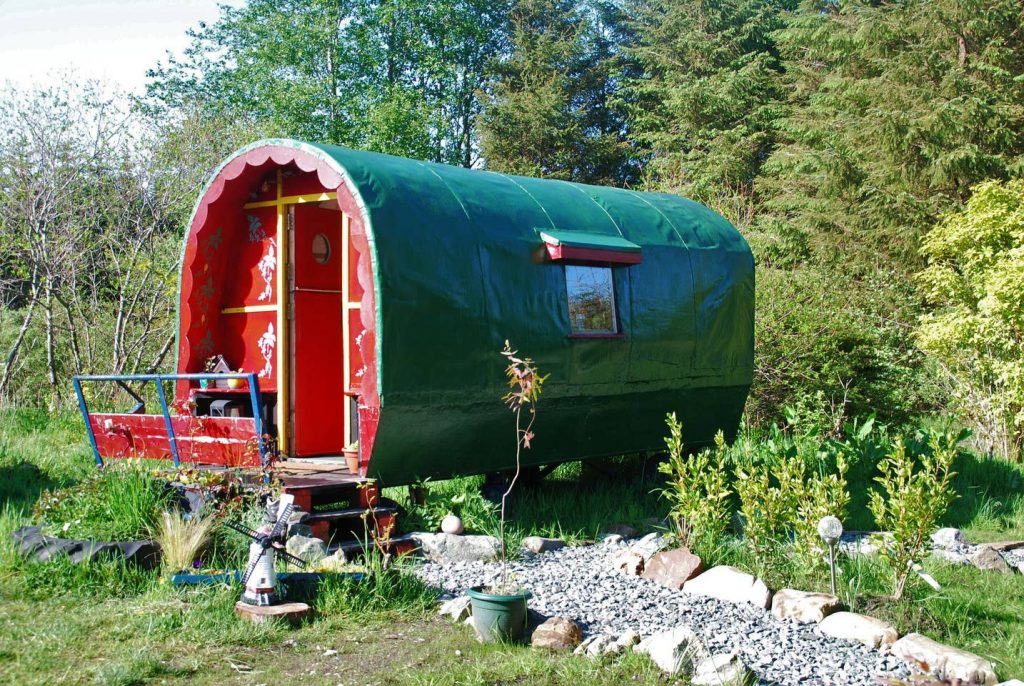 This fairy-tale Airbnb in Donegal, is a traditional bow top wagon and is hidden away off the beaten track. A stay at The Wonderly Wagon offers a truly unique and cosy experience. The old horse-drawn wagon can sleep up to two people, has been lovingly restored, and is surrounded by mature trees, vegetable and herb gardens, and the dramatic expanses of the varying Donegal landscapes.
The wagon features modern amenities and is incredibly cosy regardless of the temperamental Irish weather. On rainy days, you can enjoy a selection of board-games and books, and on good days you can explore the gardens and enjoy the natural surroundings. This is indeed the perfect place to let your imagination run wild and conjure up many a fantastical tale!
For more details, click here.
Location: Tievereagh, Co. Donegal
3. Liosachan – a Hobbit hut along the Wild Atlantic Way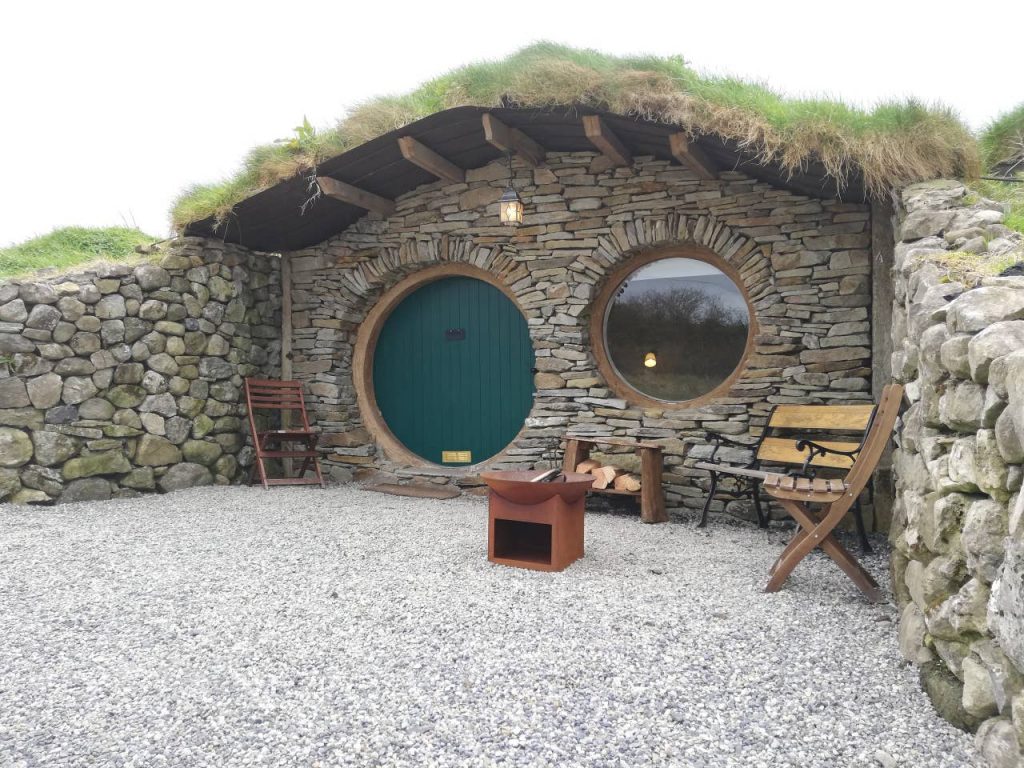 If you have ever dreamed of living like a hobbit, the next place on our list of fairy-tale Airbnbs in Ireland is perfect for you. This cosy earth-covered dwelling is snugly nestled in the hills of central County Mayo and is the perfect location to get away from the rush of modern life.
The rounded windows, earthen roof, and charming aesthetic will most certainly transport you to the world of the Shire, and to be honest, we would not be the least bit surprised if Frodo Baggins came knocking on your door in search of an adventure.
Liosachan sleeps up to four people, and the complex features a woodfired sauna and hot tub, an outdoor BBQ and kitchen area, and a communal kitchen. You can enjoy the many opportunities available along the Wild Atlantic Way by day and retreat to the comforts of your Hobbit home to sit outside by the fire and stargaze.
Click here for booking details.
Location: Keelogues Old, Ballyvary, Castlebar, Co. Mayo
2. Wicklow Lighthouse – a tower fit for a long-haired fairy-tale heroine
This next fairy-tale Airbnbs is truly magical. Located in County Wicklow, Wicklow Lighthouse is surrounded on three sides by dramatic coastal views of the Irish Sea and is an extraordinary landmark that has been conserved and maintained by the Irish Landmark Trust. You can imagine a long-haired Rapunzel figure, pondering at the world below as she waits for her beloved to arrive.
The Lighthouse consists of six beautifully decorated octagonal rooms and can sleep up to four people. The unique nature of the property combined with the exceptional landscape surrounding it provides guests with a truly memorable experience.
This stunning property will give you access to endless opportunities to explore the Wicklow Way walking routes, Powerscourt House, Gardens and Waterfall, and the stunning Silver Strand beach, all of which are nearby.
You can find more information here.
Address: Dunbur Head, Co. Wicklow
1. Ballybur Castle – live like kings and queens in an authentic medieval tower
Topping our list of fairy-tale Airbnbs is a beautiful restored 16th-century medieval tower. Ballybur Castle can be found in wonderful County Kilkenny and offers guests a scrumptious feast for the imagination. This is the perfect place to live out your fantasy of becoming Queen/King of your very own castle!
The property can hold up to 10 guests and is only a 5-minute drive from the phenomenal medieval city of Kilkenny and there is an abundance of walking trails, historical sites and activities nearby. The restoration of the castle is exceptional and will only further fuel your imagination as you explore the medieval tower.
The tower features a cosy window seat where you can hide away and read a book (maybe a fairy-tale or two) and a phenomenal view from the turret! This one is an absolute definite for your next Irish retreat!
Click here for more information.
Location: Ballybur Upper, Ballybur Lane, Co. Kilkenny
Get featured on Ireland Before You Die
Do you want to get your Irish business more online exposure? Especially to those interested in travelling the best places in Ireland? Then why not get a dedicated feature on Ireland Before You Die. Find out more 
here.