The Ultimate Guide to Cork, a brand new IB4UD eBook revealing Cork's hidden gems and best experiences, is the only guide you need for visiting Ireland's 'rebel county'.
From the lively Cork city to the quaint seaside towns of Kinsale and Cobh, The Ultimate Guide to Cork (available from 16 March 2021) reveals everything you need to know about visiting Cork.
A guide to County Cork – the best of the rebel county
Described as 'a jewel of Ireland's west', Cork is home to a vast array of experiences from thrill-seeking adventures to heritage tours, culinary breaks to sight-seeing excursions.
Whether you'd prefer to enjoy Cork city's lively nightlife scene, take a stroll through the quaint seaside village of Kinsale, or try your hand at sunset horse riding against the backdrop of the Atlantic swell, Cork has it all.
The Ultimate Guide to Cork, written by Cork enthusiast and Irish travel writer Aoife O'Mara, will be your go-to travel guide for finding all of the best things to do to make the most of your time in Cork.
When asked what inspired her to write this Cork travel guide, O'Mara cited her love for the county and desire to share its hidden gems with likeminded travellers.
"I have always had a fascination with Cork, particularly the quaint towns and villages dotted about the county. I adore its rugged beauty, the wealth of history and the mountains of craic which can be found in Cork.
"The magnificent beaches, phenomenal adventures and diverse landscapes make Cork one of my favourite go-to destinations to this day.
"The many adventures I have had in Cork, combined with local insight, inspired me to share this breathtaking county and write this book."
What's in the eBook – your go-to Cork travel guide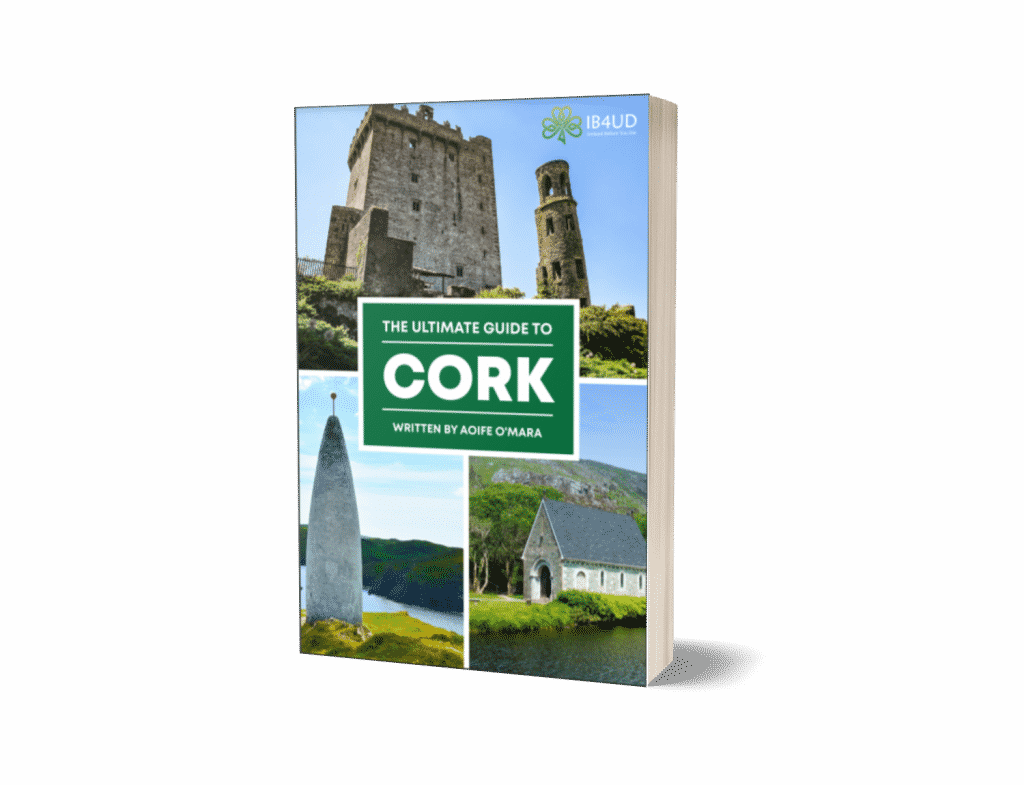 Some things you'll discover from The Ultimate Guide to Cork include the county's hidden gems and off-the-beaten-track experiences and the best accommodation and dining to suit all budgets, diets, and tastes.
The book also gives you some handy three, five, and seven-day itineraries, which can be combined for longer trips to save you valuable hours of planning, as well as plenty of local insights, information, and tips to help you blend in like a Corkonian.
Perfect for any kind of traveller, whether you're an individual hoping to delve into the magic that Cork has to offer or a family looking for a fun-filled holiday for all ages, you'll find something that's sure to take your fancy.
Even if you consider yourself knowledgeable on all things Cork, this new IB4UD eBook reveals Cork's hidden gems and best experiences, so we bet you'll find something new to explore.
With offerings to suit all budgets, you'll be able to discover the wonders of Cork no matter whether you're a backpacker on a shoestring budget or are looking to experience all the high-end luxury on offer in Ireland's south-west.
The Ultimate Guide to Cork, the brand new IB4UD eBook revealing Cork's hidden gems and best experiences, is available for pre-order now and will be available to buy from 16 March 2021.
Preorder Now!