Of all the Irish surnames out there, Murphy is one of the most popular. In fact, it is the most common in Ireland among other countries.
With the surname widespread across the land, it's hard to enter a room full of people and not find someone with this popular family name.
Murphy is the most popular surname in Ireland. You will find it in countries all over the world. Furthermore, it's the most popular Irish surname in America.
Our Irish culture is essential to us, reflected beautifully in our last names. So, without further ado, read on to discover the origins of the Murphy surname.
Meaning − the translation will shock you
This common surname comes from an English translation of two Irish surnames: MacMurchadha (Son of Murphy) and O'Murchadha (Of Murphy).
The anglicised term is derived from 'Muir', meaning sea, and 'cath', meaning battle. Thus, the loose translation of the family name means 'sea battler' or 'sea warrior'.
People with this surname are considered to be brave people. Do the Murphy folk in your class match this translation?
Origin − where does this last name come from?
While the name is famous all over Ireland, it is perhaps most popular in the southeast, like County Wexford and County Carlow.
There are any Murphy septs or clans across Ireland. One of the most popular is the Wexford Uí Murchadha.
They took their name from the family of noteworthy Dermot Mac Murchadha, the King of Leinster. Anyone with connections to the Murphy name can rejoice; you have ties to Irish royalty!
The Murphy coats of arms − a name steeped in meaning
There are several symbols and colours displayed on the surname's coat of arms. We'll guide you through some of the most noteworthy ones.
The lion represents courage, something this family no doubt has plenty of. The wheat on the emblem symbolises plenty, meaning this family were one to have a great harvest.
The gold on the crest means generosity, while the red denotes several things, our favourite being a loyal lover. You can't go wrong if you choose a Murphy in love. It's represented in their coat of arms!
Family slogan − what does it mean?
There are two mottos for this popular Irish surname. The first is 'Fortiset hospitalus', which means 'brave and hospitable'.
The second motto is 'Vincere vel Mori', meaning victory or death. You can't go too wrong if you hang out with someone with this surname.
They are brave and will fight to the death for you, not to mention they'll make you feel comfortable if you're ever lucky enough to be their guest. It's always a good idea to befriend a Murphy. They'll look out for you, rain or shine.
Famous people with this name − do you share your name with a celebrity?
With the popularity of this Irish name, the last name has no doubt been given a spotlight thanks to certain celebrities over the years. Some of the hottest stars at the moment share this name. Read on to discover who.
Cillian Murphy
The most famous Murphy out there at the moment, it's hard not to recognise the chiselled face of Irish actor and one of the most famous Corkonians, Cillian Murphy.
From his humble beginnings in Cork, he has gone on to act in huge Hollywood movies, from his memorable role in the Batman franchise to Inception. We can't forget his award-winning role in Peaky Blinders, the iconic crime period drama.
READ MORE: Find out IB4UD's choices for the top 10 best Cillian Murphy movies
Annie Murphy
Most people will recognise Annie Murphy as the high-maintenance Alexis Rose in the CBC series Schitt's Creek.
People with the Murphy last name are sure to be proud to share the title with this Canadian actress.
Róisín Murphy
Róisín Murphy is originally from Arklow, County Wicklow, where she lived before relocating to Manchester with her family as a young teenager.
She rose to fame in the 1990s, forming one-half of the trip-hop group Moloko with Mark Brydon. Since then, Róisín has gone from strength to strength, thriving in her solo music career.
She is a very accomplished singer, songwriter, producer, and all-around performer. Her unique and eccentric style always makes for a great show.
Eddie Murphy
Eddie Murphy is an American actor from Brooklyn, New York. He is known across the globe as one of America's biggest comedic actors.
He acted in films such as Coming to America, Beverly Hills Cop, and, of course, voice acting in the Shrek franchise as the beloved Donkey.
Now you know all there is to know about this popular Irish last name, make sure to share it with everyone you know who shares the sea warrior name!
Other notable mentions
John Murphy: John Murphy was a British convict who was convicted in Middlesex, England, for life. He was transported aboard the "Coromandel" on 4 December 1803 to New South Wales, Australia.
Patrick Murphy: Patrick Murphy was an Irish convict who was transported to New South Wales for stealing.
Bleeding Gums Murphy: We couldn't write a list of famous Murphy's without highlighting the famous Bleeding Gums Murphy, Lisa Simpson's jazz mentor.
He only appears in a handful of episodes. Still, he remains a memorable character in The Simpsons canon all the same.
William Murphy: William 'Bill' Murphy was a former American baseball player. He played 84 games for the New York Mets.
Storm Murphy: Storm Murphy was born in 1999 and is an American basketball player.
Audie Murphy: Audie Murphy was the recipient of America's prestigious award, the Medal of Honor. He remains one of the most decorated soldiers's in US history.
Derek Murphy: Derek Murphy is an American rapper better known as Sadat X.
FAQs about the Murphy surname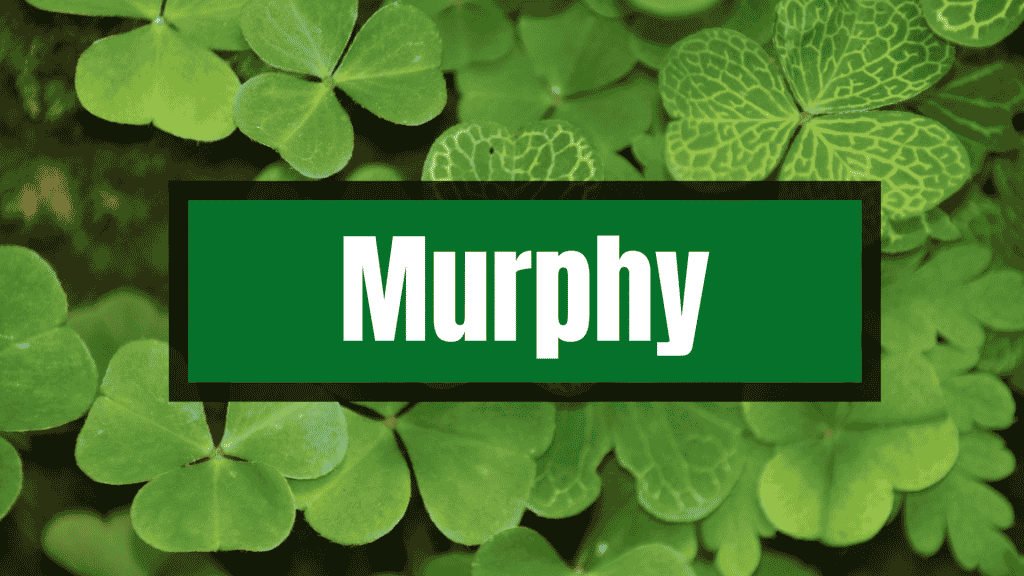 Where is the Murphy surname most commonly found?
Murphy is a very common surname across the world. It is the number one most common surname in Ireland and America.
Why was the prefix 'Mac' dropped in Irish surnames?
The prefixes' O' and 'Mac' were dropped in many cases in Irish surnames because Irish people were discriminated against if they held an Irish name.
What are the most common Irish surnames?
Some of the most common Irish last names are Murphy (Ó Murchadha in Gaelic), Kelly (Ó Ceallaigh in Gaelic), O'Sullivan (Ó Súilleabháin in Gaelic), and Walsh (Breathnach in Gaelic).