Murder Hole Beach is officially known as Boyeeghter Strand or Boyeeghter Bay. One of the most beautiful beaches in Donegal, here is everything you need to know.
Boyeeghter Strand or Boyeeghter Bay, commonly known as Murder Hole Beach, is a small isolated strand located on the Melmore Head peninsula beside Downings in County Donegal.
Despite its ominous nickname, Murder Hole Beach is a must-visit for those wishing to dip their toes in the sand and sea and make the most of the incredible Irish coastline.
Well-known from promotional pictures and social media snaps, this stunning beach is one of the hidden gems of the Wild Atlantic Way,
Offering incredible views and a great way to breathe the sea air, we highly recommend visiting. From directions, when to visit and more, here is everything you need to know about visiting Murder Hole Beach.
When to visit – open all year round
Murder Hole Beach is open all year round, so when you choose to visit depends on what you are looking for.
If you're hoping to do some sunbathing, we recommend visiting in the summer months between May and September to make the most of Ireland's mildest weather.
However, a winter stroll along the beach is a great way to get some fresh air – just make sure to wrap up warm because winter on the north coast of Ireland is sure to be cold!
Tides can get pretty strong in this part of Ireland, so for safety reasons, we would advise against visiting when conditions are bad.
What to see – incredible views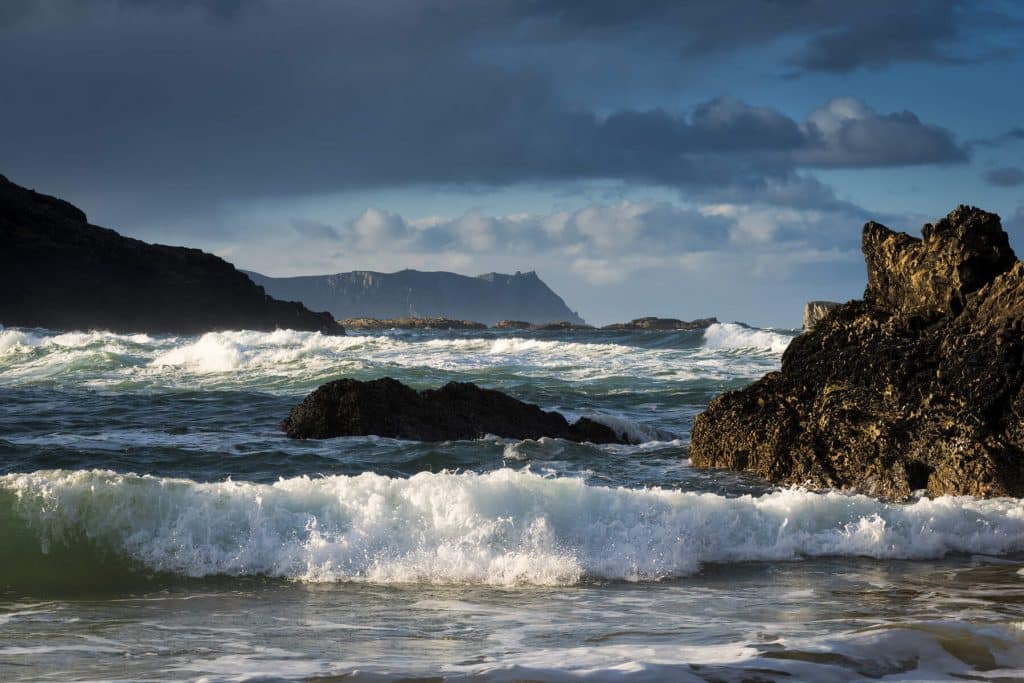 There is plenty to explore on Murder Hole Beach, including incredible cliffs, hills, dunes, and small caves. Not to mention the golden sand and clear blue sea.
From the cliff section to the north, you can enjoy incredible views of the beach and the headlands to the south.
At the south end of the beach, there is a fantastic cave accessible at low tide that is well worth exploring.
During high tide, Murder Hole Beach is separated into two beaches, but when the tide is low, it stretches out into one long strand, and you can make your way from the north end of the beach to the south end to explore the incredible Murder Hole cave.
From the cliffs behind, as you hike down to the beach, you will get an incredible view of the beach below with the wild Atlantic waves crashing on the shore.
Things to know – useful information
We advise checking tide times before making the trip to Murder Hole Beach to make the most of your experience. The beach and sea cave are only really accessible at low tide, so it's best to visit during low tide or when the tide is going out.
Due to the dangerous currents and riptides that occur, swimming is not advised at this beach. We also recommend taking care on the cliffs above, due to changeable conditions.
It is requested that visitors do not bring dogs to the beach, as livestock grazes on surrounding private land.
However, recently, a new pathway to the beach was developed by landowners and authorities.
The new access route takes about 15 minutes, compared to the five minutes it used to take to cross the field of a farmer who owns the land between the main road and the sea.
This new route provides direct beach access for the first time. It is advised to proceed with caution, as it is quite steep.
Now that there is a legitimate route to the beach, it has become somewhat of a point of contention.
Donegal County Council recently confirmed that a planning enforcement case has been started into the new pathway.
Where to eat – plenty of tasty options
The Singing Pub in Clontallagh is a great spot for delicious traditional Irish cuisine. Located on the Atlantic Drive in Downings, County Donegal, one of Ireland's most beautiful drives, this is a great place to fuel up before or after a trip to the beach.
Another popular spot not far from Murder Hole Beach is Fisk Seafood Bar, where you can try out the locally caught seafood and delicious offerings, including oysters, calamari, and crab tacos!
Where to stay – fantastic accommodation
Downings is a stunning seaside town in County Donegal near Murder Hole Beach with plenty of cosy accommodation options.
Check out the Beach Hotel Downings, fitted with 30 modern and stylish en-suite bedrooms and the traditional Teach An tSolias bar and restaurant on-site.
If you're travelling on a budget, check out the fantastic Tra Na Rosann Youth Hostel. Within walking distance from the beach, it is the oldest youth hostel in Ireland still in operation and is completely run by volunteers!
If you prefer self-catering, try out the lovely Downings Coastguard Cottages, perfect for a family stay close to the coastline. There is also a leisure centre with a swimming pool and indoor play area for children close by.
For a luxurious stay, try out the fantastic four-star Rosapenna Hotel and Golf Resort located on Sheephaven Bay.
You can enjoy fantastic views over the Donegal coastline from a balcony in one of their Bayview Suites to make your stay that little bit extra special.
Other notable mentions
Travel time: If you're travelling from Dunfanaghy, it will take about 35 minutes in the car to get to the beach. From Letterkenny or Falcarragh, it takes 45 minutes. If you're travelling from Gweedore, it's a 50-minute journey.
Downings Bay Hotel: Another great place to stay when visiting Murder Hole Beach, Downings Bay Hotel is a family-owned hotel just a short drive away.
The Galley: Situation on Main Street in Downings, The Galley is great for a bite to eat not far from the beach.
FAQs about Murder Hole Beach
Where to park to get to Murder Hole Beach?
You can either park at Tra Na Rossan or the brand new car park at Melmore Head where the new pathway is situated.
Can you swim at Murder Hole Beach?
Due to the unpredictable riptides and strong currents, it's advisable not to swim at Murder Hole Beach.
Why is it called Murder Hole Beach?
The beach is rumoured to have found its ominous name in the 19th-century when a young woman apparently fell from a cliff near the beach. Other reports suggest that the name comes from dangerous and unpredictable waves and currents.