Mullingar is a jewel of the midlands; from when to visit and what to see, here is all you need to know for your next trip to Mullingar.
Set in the heart of Ireland is Mullingar. As the third most populated town of the Midlands, Mullingar is a hive of activity with much to see and do.
If you're craving a real Irish adventure and looking to steer clear of the oh so popular tourist trails, this may be just what the doctor ordered.
From the cosy Mullingar Park Hotel to Mullingar Town Park, the famous Mullingar Pewter to the gorgeous Belvedere House and Gardens, this is the perfect location for a fun family break.
Overview – a low-key local town in a handy location
Mullingar is the principal town of County Westmeath. Located not far from Dublin, it has become increasingly popular as a commuter town for young professionals and growing families.
Its energy is low-key and local – but don't let that fool you. A lot is happening in Mullingar; there are tonnes of family-friendly activities to enjoy, and Mullingar is also the site of some top tourist attractions and stunning lakes.
Mullingar is traditionally a market town, and these roots stay strong with annual events, such as the Christmas Market, taking place on Mount Street in the town centre each year.
One of the biggest exports from the town is Mullingar Pewter, an ancient craft revived in recent years. The town is also associated with Genesis Fine Arts and the Mullingar Shamrocks GAA team.
When to visit – reasons to visit during every season
Each season brings a different flavour to Mullingar. Summer sees the largest footfall to the town, and – aside from the buzzing atmosphere – you can expect busier attractions, increased traffic and, pricier accommodation.
Spring and autumn are picturesque times to visit Mullingar. The weather can still be quite lovely, and while there remains a hum of energy in the area, there are fewer visitors to reckon with.
Winter is the perfect time to cosy up beside the fire in the local pub and embrace the authentic town atmosphere. During these months, tourists are sparse but hotels, such as the Mullingar Park Hotel, remain open throughout winter.
What to see – beautiful lakes and other attractions
Don't be fooled by Mullingar's Midlands location. There is much to keep you motivated when exploring this town.
The lakes (Lough Owel, Lough Derravaragh, and Lough Ennell) are some of Mullingar's most enchanting sites. Those who are keen to take a dip, rent a canoe, or fish for some brown trout will be bowled over by the stunning scenery – particularly at sunset and sunrise.
Belvedere House and Gardens is another top attraction in Mullingar. This 18th-century country house is impressive architecturally and makes for a great day out with all there is to do on its grounds, including its woodland walks and fairy gardens.
Mollie Moo's Pet Farm is perfect if travelling with the family in tow. Here, you can enjoy some crazy golf, go-karting, or make some furry friends at the pet farm.
We also recommend heading to a local gift shop to check out some of the incredible Mullingar Pewter creations.
Directions – how to get there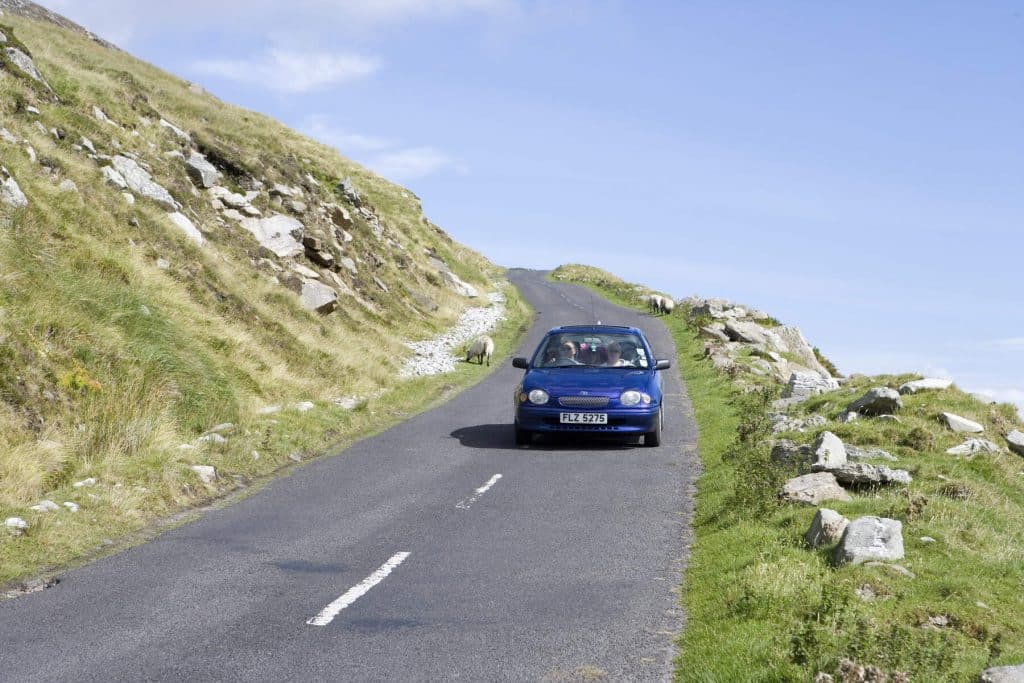 Mullingar is approximately a one hour drive from the central location of Dublin city, Republic of Ireland. From Galway, under two hours; from Cork, under three hours.
If travelling from Belfast to Mullingar, you can expect a two and a half hours drive. Thus, Mullingar is the perfect location for relaxation.
What to bring – come prepared
Given Mullingar's Lakelands, we'd suggest swimwear or a wetsuit if you'd prefer to brave the waters with an added layer of warmth. Hiking boots or sturdy walking shoes and a rain jacket are also advisable if you plan to explore the outdoors.
We would suggest that you bring sunscreen during the summertime, as – despite the rumours – warm, sunny days are known to grace the island of Ireland from time to time.
Mullingar Town Park also has large playgrounds and a swimming pool. So, make sure you come prepared to make the most of this.
How long is the experience – how much time you will need
A couple of days in Mullingar is advisable to explore the town and its attractions at ease.
Saying that, a day trip passing through will offer enough time to soak up some key sights if you're tight on time.
Where to eat – delicious food
CaToCa at Belvedere House is an ideal spot for lunch after spending a long day exploring the impressive estate grounds.
Wholesome Kitchen is perfect if you're looking for a good feed of hearty and healthy food. Alternatively, the Church Restaurant is your classic family restaurant in Mullingar that never fails to impress.
The Terrace Restaurant in Mullingar Park Hotel is also a great choice for a delicious meal.
Where to stay – cosy accommodation
If you're looking for a no-frills B&B experience, Kerrigans is the way to go. With a pub restaurant downstairs and accommodation above, what more could one want?
Alternatively, the four-star Mullingar Park Hotel is perfect for those looking for an added touch of elegance during their stay. This family run hotel will ensure you enjoy a cosy stay.
Alongside the Mullingar Park Hotel, you can book a room at at the Annebrook House Hotel Mullingar, a family business first opened in 2007.
Things to know – insider information
Irish heartthrob Niall Horan of One Direction hails from Mullingar, and the town boasts some seriously top-notch music establishments. Make sure to experience local culture at the likes of The Mullingar Arts Centre and Danny Byrnes pub.
The town is also home to a number of sports teams, including the Mullingar Shamrocks.
10 Reasons To Visit Mullingar
This county town in the centre of Ireland has much to be admired. It is one-third of the Midlands Gateway and is easily accessible from any corner of this Fair Isle.
Whether it be by road, rail or water you can be sure you're never more than a couple of hours from the iconic town.
New developments and investments have seen the locality thrive. It now boasts a gorgeous and scenic Greenway linking it to neighbouring town Athlone. The 42km stretch along the old railway tracks is bound to entice both avid athletes and nonchalant strollers alike.
So whichever method of transportation tickles your fancy, here are 10 reasons you should take the time to travel to Mullingar.
10 – Music runs through Mullingar's veins
We've all heard of the phrase homegrown talent, this is especially true of Mullingar. The mass of talent being exported from this small town, leads one to question, whether there is more than fluoride in the towns water supply.
You can be sure the music from this town has fallen upon your ears at one stage in your life; young or old, man or woman, Irish or not, it is a certainty. Believe it or not, dancing to the "Best Song Ever" in a nightclub and listening to your Granny sing "Oh me oh my you make me smile" for the umpteenth time at a family gathering, have something in common. Both artists were born and bred in Mullingar.
This town has produced the likes of Joe Dolan, Niall Breslin (The Blizzards), Niall Horan (One Direction) and The Academic to name a few. These talented Mullingar natives have reached recognition on a global level. Despite all the fame and stardom, they haven't forgotten where they came from. Does that not make you wonder what is so special about this little town?
The tribute statue to Joe Dolan in the centre of town, or, Niall Horan's Brit awards on display in the Greville Arms Hotel is a great place to start off your quest of sightseeing in this town.
9 – A Place with Cultural Flair
This quaint town flaunts some cultural gems. Mullingar's appreciation for the arts is obvious. For those of you who adore the arts be sure to check out The Mullingar Arts Centre. Opened in 1998 this auditorium was housed in the newly renovated County Hall.
This stage school showcases a fabulous stage, perfect for watching an outstanding theatre performance. The likes of PJ Gallagher, Keith Barry, Christy Moore and Des Bishop have had the honour of gracing the stage. However, if silence is more your style there is also the option of the Chimera Art Gallery. Your eyes are guaranteed to be aesthetically pleased with the vast array of masterpieces on display, created by immensely talented artists.
Conveniently located in the centre of town, both local and international artists exhibit their work in the unpretentious surroundings. The town also commemorates Irish history with some exquisite sculptures. Right in the centre of town at Dominick Place stands a Famine Memorial Fountain. This striking feature constructed of lavatorial millstone symbolises the towns own origins (An Muileann gCearr – "The Lefthandwise Mill").
There is also a park dedicated to the 1916 rising, it contains actual granite from the GPO where the rising took place. The 1916 Centenary Memorial Park officially opened on Easter Monday 2016 on the 100th anniversary of becoming a sovereign nation.
8 – Excellent for Shopping
If history was never your favourite subject in school fear not, Mullingar has its fair share of retail outlets, so you can shop 'til you drop. In addition to main street shopping, Mullingar also possesses not one, but two shopping centres, Harbour Place Shopping Centre and Fair Green Shopping Centre. Not to mention the staple of Irish fashion, a very large Penneys store. Whatever your hearts desire you can be sure to find it on the streets of Mullingar.
Whether you're on the hunt for some new GAA gear (Elverys, Lifestyle Sports), want the next best high street trend (New Look, TK Maxx, Dorothy Perkins), are following the latest health craze (Boots, Holland & Barretts), are shopping on a budget (Dealz, Euro Giant) or anything in between it can all be found within close proximity to each other. Less time to get around, of course, means more time for shopping. Better get raiding those Piggy Banks!
7 – Class Pubs
Perhaps what the Irish are best known for is their pubs. There is not a tourist location across the world that does not sport an Irish Bar, and Mullingar is no exception to this.
It goes without saying that the best Irish bars are found within Ireland. This is where the real craic is had, and the best pint of Guinness is poured. Mullingar would be the perfect place to engage in a Pub crawl due to its vast splay of public houses.
Danny Byrnes has been a popular stop on a night out. Its large floor, beer garden and live music make for a great night out. They have even been known to host the odd mini-festival or two. The Old Stand, another lively well-reviewed venue. This site has more of a homely feel to it. Perfect if you just want to sit and chat over a beverage. Other establishments include; Druids Chair, Con's, The Chambers, Clarkes Bar to name a few.
6 – Endless Sports
Check out Mullingar Golf Club. This gorgeous course is kept in pristine condition all year round. Whether you are a member, a spectator or a once-off player you can be sure you are felt very welcome here. When you're done teeing off there is also a restaurant on-site with some mouth-watering options.
5 – Beautiful Rivers
Sitting on the banks of the River Brosna and neighbouring Lough Ennell, Lough Owel and Lough Derravaragh there are plenty of water activities available. There are a plethora of scenic angling locations for the enthusiastic fisherman. In fact, the locals in the fishing tackle shops are more than happy to offer their expert knowledge on these areas based on your preference of fish or rod. Why not take a boat out on the tranquil waters? Your options are limitless.
Derrymore Springs, a water adventure centre helps you to decide on how best to splash in the sun. You can partake in rafting, kayaking, peddle boating, aqua golf and much more. The friendly experienced staff only enhance the experience. However, if you are less athletically inclined there a number of boat tours and cruises available, or of course, a good old-fashioned stroll by the water may entice you.
4 – Amazing Food
They say the key to the heart is through the stomach. No visit to any town would be complete without sampling the local cuisine. In additional the normal fast food chains, there are some delightful restaurants to tingle your taste buds.
The Red Earth is an amazing spot for those of you who adore fine dining. Their interior décor is fabulous, and the outside seating area is reminiscent of being on an exotic holiday in the sunshine. You will be happy to know that the food lives up to the same standard as the design.
Another unique eatery would be The Church Restaurant. Set up inside an old church the structure will leave you as much in awe as the menu will. Other notable suggestions include; The Old House Restaurant, Pasta Bella, JP's Steak House, The Silver Oak and Lotus Garden, among many others.
3 – Adventure Time
If you're looking for a jam-packed action-filled time, then you have come to the right place. In addition to a paintball and shooting range, there are several establishments that specialise in having a good time.
Lilliput Adventure Centre has activities that appeal to kids and adults alike. Whether you want team building exercises, a school tour, a family day out or a hen/stag weekend, every scenario is catered for. From abseiling to rock climbing and everything in between your adrenaline is sure to be pumping. Be sure to pack versatile however as you can go from dry land to bogland to water to forests in a matter of hours.
2 – A Great Family Day Out
If you are looking to entertain the children Mollie Moo's Fun & Adventure Pet Farm & Playground will be right up your street. Pigs, goats, alpacas are just some of the animals kept. Children are provided with food if they would like to feed the animals. Not only is there a petting farm but there are plenty of other activities for the little tikes such as a playground, go-karts and crazy golf, which is all included in the admission fee.
There are plenty of picnic areas available to refuel throughout the day also. If farming isn't your style, there are other activities in Mullingar that are perfect for a family day out. Why not try out the bowling alley or the pitch n putt course or the equestrian centre for some horse riding?
1 – Belvedere House and Gardens
In what was once a landmark in Winning Streak, Belvedere House is conceivably Mullingar's most well-known tourist attraction. This stunning estate has an intriguing history. This can be experienced through one of the tours on offer.
Exploration can take you from the house to the follies of the walled garden to the woodlands and lakeshore and then to the fairy gardens. It is truly an enchanting place bursting with beauty. This is one experience that certainly cannot be missed. Words cannot describe the sensation of being immersed in a charming estate that is a part of history.
FAQs about Mullingar
Who is the most famous person from Mullingar Ireland?
Niall Horan, who came to fame as part of One Direction, is the most famous person from Mullingar.
Is Mullingar worth visiting?
With plenty of fun, family activities to enjoy, the history of Mullingar Pewter to discover, and cosy places to stay, such as the Mullingar Park Hotel, there are plenty of reasons to visit this Irish town.
Is Mullingar Ireland safe?
With very low crime rates, Mullingar is safe to visit and a popular choice with families looking for a fun getaway. However, as with any form of travel, it is important to be vigilant and look after your belongings.