From County Derry to County Cork, we highlight the five most picturesque Irish villages you have to visit.
Small but proud, the island of Ireland has been immortalized through traditions, texts, and films as a hub of culture and ancient customs.
And with its rolling green hills, dramatic coastline, traditional cottages, and weather-worn fishing boats, Ireland is also home to some postcard-perfect small towns.
While there are many such places to choose from, we've rounded up the ones that are not to be missed. If you're travelling to the Emerald Isle any time in the near future, check out the five most picturesque villages in Ireland.
5. Kinsale, County Cork — visit the ramparts of Charles Fort
Located in County Cork, Kinsale is rich in both history and architectural delight. Sitting on the River Brandon, Kinsale is a quaint fishing village complete with sun-faded sea trawlers and seafood restaurants to rival any other on the island.
Kinsale is a popular holiday destination for Irish locals and tourists alike. In the charming town centre, colourfully-painted shop facades pop, making Kinsale's presence dynamic.
For those looking to gain a little insight into history, check out the village's two 17th-century fortresses and its 16th-century courthouse. You'll find castles and museums, too, ensuring that visitors will be kept busy in this beautiful village in Ireland.
4. Cong, County Mayo — stop off along the Wild Atlantic Way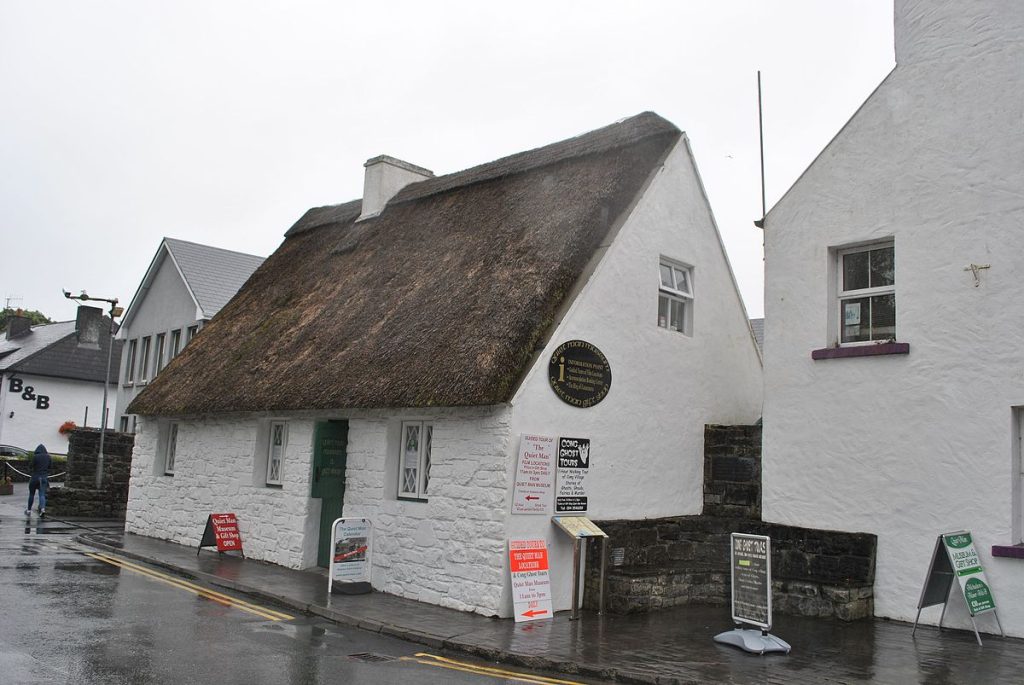 Another beautiful village in Ireland is Cong in County Mayo. Sitting on the west coast of Ireland, this remote and romantic little area is as charming as they come.
The way of life in Cong is simple and slow-paced, complete with thatched cottages and weekend fishing trips on Lough Corrib and Lough Mask (some of the best brown trout fisheries in the country).
This village was the location for the 1952 Oscar-winning film The Quiet Man, which starred John Wayne and Irish actress Maureen O'Hara. Some key sites from the film have been preserved perfectly for those interested.
For those keen to live in the lap of luxury, check out Ashford Castle.
3. Adare, County Limerick — a designated heritage town
Adare is a small village in County Limerick often used as a by-pass en route to County Kerry from Dublin.
Here visitors can expect to experience thatched cottage-lined streets, quaint tearooms, and traditional pubs—in other words, the ultimate small-town vibes.
Insider's tip: Drive through this village during the Christmas season. If there's any better experience than visiting Adare, it is to see the place lit up in fairy lights with a grand Christmas tree at the top of the main street.
Stay in the Adare Manor if you feel like channelling some luxury vibes on your trip to this beautiful village in Ireland.
2. Portstewart, County Derry — small-town vibes and scenic sites
Located in County Derry in Northern Ireland is the beautiful Irish village of Portstewart.
This seaside setting sits at the head of the county and provides some of the most postcard-worthy images you'll likely experience on a trip to Ireland.
With golden sand stretching as far as the eye can see and the wild Atlantic Ocean lapping the shore, this makes for an ideal holiday destination. Surfing is also top quality here year-round.
Expect vibrant small-town vibes, as well as some of the most scenic sites and breathtaking sunsets along the strand. Yep, Portstewart is certainly one of the most picturesque villages in Ireland.
1. Dingle, County Kerry — the most picturesque village in Ireland
Arguably the most beautiful village in all of Ireland is Dingle in County Kerry. Sitting on the Dingle peninsula, which juts out into the great Atlantic Ocean, this rugged seaside setting is apt for adventurers, seafood fans, and lovers of laid-back village life.
This is not only one of the most atmospheric villages in all of Ireland, but it is also home to a hoard of world-class entertainment and hospitality venues (all on a very small, local scale, of course).
Expect an excessive number of traditional bars, local seafood restaurants, and some of the most appealing village vibes and stunning surroundings you could ask for on the Emerald Isle.
Whatever you do, don't miss Slea Head Drive and Conor's Pass on your trip to Dingle, one of the most picturesque villages in Ireland.
Notable mentions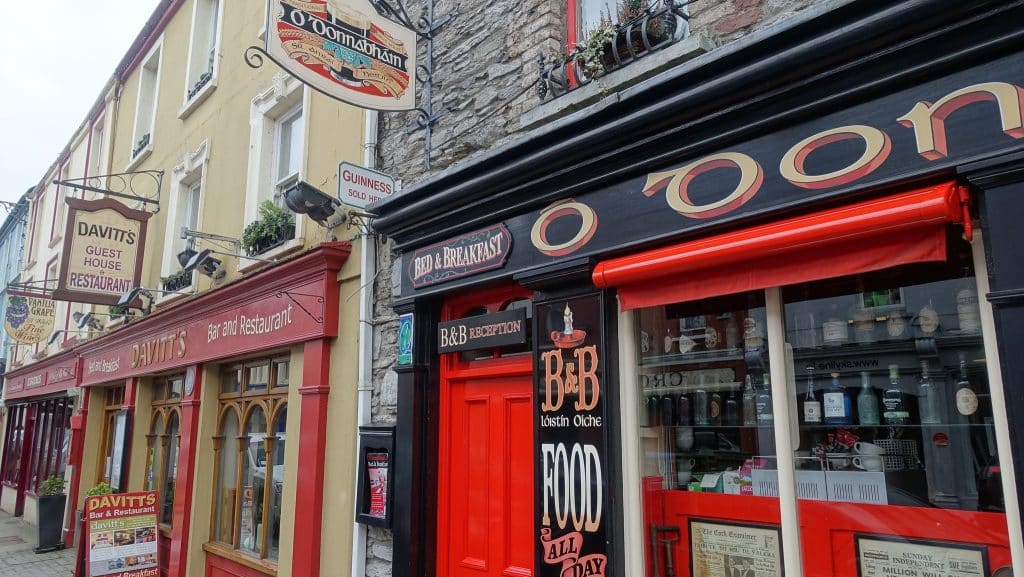 Doolin, County Clare: This beautiful town is just a short drive away from the Cliffs of Moher, which features in some of the most iconic pictures of Ireland.
Inistioge, County Kilkenny: The stunning River Nore flows through this Kilkenny town.
Kenmare, County Kerry: Kenmare lies on both the Ring of Kerry and the Ring of Beara.
Roundstone, County Galway: One of Ireland's prettiest towns in one of Ireland's best counties.
Dalkey, County Dublin: Charm abounds in this picturesque town near Dublin.
Cobh, County Cork: Formerly known as Queenstown, Cobh was the last port of call of the Titanic before its fateful maiden voyage.
FAQs about the most picturesque villages in Ireland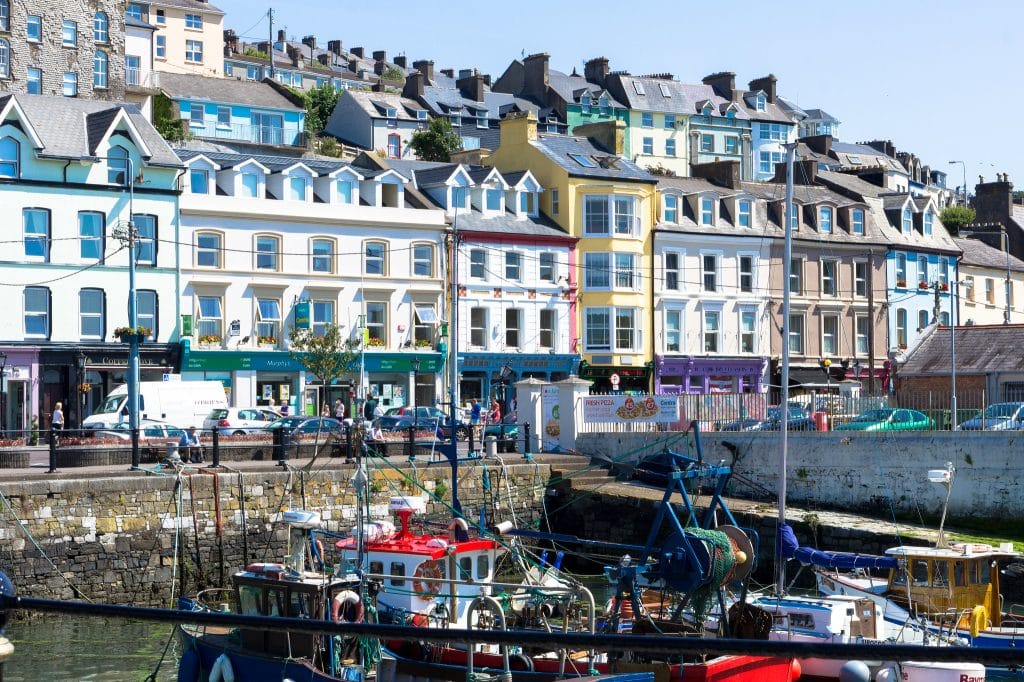 What is the most picturesque village in Ireland?
For our money, Dingle is the most picturesque village in Ireland.
What is the most remote island in Ireland?
The most remote inhabited island in Ireland is Tory Island off the north-west coast of Donegal.
Which Irish village has colourful houses?
Kinsale, County Cork, is home to many beautiful and colourful houses.