If you are looking for a challenge for your next dining experience, check out our list of Ireland's most insane food challenges.
If you are a foodie looking for a challenge, you will undoubtedly get what you bargained for and more by attempting the many insane food challenges throughout Ireland.
This article will list what we believe to be the top ten most insane food challenges in Ireland that you need to attempt.
10. Four Star – man V pizza challenge
Can you take down a 24-inch pizza within 20 minutes? If you feel confident, this challenge will cost you €20 to try, and you can even have a friend help you.
Address: Multiple Locations around Ireland
9. Judge Roy Beans – 64oz steak challenge
Be warned that this challenge is not for the faint of heart, as the 64oz steak challenge will see you being served a 64oz steak in four one-pound portions with mash and vegetables or coleslaw.
This challenge will give you one hour to complete, and if you fail to do it, you will have to pay the €59.95 bill for the high oz steaks.
Address: 1 Edward St, Kilbelin, Newbridge, Co. Kildare, W12 TD58
8. The Parlour Bar – flamin' pizza challenge
The Parlour Bar in Belfast offers the flamin' pizza challenge that might seem relatively easy on initial inspection, but looks can be deceiving!

This challenge will require you to consume a 10-inch pizza in under 30 minutes. However, the catch is that the sauce used on this pizza is Bhut Jolokia, also known as The Ghost Pepper, which is one of the hottest chillis on earth.

You will be given a glass of water to help, but the rest is up to you! If you defy the odds and are successful, you'll earn yourself a flamin' pizza t-shirt and a certificate of completion to proudly showcase.
Address: 2-4 Elmwood Ave, Belfast BT9 6AY, United Kingdom
7. Hogs and Heifers – hot wing challenge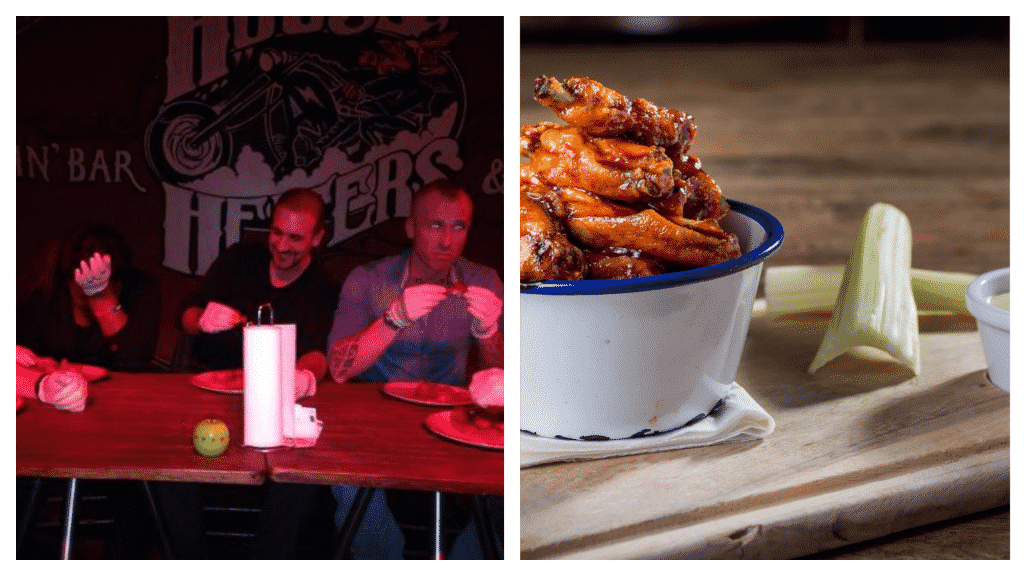 Calling all competitive eaters. Similarly to the last food challenge, if you want to be successful in this endeavour, you need to handle the heat.

If you can eat ten hot chicken wings covered in spicy ghost pepper sauce within ten minutes, you will complete the challenge and earn yourself a free meal, a t-shirt, and a place on the Wall of Fame!
Address: Airside Retail Park, Swords, Co. Dublin
6. Pinheads Pizza – 32 inches in 32 minutes
Do you want to boast that you have taken down Ireland's giant pizza? If you complete the 32 inches in 32 minutes challenge by Pinheads Pizza, you can.
As the name of the challenge suggests, you will have 32 minutes to eat all 32 inches of the pizza with two milkshakes to help wash it down. It is deserving of a mention in the Guinness World Records.
Address: 104 S Circular Rd, Portobello, Dublin, D08 EV80
5. Build a Burger – the big lad
If you are a fan of burgers, then this challenge should pique your interest. It will require you to take down a monster of a burger with crazy amounts of food. 
Be warned the odds will be against you as only a few dozen out of thousands have been successful in this mammoth challenge.
The challenge costs £20 (€23.61) and will require you to build your burger and pick sauces and toppings. You will have a 30-minute time limit to complete this challenge.  
Address: 75 Botanic Ave, Belfast BT7 1LJ, United Kingdom
4. Revolution Bar – revolution burger challenge
The second burger challenge and fourth on our list of insane food challenges in Ireland is the revolution burger challenge.
This challenge will task you with eating a 1.5 pound beef burger with bacon and a helping of chips within 25 minutes. A monster burger if there ever was one. 
Address: The Apple Market, 19 John St, Waterford, X91 V520
3. Harvest Festival – harvest blaa eating competition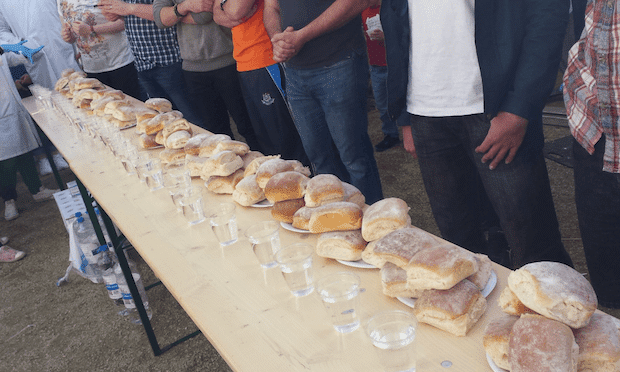 This challenge only occurs at a particular time when the Harvest Festival takes place annually in County Waterford.
This challenge is different from others on our list as it will actively pit you against other contestants to see who can devour floury blaas quickly.
More info: HERE
2. The Big Grill Festival – hosts many competitions over four days
Second on our list and the second festival mentioned is the Big Grill Festival in County Dublin, which runs over four days every August.
This festival hosts various food challenges for people who feel daring enough, from a chilli pepper eating challenge to a hot wing eating challenge.
More info: HERE
1. Tony's Bistro – top of our list of the most insane food challenges in Ireland
In first place on our list of ten most insane food challenges in Ireland that you need to attempt is the impressively large full Irish breakfast that is the mother of all fry ups in Ireland.
You have two and a half hours to take down this ultimate fry up! One for the competitive eaters to try.
Address: 69 N Main St, Centre, Cork, T12 H61W
That concludes our article on the top ten most insane food challenges in Ireland that you need to attempt. Have you been brave enough to try any of them yet?