The Walled City is a popular destination for history and culture, so why not treat yourself to a luxurious stay while visiting the region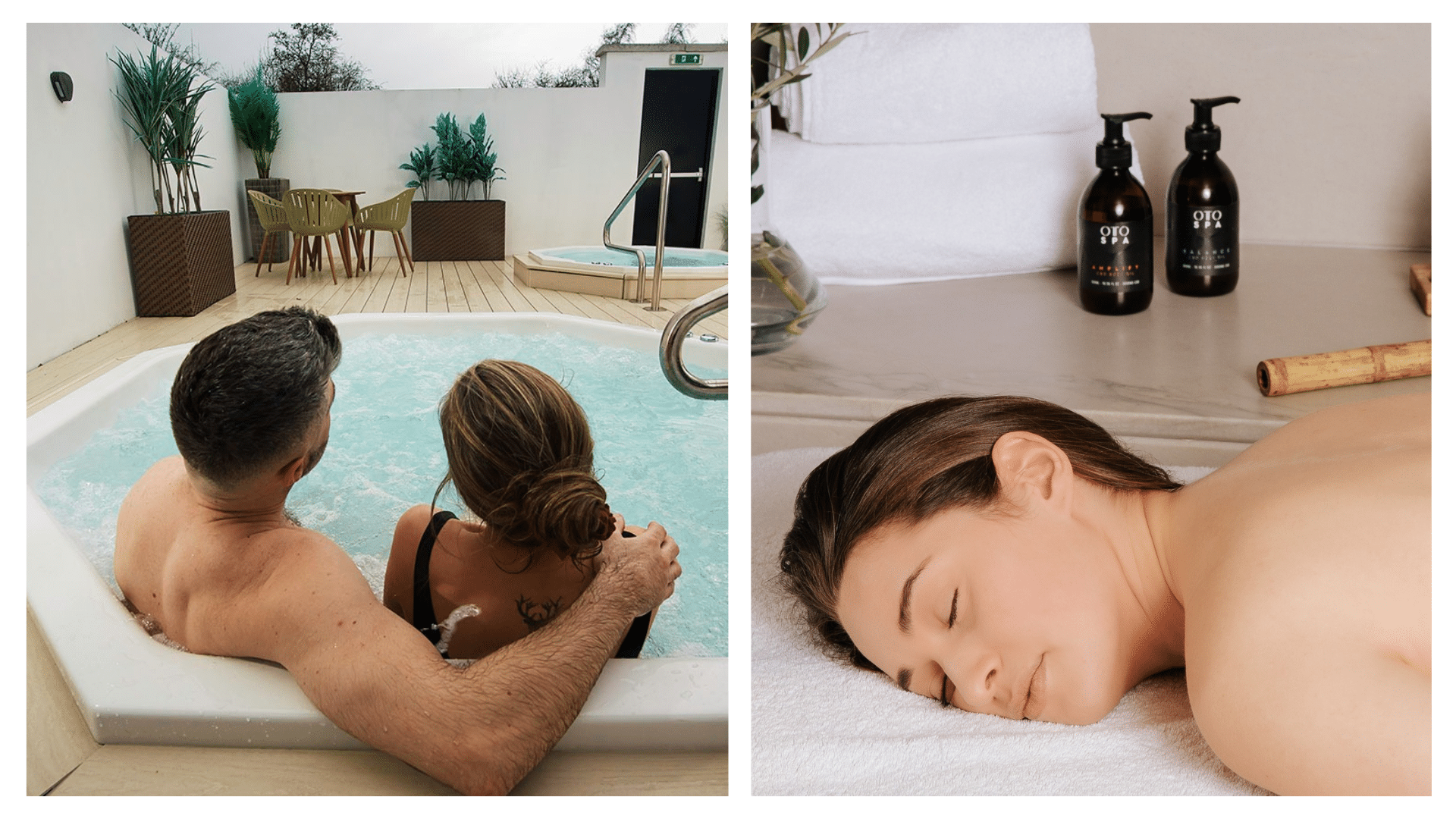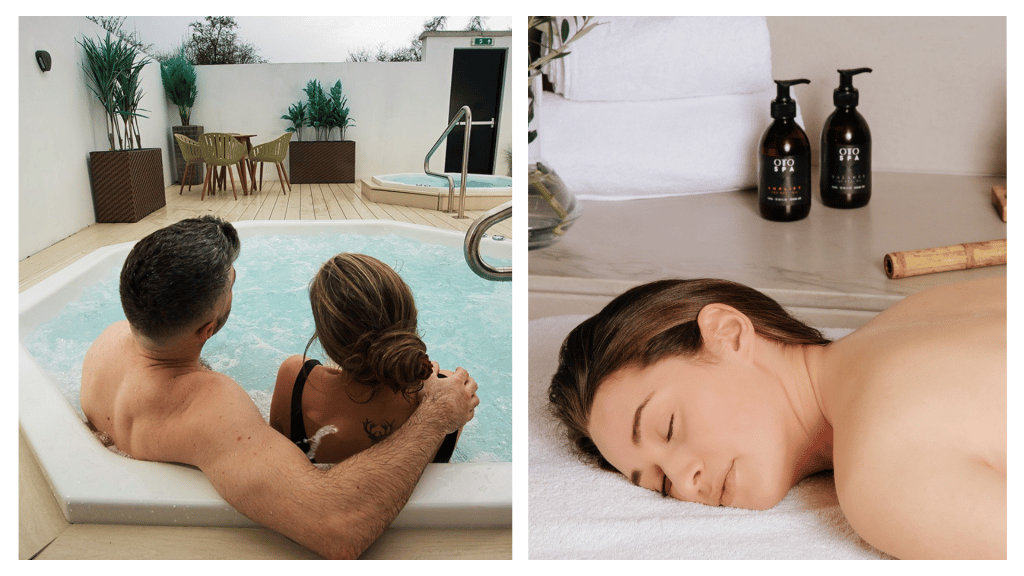 Derry is the second largest city in Northern Ireland after Belfast. It is one of the most popular destinations for a city break to explore the Causeway Coast and surrounding areas.
Without having to go further afield, you will already be surrounded by an abundance of historical attractions in the walled city. This bustling city is exciting to experience both during the day and at night.
Derry is one of the most visited cities on the island of Ireland since it has everything you could ask for, including an ideal location, a selection of restaurants and bars, a wide range of excellent hotels and plenty of charm and character thrown in for good measure.
There is so much to see and do from Derry, but this city is well known as the only completely intact walled city on the island, making it a haven for those interested in history and Irish culture.
No trip to Derry is complete without setting yourself up in a great hotel, so take a look at these five best luxury spa hotels in and around Derry, which will add something extra to an already exciting adventure up north.
The rundown – a brief look at our top picks of the best luxury spa hotels in Derry
The best luxury spa hotels in Derry – tips and advice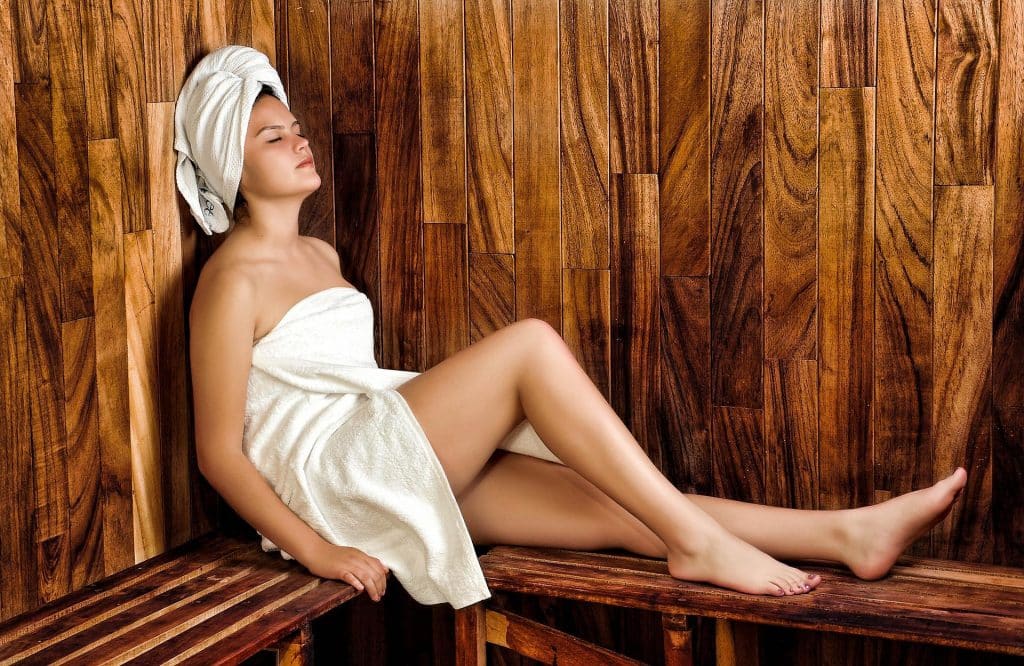 When planning any trip, it is always worth booking in advance when you know your dates rather than waiting until the last minute when prices skyrocket and availability becomes limited.
Booking.com is the best platform for booking luxury spa hotels in Derry and getting great deals.
It is best to book your spa treatments well in advance! Some of these hotels will be in high demand, so secure your place as early as possible.
Make sure to get to your chosen hotel early. This will leave you with more time to enjoy the spa amenities, such as the sauna, steam room and other things.
Some of the best luxury spa hotels in Derry will also provide beautiful food and culinary experiences. Fine dine during your stay to maximise your enjoyment of the trip.
Where to stay in Derry – the best areas to stay in and near Derry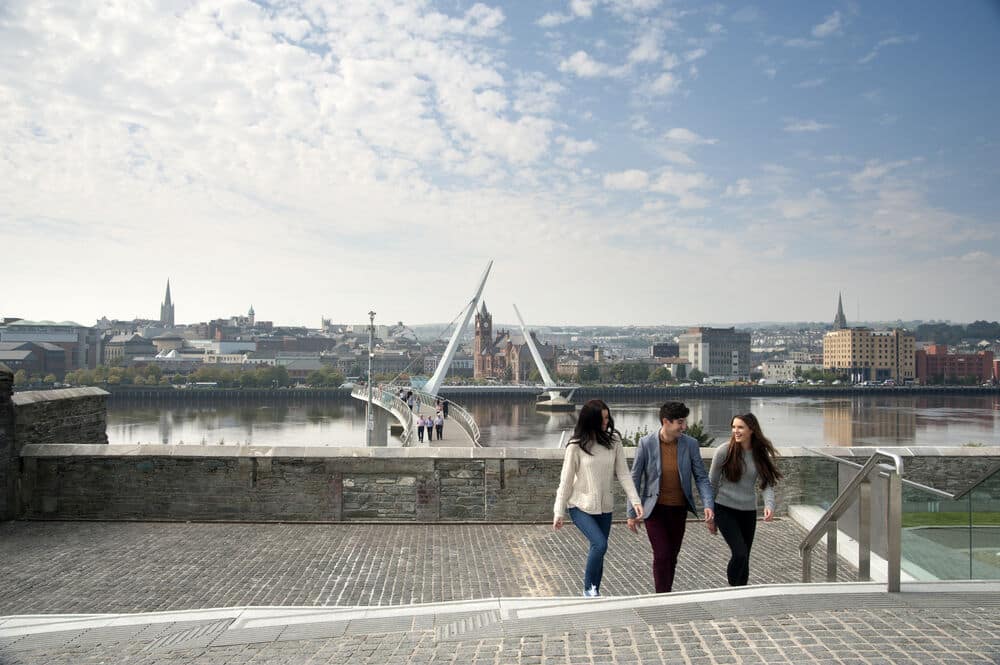 Derry City Centre: This is a prime location for visiting the city since you will be just steps away from one of the island's most cultural and historic cities. Here you can see plenty of museums, enjoy the local eateries and pubs, and be at the heart of history.
Donegal: Derry City itself has a limited number of luxury spa hotels, so its northerly neighbour Donegal is a great place to stay that isn't too far away. With so much to see, do, and explore in County Donegal, you won't regret staying there.
Limavady: This market town in County Derry is an ideal place for basing yourself between the famous Causeway Coast and the city of Derry, making it a popular place to stay for exploring the surrounding areas.
Lough Foyle: Just north of Derry City, you will come to Lough Foyle, a very scenic place which offers lots of activities, nature walks and the chance to relax in nature. This is a great place for being close to Derry city, The Causeway Coast etc., but retreating to a comfortable area.
1. Roe Park Resort − the ultimate spa and golf experience near Derry
Roe Park Resort has an abundance of natural surroundings, is just fifteen minutes from the City of Derry airport and boasts its 18-hole golf course and a host of impressive eateries. Still, there are many more reasons this luxury spa hotel stands out among the rest.
Overview: When searching for one of the best luxury spa hotels in Derry, you cannot go wrong with Roe Park Resort, which will tick all the boxes for that memorable getaway you've been searching for. Whether you are a golf enthusiast, plan to relax in the spa or be close to Derry City for exploring, this is an ideal place to base yourself.
The hotel is close to…Derry Airport!
The hotel is perfect for… a luxury spa and golf getaway!
IN HIGH DEMAND: This spa and golf resort is one of the best in Derry and one of the best resorts in Northern Ireland, so always book well in advance to guarantee your stay.
Key features here include:
An 18-hole golf course on your doorstep
The ultra-deluxe Roe Spa offers a range of spa treatments
An on-site fitness centre
A spa bath, sauna and steam room
The Coach House restaurant offers casual meals overlooking the golf course
Courtyard Restaurant serves local cuisine and a delicious Sunday carvery
O'Cahans Bar is the ultimate spot for a simple drink or fancy cocktail
Live music every Friday and Saturday from 9:30 pm until late
20 minutes from Derry airport and 30 minutes from Derry City
155 acres of parkland to enjoy
Address: 40 Drumrane Rd, Limavady, Co. Derry
Read more: See where Roe Park ranks on Ireland Before You Die's list of the 10 best spa hotels in Northern Ireland
2. Redcastle Hotel – an oceanfront golf hotel close to Derry
Overview: Half an hour north of Derry, in County Donegal, you will find Redcastle Hotel, which will blow you away – especially if views are your thing. With a stunning waterfront location on the Inishowen peninsula, looking out to Lough Foyle, Redcastle has one of the best locations imaginable. Yet, it is close to many local attractions and activities.
With numerous walks to undertake in Donegal and the walled City of Derry a stone's throw from the hotel, you will recognise that this is a perfect base for exploring much of what makes this region of Ireland so unique. However, if you plan to sit back, relax and enjoy the hotel facilities, you will be happy to know that there is plenty to indulge in, which makes this a hotel that suits everyone.
See where Redcastle ranks on our list of the top 10 best 4-star hotels in Ireland.
The hotel is close to…Moville!
The hotel is perfect for… a tranquil retreat to the coast!
Key features here include:
An ideal location is just a half hour from Derry and 34 minutes to Derry Airport
A historic building, yet elegantly decorated throughout
A perfect place for romantic getaways, golf breaks, spa weekends etc
The Edge Restaurant has views over Magilligan Beach
94 recently refurbished luxurious rooms and suites
The Redcastle Spa has a range of spa treatments and specialised body treatments
A 9-hole golf course is on-site
The Leisure Club features an indoor pool, sauna, steam room and fitness suite
The Lough Foyle car ferry is just a ten-minute drive from the hotel
The Captains Bar is ideal for a casual bite or a creamy pint
Address: Inishowen Peninsula, Culineen, Redcastle, Co. Donegal
3. Ballyliffin Lodge & Spa – Ireland's most northerly four-star hotel
Overview: Ballyliffin Lodge Hotel & Spa is a gem of a hotel near Derry, with it being just a 40-minute drive to Derry City and a 50-minute drive to Derry City Airport. This award-winning luxury spa hotel boasts fantastic views out to Malin Head, the most northern tip of the island, and is just a few minutes drive from Ballyliffin Golf Club, which makes this ideal for a spa and golf break.
The hotel features free WIFI, luxurious rooms with ensuites and all mod cons, and excellent spa and leisure facilities to enjoy when the day is done. If you are a food lover, you will thoroughly enjoy your stay here, paired with the fact that each meal is served with a panoramic view.
The hotel is close to …Ballyliffin Golf Club!
The hotel is perfect for…. a spa and golf holiday on the north coast!
Key features here include:
Address: Ballyliffin Lodge & Spa Hotel, Shore Rd, Ballyliffin, Co. Donegal
4. Best Western Plus White Horse Hotel – a relaxing and rejuvenating city escape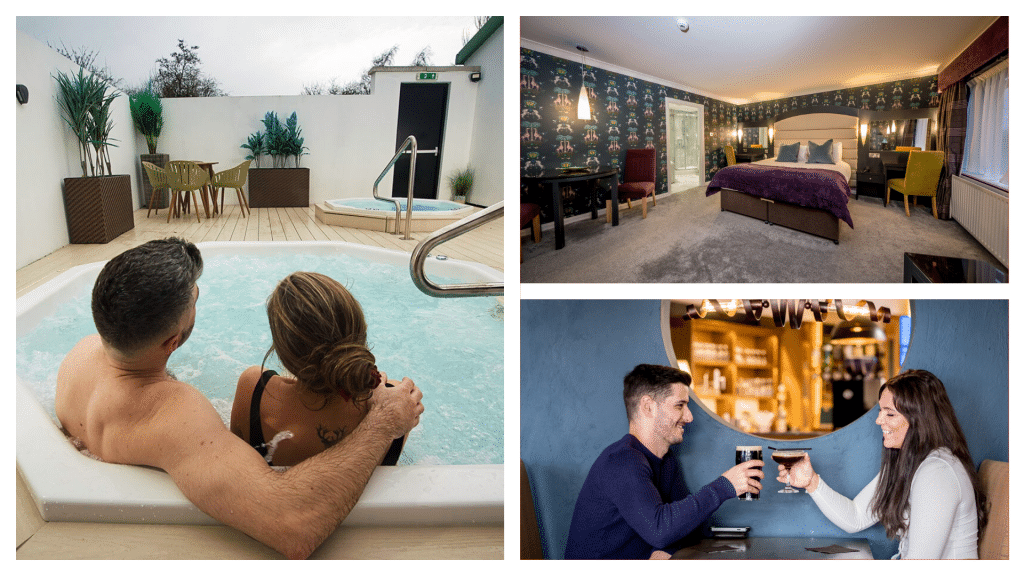 Overview: One of the best luxury spa hotels in Derry has to be Best Western White Horse Hotel, which boasts a fantastic central location just a six-minute drive to the nearest airport of Derry City, as well as being just a short 9-minute drive to the city centre for exploring the attractions, bars and restaurants in Derry.
As well as its idyllic location just out of town, the hotel has some excellent spa and leisure facilities which are a fantastic addition to any city break. It is an elegant four-star hotel with comfortable rooms, an award-winning restaurant and modern fitness facilities, plus it is an excellent base for visiting the Causeway Coast.
The hotel is close to… Derry City!
The hotel is perfect for… a relaxing and replenishing city getaway!
IN HIGH DEMAND: This is one of the best central hotels with full spa facilities, which means it is always in high demand, so book in advance to secure your dates.
Key features here include:
An on-site aerobics studio, children's pool and fully equipped gum
The spa offers personalised DECLEOR facials and spa body treatments
The spa also features a private outdoor hot tub hideaway
All rooms feature award-winning King Coil beds, luxury pillows and luxury towels
68 Clooney Bar is ideal for a cocktail or a craft beer in the beer garden
The Leisure Club features 20 fitness classes per week
Close to some excellent golfing and fishing opportunities
68 Clooney Restaurant is an award-winning eatery serving only the best local ingredients
The spa also offers a full range of nail treatments and special spa packages
A sauna and steam room for the ultimate detox and relaxation
Read: Check out our post on the best spa hotel from all 32 counties of Ireland … including Derry!
Address: 68 Clooney Rd, Campsie, Derry
5. City Hotel Derry – at the heart of it all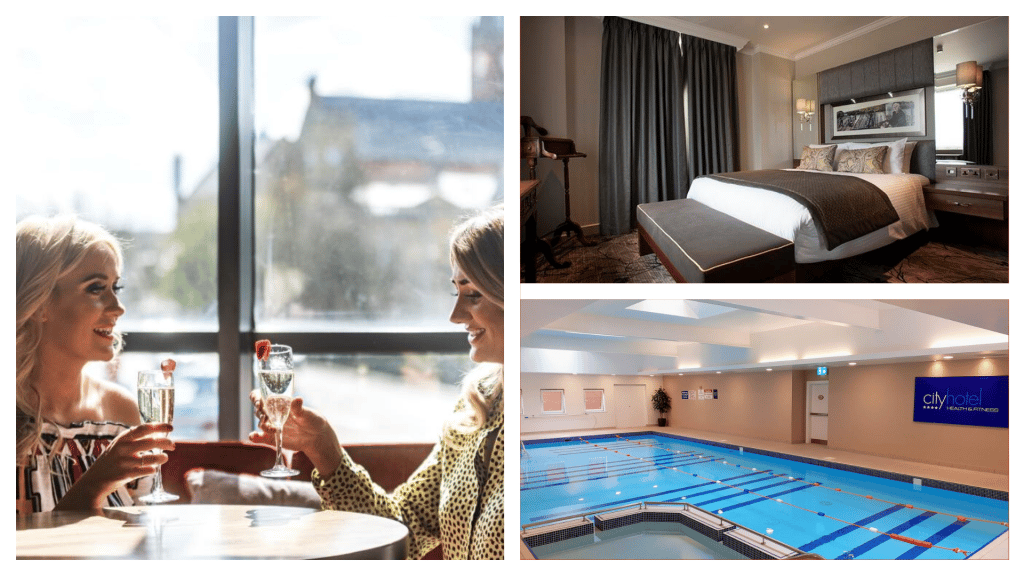 Overview: If you are looking for a great hotel right in the heart of Derry City, just steps away from all the city attractions, including the historic walls, then City Hotel Derry cannot be overlooked. As well as being in a very strategic position for a city break, it is a short drive to the surrounding areas of the Causeway Coast and beyond.
The hotel has plenty of facilities for staying active, relaxing and enjoying the best food. Hence, it is no wonder this is a popular choice for anyone visiting the city. This is also an excellent base for those who fancy playing golf, hiking, fishing or bike riding since it is the centre of all the action. While the hotel isn't labelled a spa hotel, the pool, sauna, and jacuzzi certainly make it feel close to it.
The hotel is close to… Derry City!
The hotel is perfect for… a city escape!
Key features here include:
A beautiful location on the banks of the River Foyle
An impressive fitness centre which is well equipped
A 15m swimming pool, steam room and jacuzzi
158 modern rooms with penthouse suites, superior rooms and family rooms to choose
Thomson Restaurant is ideal for delicious food right on your doorstep
Coppins Bar is perfect for a casual drink or light bite and is one of the best bars in the city
Harveys Roof Terrace – the only roof terrace bar in Derry
The iconic golf courses of Portrush can be reached within an hour
Just 500m from The Tower Museum and other attractions
Lots of dedicated meeting spaces and suites for business purposes
Address: Queens Quay, Co. Derry
Related: If you find yourself staying here and want to go for a drink, take your pick from any of these best pubs and bars in Derry that everyone needs to experience
Notable mentions
Your questions answered about the best luxury spa hotels in Derry
If you still have some questions left over after reading this article, then we have you covered! Here, we lay out the most commonly asked questions about the best luxury spa hotels in Derry.
What is the best couple's spa day in Northern Ireland?
Galgorm Spa and Golf Resort in County Antrim is a fantastic place for couples to go for a spa day with a range of spa packages to choose from, including a unique Valentine's Day special.
What is the best spa stay in Derry?
Roe Park Resort is the best spa in Derry for the ultimate relaxation, golfing opportunities, lots of nature and excellent service.
Where are the best and most affordable luxury hotels in Derry?
Best Western Hotel in Derry is one of the best and most affordable luxury spa hotels in Derry.
What star is Ebrington Hotel?
Ebrington Hotel is a four-star hotel, a luxury spot adding to the growing retinue of hotels in and around Derry city centre.
So, there it is, the best luxury spa hotels in Derry, some of which offer a central location and excellent facilities and others which are a short drive to Derry City and offer stunning views and excellent service. So, now the choice is yours!
NEXT: Read about the opening of Derry's latest luxury spa hotel – Ebrington Hotel
MORE IB4UD articles about spa hotels in Ireland
Top 10 best spa hotels in Ireland
Top 10 BEST SPA DAYS in Northern Ireland (for 2023)
Top 10 best spa days in Ireland, ranked
5 reasons why the GALGORM competes for Ireland's BEST Spa Hotel title
The 5 BEST luxury SPA hotels along the Wild Atlantic Way
Get featured on Ireland Before You Die
Do you want to get your Irish business more online exposure? Especially to those interested in travelling the best places in Ireland? Then why not get a dedicated feature on Ireland Before You Die. Find out more 
here.