Nearly 80 million people worldwide share in Irish ancestry, including 33 million Americans (that is a whopping 10.5% of the US population). Safe to say, Irish and American people share in a close bond.

This association grew from the Irish famine days when the mass exodus from the Emerald Isle sowed Irish seeds on US soil. Today, Irish citizens continue to flock to the United States and with such cultural connection, so too do Americans seek out Ireland as a holiday and permanent living destination.

Every year nearly two million American tourists land on Irish shores in pursuit of a leisurely break, historical or heritage pursuit.

Here are five locations that are special to Irish-Americans and worth checking out next time you're in town!
5. Ardmore Studios – for film buffs
This is a quintessential contemporary culture entry on our list of locations that are special to Irish Americans.
 
Ardmore Studios is the preeminent film studio located in Ireland. Set only moments from the Dublin capital in Bray, County Wicklow, this studio has showcased Ireland as a premier filming destination.
Its presence catapulted the Irish film business into international focus, as well as having shot some seriously celebrated American films to date.
The 1995 US cinematic conquest, Braveheart, was filmed within these walls, as well as Excalibur (1981) and The Last Remake of Beau Geste (1977).

4. Moneygall – Obama's home town
Moneygall is a small town located along the borders of County Offaly and County Tipperary in Ireland.
In recent years, it has become a place of special interest to Irish-Americans and those travelling over the Atlantic to visit the Emerald Isle.

The small town was home to the great-great-great-grandfather of Barack Obama, 44th President of the United States. In May 2011, the then-President visited the country village to meet with its local people.
During his trip, he learned about his ancestry and even connected with his eighth cousin, Henry Healy, along with around 5,000 other locals, too.

The former President's Irish ancestry links back to Falmouth Kearney (his great-great-great-grandfather). Kearney left Moneygall in his youth bound for new beginnings in New York.

3. Cobh – the gateway to New York
Cobh in Cork is another site which is special to Irish-Americans in Ireland. The town of Cork will be remembered for quite a few major reasons in Irish history, a couple of which further cement Ireland's ties with America.

A key one is that the first emigrant to ever pass through the gates at Ellis Island in America left from Cobh in Cork. At only seventeen, Annie Moore and her two younger brothers, Anthony and Philip, arrived by travel via a "coffin ship" (ships that carried Irish immigrants) on 1 January 1892.

As the first of millions of faces to pass through Ellis Island, Cobh in Cork is now one of the locations that are special to Irish-Americans.

Cobh was also the last stop-off for the ill-fated ocean liner Titanic on its maiden voyage to America. It sank by the result of hitting an iceberg after setting sail from Cobh en route to New York on 14 April 1912.
2. Belfast – for Titanic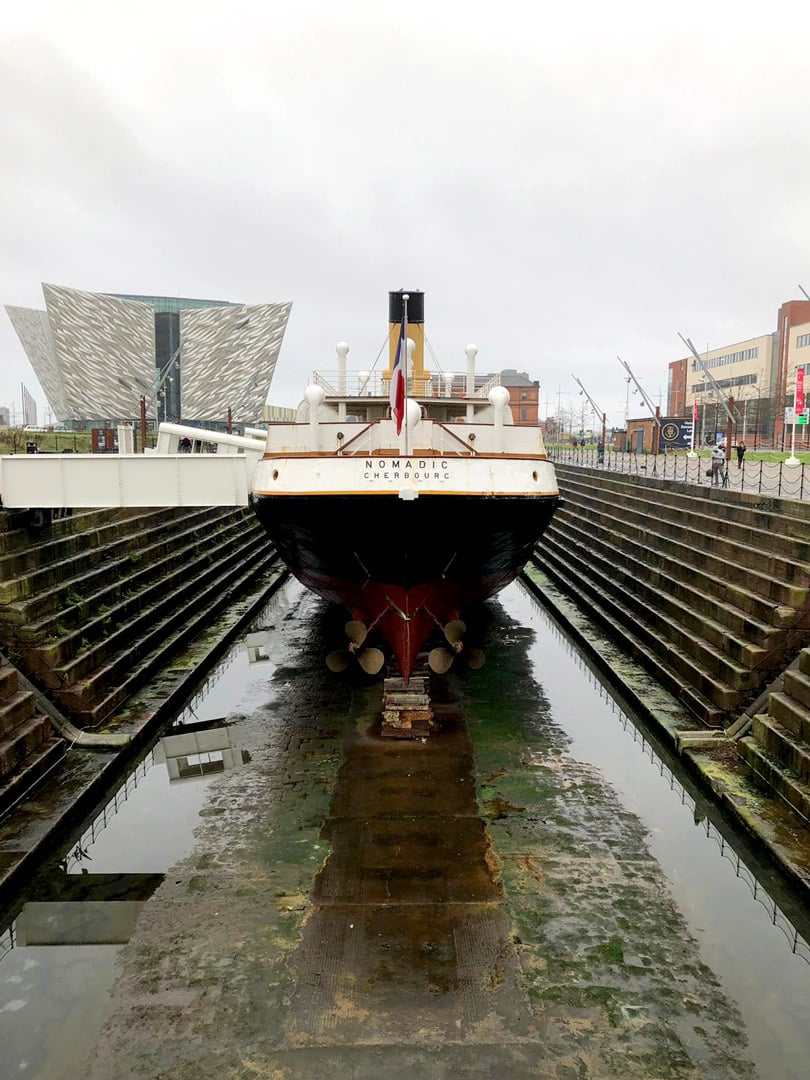 Belfast is another one of Ireland's locations that are special to Irish-Americans. It is the capital of Northern Ireland and also the building grounds for the "unsinkable ship", the RMS Titanic.

Harland and Wolff constructed the ocean-liner in Belfast's dockyards. Building first commenced in March 1909; the ship was completed on 2 April 1912. Its maiden voyage embarked only eight days later.

The ship set sail with approximately 2,224 passengers. More than 1,500 died when the Titanic sank into the icy Atlantic after hitting an iceberg.

Today, a world-class interactive museum is located on the dock in which the ship was built. It remains one of the locations that are special to Irish-Americans.
1. River Liffey – in the capital city
Between 1845 and 1855, 1.5 million people emigrated from the Emerald Isle.

Many of these people left for the New World on "coffin ships" or bound for Canada or Australia. A vast number of these people left from boats located on the River Liffey in Dublin.

Today, a replica tall famine ship named the Jeanie Johnston is open year-round to the public. It offers insight into the living conditions and hardships faced by millions of Irish people in search of a new life in America and beyond.