Start the car! We've put together the perfect itinerary for a road trip around beautiful County Kerry in five days.
Kerry is perhaps one of the most beautiful areas—if not the most beautiful—in all of Ireland. Projecting postcard-worthy backdrops that are sure to get your heart racing, this ancient land on the west coast of Ireland is ripe with awe-inspiring natural wonders.
Expect to be transported to a whole new world on our road trip around County Kerry in five days. The area's raw and unabashed beauty is second to none and worth experiencing time and again.
Even if you only have seven days in Ireland, spending most of it in Kerry isn't a bad idea at all. Here's our suggested itinerary for five days in Kerry.
Day 1: Tralee
The easiest way to begin a road trip in Kerry is via Tralee. It is easily navigable if coming from Limerick, which links swiftly to Dublin too.
Tralee is the largest town in County Kerry and is blooming with restaurants, cafes, bars, and things to do.
For breakfast or lunch, we suggest Yummy Café Market on Dominick Street. This joint was voted Ireland's best family-friendly restaurant in 2018 by Today FM, so you can rest assured it'll be suitable for the whole brood. Alternatively, the Roast House serves a killer selection of breakfast and brunch dishes.
Check out the Kerry County Museum or Blennerville Windmill. If you have the kids with you, or want to act like one yourself, stop by the Aqua Dome water park.
Feeling thirsty? Popular spots for a pint in Tralee include Kirbys Brogue Inn and Sean Ogs. And at dinnertime, we suggest you check out Croí Restaurant or the Italian restaurant Il Pomo Doro.
If you're looking for a nice and affordable B&B, Castlemorris House is our suggestion. Otherwise, the four-star Ballyseede Castle Hotel is less than 6 kilometres from the town centre.
Day 2: Dingle (Tralee > Dingle: 1 hour)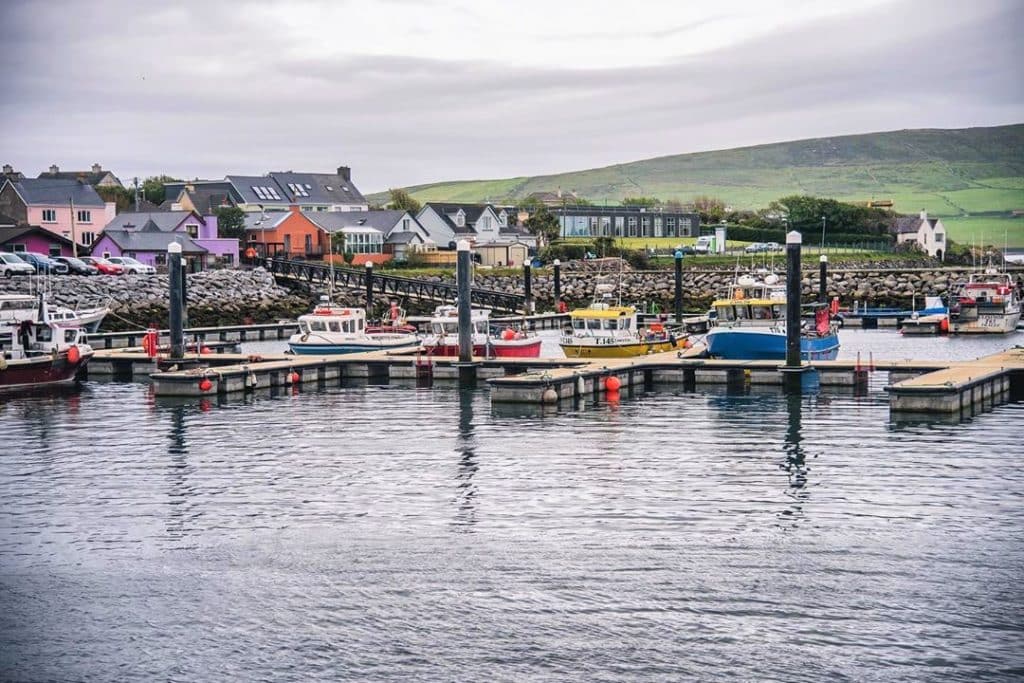 One day two of your drive around Kerry in five days, the scenic country drive from Tralee to Dingle will cover varying terrains. Towering mountains will stand abreast, rich blue Atlantic Ocean water will lap the coastal route, and grazing herds will share the stretch of land that takes you all the way to Dingle town.
Dingle is a sweet and small coastal village sitting on the Dingle Peninsula. It is known for its vibrant local culture and pub scene and also boasts some of the best seafood in all of Ireland.
For world-class coffee, visit the first and (currently) only coffee roaster in town: Bean in Dingle. My Boy Blue is also city-standard and does some serious brunch. Tip: Try the cheese toastie. You can thank us later!
For sightseeing, check out Dingle Oceanworld Aquarium. Not only is it the largest aquarium in Ireland, but it also has a major focus on conservation and rehabilitation. Visit Fungi, Dingle's famous bottlenose dolphin, with Dingle Dolphin Boat Tours.
Whatever you do, don't leave the locale without completing either Slea Head Drive or Conor's Pass.
For a tipple, we suggest Johnny Foxes (a hardware store come pub) or Dick Macks (arguably the most dynamic pub scene in all of Kerry).
For dinner, a must is Solas Tapas. Worthy of Michelin-star, this Spanish-Portuguese restaurant has been inspired by the Irish landscape and uses only local ingredients. Out of the Blue is the best for seafood lovers.
If you're looking for a local and affordable place to rest your head, Dingle Benners is the way to go. For those of you hoping to enjoy a little more luxury on your road trip, check out Dingle Skellig.
Day 3: Valentia Island (Dingle > Valentia Island: 2 hours)
On day three, hop back in that car. If you have time, stop at Inch Beach when leaving Dingle.
Then, trace the coast all the way to Valentia Island, a remote but populated patch of land sitting in the Atlantic Ocean.
Should you be feeling peckish, we suggest Valentia Ice Cream & Coffee Bar or Knight's Town Café for some early afternoon nosh.
The island is stunning and widely undeveloped (that is one of its best qualities), but definitely try to check out The Skellig Experience Visitor Centre or Geokaun Mountain and the Fogher Cliffs.
Boston's Bar is great for a pint, as is the Fisherman's Bar & Skellig Restaurant and the Ring Lyne Bar & Restaurant.
Carraig Liath House B&B is the perfect homely stay on Valentia Island, but The Royal Hotel Valentia is the place to be if you have a little more cash to flash.
Days 4 and 5: Killarney National Park (Valentia > Killarney National Park: 2 hours)
On day four, we suggest you drive to Killarney National Park (where you should also spend day five, given there is so much to see!) via Kenmare. Stop off en route for some breakfast at Bookstop Café in Kenmare. This place does healthy and hearty food like no other.
Then with two full days (we wouldn't really recommend anything less) in Killarney National Park, there is a tonne to do.
Ladies Viewpoint will be the first major site of interest you'll come across when entering the Killarney National Park (from the direction of Kenmare). This viewpoint is also the site of a café and amenities, so it makes for a great rest stop.
Torc Waterfall is also not to be missed. This cascading natural wonder is one of the most popular sights in all of the park and is close to Muckross Lake, another stunning sight.
Muckross House, a majestically restored 19th-century mansion, as well as Ross Castle and Muckross Abbey, a 15th-century friary, are also major points of interest in the area.
Closer to Killarney town, St Mary's Cathedral and Ross Castle are also worth a gander, if time permits.
In terms of accommodation, Friars Glen Country House B&B is a winner all-round. Or, if you're feeling super sophisticated, try out the five-star Muckross Park Hotel.