There are many places you should visit in Northern Ireland's capital city, but then there are others to avoid. So, let's uncover the most dangerous areas in Belfast to put your mind at ease
Belfast is famous for many reasons; it is where the Titanic was built, it was once the home of renowned author C.S Lewis, and the city oozes a rich culture and so many awesome attractions to discover.
So, is it any wonder that it draws in the crowds every year? Well, if you have ever wondered if Belfast is a safe city and which areas are the best and worst to visit, then stick around.
In today's article, we will unveil all you need to know about the most dangerous areas in Belfast and so much more. So, is Belfast safe?
Overview – just how safe is Belfast?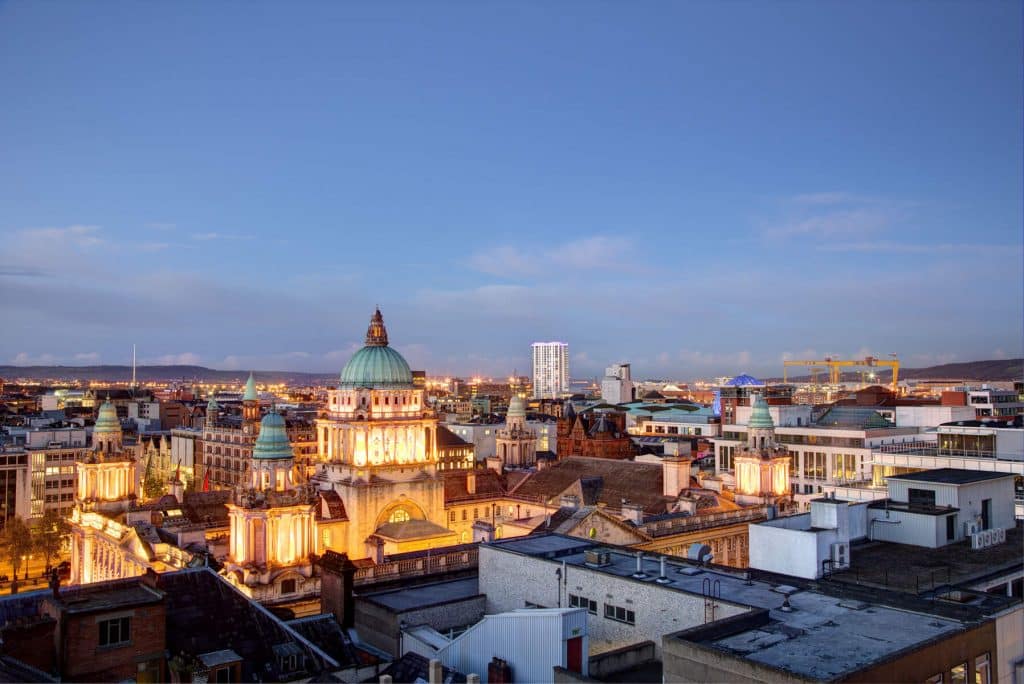 Belfast is the capital city of Northern Ireland and is consistently topping the list of bucket list destinations for travellers and holidaymakers alike due to the array of things to see and do in the city and surrounding areas.
In terms of safety, Belfast is considered to be a very safe city with a small-town feel. So, there is generally not much to worry about in this bustling city.
With that being said, it is always important to know the basics of any city and take any relevant precautions to stay safe, no matter where you are going, and of course, it is wise to know beforehand which areas to avoid.
Understandably, some may have safety concerns regarding Belfast and its history of violence and terrorism during The Troubles. Still, in recent years, since the Good Friday Agreement, things have certainly settled down. Now, Nationalist and Unionist communities live side by side without much cause for concern.
This city has so much history, lots of charm, and plenty of neighbourhoods to explore. But before you begin wandering around, there are a few things you should know. So, let us take a look at the safest and the most dangerous areas in Belfast.
Unsafe areas – places you should approach with caution
When visiting any new city for the first time, it is worth knowing what areas you should not end up in, especially at night and alone. So, we have compiled a list of the most dangerous areas in Belfast to answer your question, "Is Belfast safe?"
Shankill Road: This predominantly Unionist area of Belfast is generally safe in the daytime. However, it is recommended to avoid the area at night. It is worth noting that you should refrain from talking politics or wearing Irish or British sports and football jerseys in Belfast to avoid any strife.
Falls Road: This famous road has played a huge part in the turbulent history of the city. So, it is worth visiting during the day on a Black Taxi Tour to see the Peace Wall, complete with murals, which still stands to this day. However, it is also recommended to avoid this area after dark.
Belfast City Centre: Most crimes in the centre of Belfast city have occurred in areas such as Dublin Road, Ormeau Avenue, Donegall Road, Ventry Street, and Botanic Avenue, according to the UK Crime Statistics. So, it is advised not to wander into these areas alone at night and be vigilant during the day.
Other areas to approach with caution – things to consider if you're wondering, "is Belfast safe?"
East Belfast: Chances are you will venture into East Belfast if you want to see the places George Best and Van Morrison called home. However, statistics show a slightly elevated level of crime in the area, so it's best to be wary.
West Belfast: In general, you won't face any trouble in West Belfast if you choose to visit. However, be vigilant when it gets dark and don't venture off the main roads or into dimly lit alleys at night.
North Belfast: It is generally recommended that the areas of Tiger's Bay and New Lodge should be avoided after dark. However, the region of North Belfast is now becoming a spot for 'adventurous travellers' to explore. So, if you want to see what it's all about, it is best to go with a local who knows the area during the daylight hours.
Other areas to avoid: As well as these, some other areas you might want to approach with caution are the Ardoyne area, Shore Road, Limestone Road, and Falls Park.
Safe areas – the worry-free areas
While most of Belfast is relatively safe for tourists during the day, let us give you some peace of mind, with some areas you can happily visit without worry.
Belfast City Centre: Some areas in the city centre, as we previously mentioned, should be avoided at night. However, Belfast city as a whole is generally considered a 'neutral zone'. Thus, it is a place where all nationalities and religions come together. There is so much to see here in the city, but try not to wander off to unknown streets on your own and stick to the busy areas with plenty of people around.
The Titanic Quarter: If you are in Belfast to see some of the top sights, you will have the Titanic Quarter on your list. This is an area just east of the city that has become very modernized, attracting plenty of tourists. While you should be cautious in this area at night as you would in any new city, during the day, you will have no problems.
South Belfast: This is the most prosperous area of the city, and you won't find much trouble going on here. Home to Queen's Quarter, you may come across some student gatherings outside the many bars in the area. Just steer clear of any places that seem rowdy. Apart from this, south Belfast is relatively hassle-free.
Safety tips – ways to stay out of trouble
Talking about politics or religion is just a no-go when in Belfast to avoid any offence. After all, if you are not from the area, you might say the wrong thing to the wrong person.
Don't wander off the beaten path if you are not with a local.
Avoid wearing any type of British or Irish sports jersey when in Belfast to avoid any trouble.
Be mindful of what questions you are asking the locals, and try to keep it neutral. Just practice common sense.
The emergency services number for Northern Ireland is 999.
Our last words – is Belfast safe?
So, now that we have established that Belfast is an all-around safe city, with a couple of areas to be cautious of, just like anywhere. Thus, you can relax knowing that a trip to Belfast is not a bad idea at all.
Belfast has changed over the years and is today regarded as one of the safest cities in Europe. So, you can rest assured that this is now a city that strives for peace and welcomes tourists with open arms.
Proceed with common sense, as you would visiting any new city, and you will be completely fine!
Notable mentions
Sandy Row: A Unionist neighbourhood in Belfast city, best avoided at night.
Crumlin Road: An area that is safe during the day but not advised at night.
Short Strand: A Nationalist neighbourhood in East Belfast, best avoided at night.
FAQs about is Belfast safe?
What are the main areas of Belfast to avoid?
Falls Road, Shankill Road, and parts of the city centre are best avoided at night time.
How safe is Belfast?
Belfast is considered very safe for tourists, even boasting some of the lowest crime rates in Europe. It is a far cry from the likes of the most dangerous cities in California, USA.
Is Belfast a safe place to live?
Yes. The Northern Irish city is not considered to be a dangerous city today. In Belfast, violent incidents and levels of petty crime remain low.