After a weekend of dry, sunny spells and unusually high temperatures Ireland is set to bask in its Indian summer a little longer.
Irish Meteorological Services, Met Eireann, has predicted even more clear skies and sunshine for the early part of this week in this week'd Irish weather forecast.
High-pressure conditions will cause temperatures to soar as high as 22 degrees Celsius with only a light sprinkle of rain on Monday morning.
A drizzly start in this week's forecast
The week will begin in a more characteristic fashion with low fog in most places and light rain along the southeast coastline.
Elsewhere will remain cloudy for most of the morning with sunny spells few and far between.
Light northeast winds, however, will clear any rain by the afternoon and sunny spells will break through and spread towards the north.
Temperatures will be pleasantly warm with highs of 20 degrees Celsius in the most southerly parts of Cork.
The west will reach temperatures of 16C in the afternoon, extending the Indian summer for coastal areas.
Northern counties will also feel bright and warm with Belfast reaching highs of 15C and staying dry all day.
The capital will feel slightly warmer at 16C with clear skies and sunny spells.
Any rain will clear completely by nightfall with temperatures dropping as low as 3C in rural areas of the Midlands and west.
The Indian summer continues in this week's Irish weather forecast
Ireland is forecast to bask in Indian summer on Tuesday with the best of the sun to shine on Connacht.
Highs of 19C along the southwest coast will make perfect beach weather while the rest of the country will experience similar temperatures with low risk of any cloud.
Light westerly winds and plenty of sunshine will make very pleasant walking conditions along the Connemara coastline.
While Ulster is set to bask in glorious blue skies, warm air and a light breeze well into the afternoon.
Dublin will get some cloud coverage with sunny spells and highs of 17C before dropping as low as 5C overnight.
High pressure predicted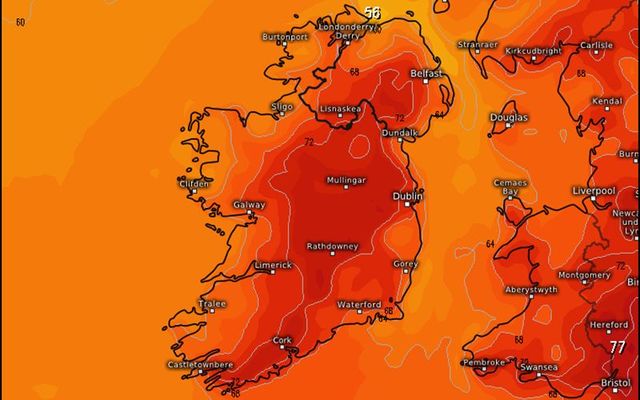 Weather experts explain the unexpected September sun being caused by high pressure over Ireland this week.
As conditions continue, any sunny spells will remain bright, the winds light and the temperatures warm.
Autumnal changes can also be seen with leaves falling and colours changing, making for some spectacular Irish landscapes.
Temperatures will continue to climb as the week progresses, reaching 20C in Munster on Wednesday, 21C in the west on Thursday and a toasty 22C on Friday.
Ulster will see a similar picture with little cloud, no rain and lots of sunshine.
Temperatures will rise in the north from 17C on Wednesday to 19C on Thursday and 20C on Friday.
The east is predicted to bask in Indian summer conditions as well with highs of 22C set for Friday afternoon in the capital.
Overnight will stay dry but feel cooler with temperatures dropping as low as 6C and bringing a damp start with light early morning mist in places.
As the week progresses there will be a higher risk of tropical storm Humberto affecting Irish weather.