From pronunciation and meaning to fun facts, history and the fascinating story behind it, here's a look at our Irish name of the week: Shannon.
Shannon is one of the most popular Irish names throughout the rest of the world, probably due to the fact that its easy to spell and pronounce when compared to a lot of other Irish names.
The name Shannon was originally a boy's name but is today more commonly used for girls. Today we'll tell you all the interesting facts and history about our Irish name of the week; Shannon.
Pronunciation – how to say the name Shannon
Shannon is one of those rare Irish names that is pronounced pretty much how you'd expect it to be (sh-ah-n-uh-n). Hence why it's become one of the most popular outside of Ireland. Almost everyone knows a Shannon.
For more help: HERE
Spelling and variations – from Anglicisation to Gaelicisation
The most common way to spell the name is Shannon. However, this is actually the Anglicised version from the original Irish name Sionainn, which isn't in as much use today.
Alternative spellings also include Shannen, Shanon, Shannan, Seanan and Siannon. There is also a variant of the name Shannon which is Shanna, an Anglicisation of Sionna.
We love the alternative spellings as they make this popular Irish name of the week a little more unique!
Meaning and History – the story behind our Irish name of the week
The name Shannon has a couple of different meanings: 'old river' and 'wise river', deriving from the Irish name Abha na tSionainn for the River Shannon, the longest river in Ireland. The Irish suffix ain indicates small so the name is often mistranslated as 'little wise one'.
The Irish spelling of Shannon, Sionainn, alludes to Sionna, a goddess in Irish mythology whose name means "possessor of wisdom".
The associations with wisdom come from the rivers path in Irish mythology. It is one of seven rivers which is said to flow from Connla's Well, the well of wisdom in the Celtic Otherworld.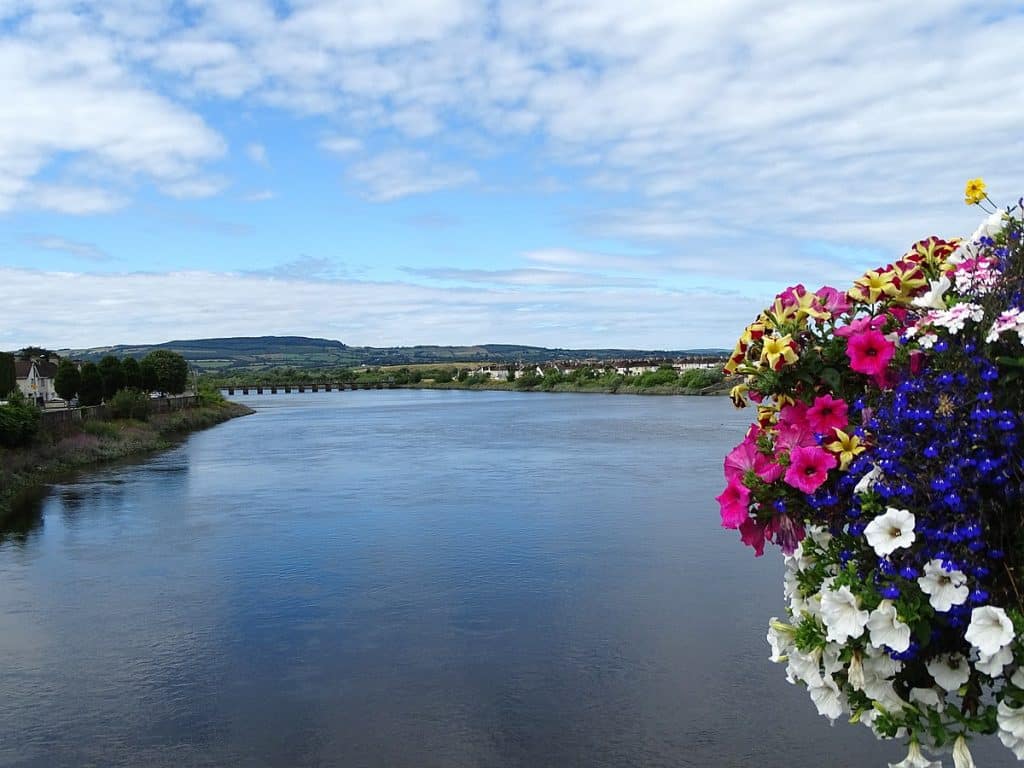 Nine sacred hazel trees grow near the well, and drop their bright red fruit in which feeds the Salmon of Knowledge who live in the well. It is said these salmon get their wisdom from eating this fruit.
Thus, we can see where the associations of the name with wisdom come from and why we have chosen the name Shannon as our Irish name of the week.
Shannon grew in popularity in the United States through Irish immigrants who used it due to their nostalgia for Ireland. The name first appeared in the United States in 1881 as a boys name and later began to gain popularity as a name for girls in 1937.
In the 1970s American parents began to use the name for both boys and girls and it was during this time that it reached peak popularity in the US.
Famous people with the Irish name Shannon – exporting the name worldwide
Shannon Elizabeth
Shannon Elizabeth is an American actress and former fashion model from Houston, Texas. She has appeared in a number of films including American Pie, Scary Movie and Jack Frost.
Her mother, Patricia Diane Fadal, is of German, English and Irish ancestry so we can see why she chose to give her daughter the Irish name.
Shannon Miller
Shannon Miller is a former American gymnast from Rolla, Missouri. She is well known for her successful gymnastics career throughout the 1990s.
Miller was the 1993 and 1994 world all-around champion, the 1996 Olympic balance beam champion, the 1995 Pan American Games all-around champion and a member of the Magnificent Seven team who won gold at the 1996 Olympics.
Shannon Woodward
Shannon Woodward is an American actress from Phoenix, Arizona. She is best known for her roles as Sabrina Collins in FOX's Raising Hope as as Elsie Hughes in HBO's Westworld.
Shannon Sharpe
Shannon Sharpe is a former American football player from Chicago, Illinois. He is known for his career as an American football tight end for Denver Broncos and Baltimore Ravens.
After retiring from football he became a TV presenter and co-hosts Skip and Shannon: Undisputed with Skip Bayliss.