From pronunciation and meaning to fun facts and history, here's a look at the Irish name Gráinne.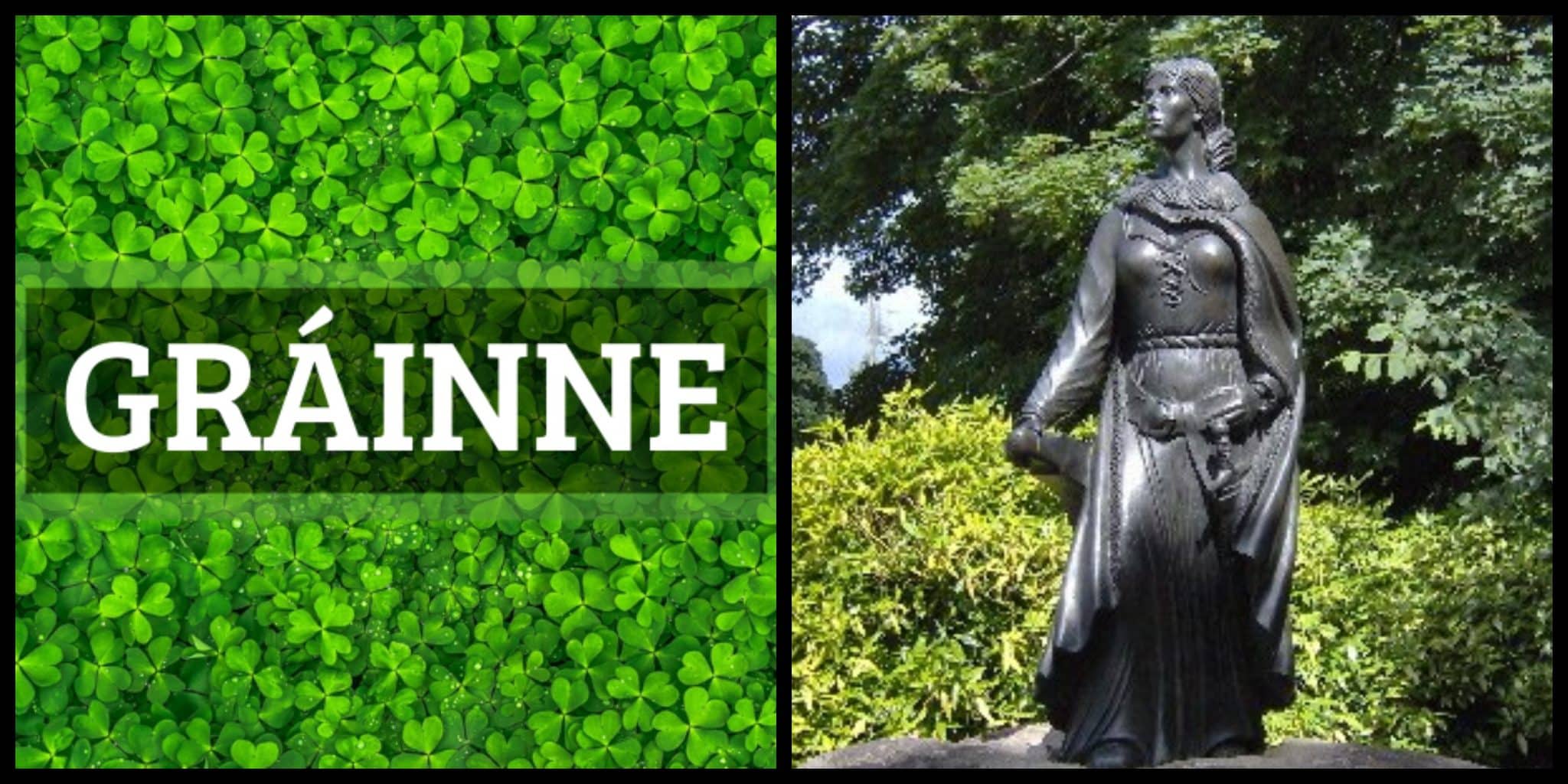 Gráinne is a beautiful and popular Irish name that has been used by many women over the centuries, from pre-Christian goddesses to pirate queens, to talented Irish women across the world. Like most Irish names, things like spelling, pronunciation, and meaning can pose a bit of a challenge for non-Irish speakers. Fear not! We are here to help!
Here is everything you need to know about our Irish name of the week: Gráinne.
Pronunciation
Like many Irish names, pronunciation of Gráinne can depend on the dialect of Irish spoken in the area in which the person is from. In most dialects of Irish, Gráinne is pronounced as 'Grawn-yah'. (Think of an extended yawn when using this pronunciation!) You will most likely hear this pronunciation in Leinster, Connaught, and Munster.
In Ulster Irish, the name is pronounced 'Grah-nya'. This dialect is predominantly spoken in (you guessed it) Ulster.
Mispronunciations include, but are not limited to 'Granny', 'Grainy', and 'Greeney'. We can only imagine what other daft pronunciations Gráinnes across the world have been subject to.
Spellings and variants
The name is usually spelled as 'Gráinne'; however, some people also spell the name 'Grainne' without the fada (the diacritic mark over the 'a').
The name has also been Latinised as Grania, or Anglicised as Granya, although this is rare. The name has been represented in English as Gertie, Grace, and Gertrude; however, these English names are etymologically unrelated to the Irish name Gráinne, and to be honest, why change it? It's truly perfect just the way it is!
Meaning
While the origin of the name is uncertain, it has been previously connected with the words 'grian' and 'grán', meaning 'sun' and 'grain' respectively, in Irish. From this connection, the name has been linked with the pre-Christian sun goddess, Grian, an ancient deity associated with the sun and corn harvest, two incredibly important things in ancient Ireland.
Without a doubt, the Irish name Gráinne has deep roots in Ireland's ancient past and continues to be a popular name in Ireland today. Perhaps these connections explain why the Gráinne in your life emanates a kind of sunny radiance about her!
Legends associated with Gráinne
The name Gráinne is also borne by several famed characters in Irish mythology, pointing further to the significance of this Irish name. One such character was the daughter of Cormac mac Airt, a legendary High King of Ireland. His daughter Gráinne was said to be the most beautiful woman in Ireland and is one of the main protagonists in Ireland's greatest romantic legend 'The Pursuit of Diarmuid and Gráinne' or 'Tóruigheacht Dhiarmada agus Ghráinne'.
In this legend, Gráinne is courted by the legendary Fionn mac Cumhaill, who happens to be old enough to be her grandfather. They do indeed become engaged, and at a great celebration feast, she becomes acquainted with one of Fionn's best warriors, Diarmuid Ua Duibhne and falls in love with him. Gráinne throws a few enchantments and love potions around, resulting in her elopement with Diarmuid. The two run off together, pursued across the island of Ireland by Fionn and his men.
The couple stay on the run for many years hiding in all sorts of caves, dolmens, and wooded glens, many of which to this day are still associated with Diarmuid and Gráinne in local lore. After many years on the run, Gráinne falls pregnant with Diarmuid's child, and Fionn and his men catch up on them. During the pursuit, the couple find shelter on Benbulben and are confronted by a giant wild boar, an animal whom legend told was the only creature that could ever do Diarmuid any harm.
While protecting Gráinne, he is fatally wounded by the boar and tragically dies in Gráinne's arms. In some versions of the legend, Gráinne swears to avenge Diarmuid's death upon Fionn, while in others she reconciles with Fionn and in some instances marries him. The most tragic ending is that she grieves until she dies herself. (Jaysus, someone needs to turn this tragic romance into the next Game of Thrones series!)
Famous Gráinnes
Last, but by no means least, here is a list of famous people with the Irish name Gráinne whom you might have heard of. If you have never heard of them before, you should look them up – they are a seriously fascinating bunch of women!
Gráinne Ní Mháille, also known as 'The Pirate Queen', was a legendary Irish woman that lived in Ireland in the 16th century. She sailed from island to island along the west coast with her fleet of ships, raiding the coastline as she went, building up a great hoard of wealth and earning her title as the Pirate Queen. She was one of the last Irish leaders to defend against English rule in Ireland and is known by many different names, including Grace O'Malley and Granuaile. She is best known by her nickname, Gráinne Mhaol.
Grainne Duffy is a professional singer-songwriter and guitarist from County Monaghan. Her specific genres include Soul, Blues, and Americana enriched with some country and pop elements. She is known for her exceptional singing voice, which is said to be inspired by the wellsprings of Memphis, but which also reflects her 'Irish Celtic roots'.
Gráinne Ní hEigeartaigh was a famous Irish harpist, singer, and historian of the Irish harp. She studied piano, voice, and harp at the Royal Irish Academy of Music in Dublin, as well as traditional songs and music from the Gaeltacht (Irish speaking) areas of Ireland. She wrote about the history and music of the Cláirseach (wire-strung harp) and was one of the first professional musicians to revive and record this ancient traditional instrument.