From pronunciation and spelling to fun facts and meaning, here is everything you need to know about the Irish name Eimear.
If you grew up in Ireland, especially during the noughties, you are most likely well acquainted with a handful of the many charming Eimears that live across the length and breadth of this charming isle. Furthermore, if you happen to have been given the Irish name Eimear, you are likely aware that you are one of many, especially if your humble abode is located amidst the Irish midlands.
While the name is quite popular at home when abroad, your local Eimear has likely had her fair share of daft encounters, frustrating situations, and memorable moments in relation to their given name.
We are here to help! From pronunciation and spelling to fun facts and meaning, here is everything you need to know about the Irish name Eimear.
Pronunciation
Alas, the Irish curse of excessive vowels strikes again! Like most Irish names, Eimear is another one that may seem overly complex at first sight, but trust us, it's less of a challenge than you think.
In modern Irish, the name is typically pronounced "ee-mer", like 'emergency', but without the 'gency' or 'lemur', but without the 'l'.
Impressive mispronunciations include 'aay-mar', 'ee-mehir', 'eyem-ear' and 'omar'. All good attempts, but you're not quite there yet. Keep trying!
Fun fact: In early Irish, the name was sometimes pronounced like "ever", but this is rarely the case nowadays.
Spellings and variants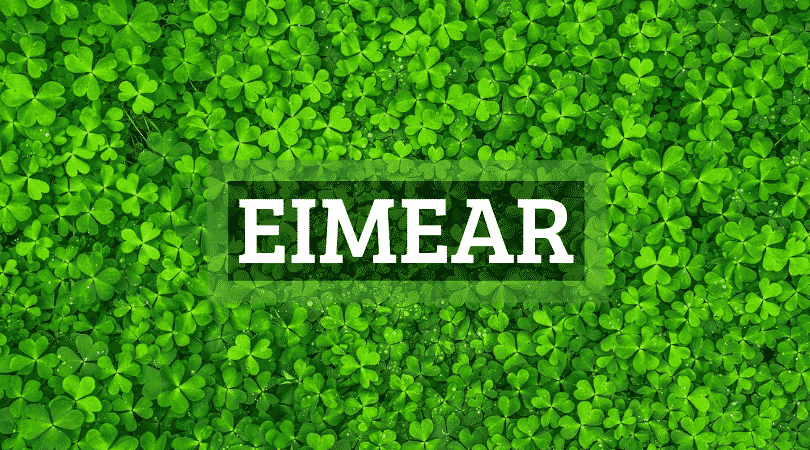 Eimear is also one of those Irish names that can get super confusing when it comes to spelling as there are so many variations. Typically, the name is spelt Eimear, Éimear, or Emer. However, it can also be spelt Eimhear, Éimhear, Eimir, and Eimhir (which is the alternative version in Scottish Gaelic).
They all look the same, right? Well, believe us, that additional letter or purposeful fada (the diacritic mark over a vowel), can make or break a friendship or relationship, so pay attention! It is not up for debate and can make a world of difference to a bearer of an Irish name!
Meaning
The meaning of this lovely name is believed to derive from the Irish word 'eimh', meaning 'swift'. So, believe us, an Eimear will be quick to correct you if you call her something daft, especially if you decide that calling her Emma is a good attempt at making friends.
Believe us when we say it: an Eimear is a friend for life, so make sure you make a good first impression!
In history, myth, and legend
In the early Irish legend Tochmarc Emire ('The Wooing of Emer'), Emer was the wife of the iconic hero Cú Chulainn. She possessed the six gifts of womanhood: beauty, a gentle voice, sweet words, skill at needlework, wisdom, and chastity. Although caring and kind, Emer was also said to be a fierce and wise warrior. Jaysus, a woman of many talents!
The Ulstermen searched all over the island of Ireland for a suitable bride for Cú Chulainn, but he would have none but Emer. Clearly due to her many gifts!
Emer would accept Cú Chulainn as a husband, but only when his deeds justified it. A very wise woman indeed, if we do say so ourselves!
Famous Eimears
There are plenty of famous people with the Irish name Eimear that have graced the world with their talents, and many more that have featured in literature. As there are so many to choose from, we have decided to list a few of our favourites. Make sure to set some time aside to look up these wonderful women and show them a bit of love and appreciation.
First on our list of famous Eimears is Eimear Quinn, the Irish singer and composer, globally known for her triumphant success at the Eurovision Song Contest in 1996 with the iconic song entry 'The Voice'. As mentioned above, one of the gifts of the Eimear in Irish myth is a gentle voice, and this lady exhibits this talent flawlessly!
Our next famous Eimear is County Galway's Eímear Noone. Eímear is widely hailed as the world's leading composer of video game music, and at only 22, she became the first woman to conduct at the National Concert Hall. Better still, this talented lady became the first woman to conduct at the Oscars in 2020!
Other famous Eimears include the character of Emer in William Butler Yeats' play 'The Only Jealousy of Emer', and in his poem 'The Secret Rose.'
Our final famous Eimear is less of a person and more of a special homage to the legendary figure. The LÉ Emer (P21) was a former ship in the Irish Naval Service, built-in 1977 and decommissioned in 2013.
Well, there you have it: you will now hopefully know a little bit more about the Irish name Eimear than you did before!