From pronunciation and meaning to fun facts and history, here's a look at the Irish name Domhnall.
Ah yes, the classic "mh" combination! Unless you happen to be an Irish speaker (or perchance a Scots Gaelic speaker), this spelling of the Irish name Domhnall is likely to trip you up.
And if you yourself happen to use this spelling, we have no doubt you've had to make do with "Donal" on many the occasion.
Join us as we examine the roots and meaning behind this popular Irish name, its folkloric associations, and of course, the famous Domhnalls, Donals and Dónals who have found both national and international acclaim in a wide variety of fields.
Pronunciation
The pronunciation of the Irish name Domhnall is really very simple. In the words of Irish actor Domhnall Gleeson: "it's pronounced like tonal with a 'd' instead of a 't,' and the 'm' is just there to confuse Americans."
If you want to address your friend Domhnall in the Irish language, say "Haigh, a Dhomhnaill." This is pronounced "Hi, ah Go-nil." (If you're new to Irish, this 'dh' sound can be difficult to get used to, but it will come to you in time with practice!)
Spellings and variants
If you're thinking of calling your child Domhnall, there's certainly no shortage of ways to spell it, Donal being the most common. Other spellings include Domhnal, Donall, Dónal (with a fada over the o), and, more historically, Domnall.
According to the Central Statistics Office, there were 12 baby Domhnalls and 15 baby Donals born in 2018.
The name, Donald, which originates in Scotland, comes from the same roots as our Domhnall; just one of the many examples of the links between our two cultures!
Meaning
The Irish name Domhnall has very ancient roots, originating from the Proto-Celtic (that's before the Irish language itself even existed!) – "Dumno-ualos." And the meaning? Well, it's probably not what you'd expect…
Broken down, the name essentially means "world ruler." Eek, maybe we should probably all be as nice as possible to any Domhnalls we know, in case any of them ever decide it's time to live out their namesake destiny and make a bid for world domination! 
History
Unsurprisingly with a meaning like "world-ruling," the name was once very popular among the Gaelic kings and aristocracy. Some of these early Medieval monarchs include the 7th-century High King of Ireland, Domnall Mac Áedo, and the 12th-century King of Dublin, Domnall Ua Briain.
According to singer Joe Heaney, the well-known folk song, Dónal Óg, known in both Irish and English, dates back to the time of the Wild Geese when many Catholics, just like the beloved of the broken-hearted narrator, left Ireland to find employment in the militaries of France, Greece, and Spain.
Take a listen to this English version by the Irish American folk duo, Murphy Beds, and a haunting Irish arrangement by the band Líadan!
The archives of the National Folklore Collection provide us with no shortage of heroic Domhnalls! One folktale follows Prince "Domhnall Salach" (literally "Dirty Domhnall"), who, being the unlucky youngest of thirteen, is sent off to fend for himself.
He hasn't left home long when he finds a job working as a servant to a man who just happens to be inviting some giants around for lunch the next day. These giants have six heads between them, by the way, all of which are cut off by our hero in quick succession.
By the story's end, after a couple more colourful encounters in the same vein, Domhnall marries a princess from "the Eastern World" and returns back to his father's kingdom.
Famous people with the Irish name Domhnall
Domhnall Gleeson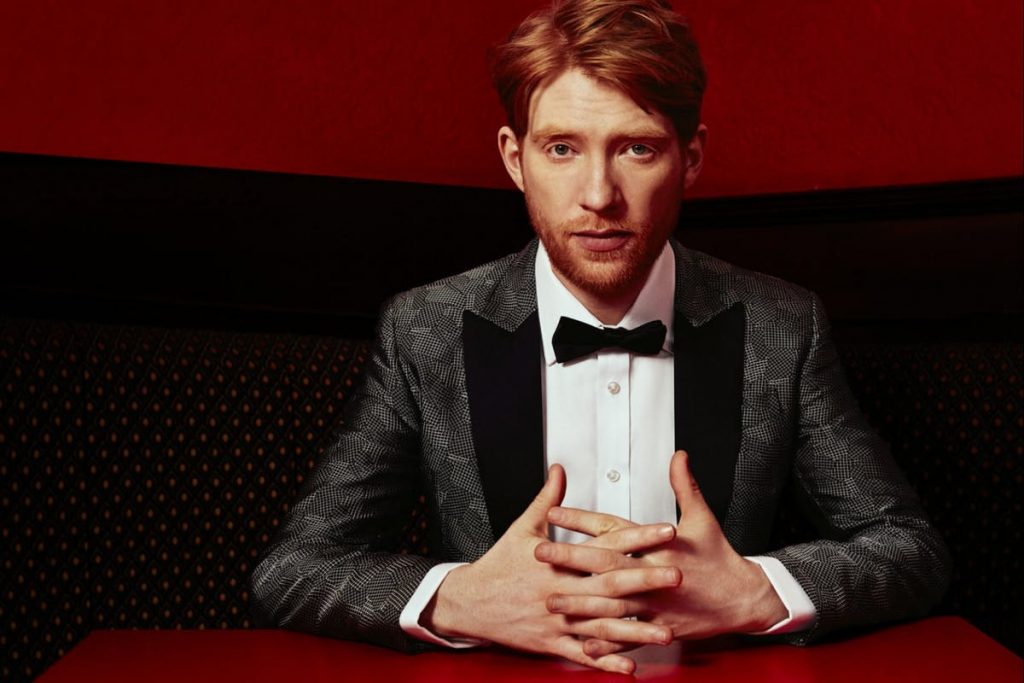 Irish actor Domhnall Gleeson is probably the most famous of his name alive today. His starring roles include Bill Weasley in Harry Potter and the Deathly Hallows, Konstantin in Anna Karenina, Jim in Brooklyn, and General Hux in the recent Star Wars sequels.
Domhnall's family are no stranger to the stage and screen either; he is the son of well-known Irish actor Brendan Gleeson of The Guard, In Bruges, and Cáca Milis fame and the brother of Brían Gleeson, whose acting credits include Love/Hate and Peaky Blinders.
Donal Óg O'Cusack
Dónal Óg O'Cusack is a legendary Cork hurler who played sixteen seasons with his county team and is currently the manager of its Under-21s squad.
He made history in 2009 when he came out as the first openly gay player in the GAA. Óg Cusack is a huge advocate for LGBTQ+ inclusion in sport and created the documentary Coming Out of the Curve alongside fellow Cork native and Gaelic footballer Valerie Mulcahy.
Dónal Lunny
Bouzouki player Dónal Lunny is a living legend in the world of Irish folk music.
In a prolific career spanning from the 1960s to the present day, Lunny has been featured in the lineup of such renowned acts as Planxty, the Bothy Band, and Moving Hearts.