Let's take a look at how the Irish diaspora lives in New Jersey.
New Jersey has long been a destination for Irish immigrants. Many settle in the state and establish vibrant communities.
Today, the Irish diaspora in New Jersey is a community that continues to grow and thrive. There are over one million people of Irish descent living in New Jersey. It is one of the largest Irish-American communities in the country.
This article aims to provide insight into how the Irish diaspora has left an indelible mark on the state's history, culture, and society.
According to the research conducted by NJCasimile, which specialises in New Jersey activities, over 1 million New Jersey residents (12% of the state's population) identify as Irish or are a part of the diaspora.
They have played a vital role in shaping New Jersey's identity. They have influenced politics and business and contributed to arts and sports. Let's explore the rich history and present-day realities of the Irish diaspora in New Jersey.
Historical background – the Irish in New Jersey
The Irish have a long history in New Jersey, dating back to the early 19th century. One of the primary reasons for Irish immigration to the state was the Great Famine that occurred in Ireland from 1845 to 1852.
During this time, a blight destroyed the country's potato crop. That was the primary food source for the Irish people. This led to widespread starvation and forced many to emigrate for a better life.
New Jersey offered many opportunities for Irish immigrants. These were particularly in the mining, manufacturing, and transportation industries. The state's growing economy provided jobs for those willing to work hard and for low wages.
Another reason for Irish immigration to New Jersey was the promise of religious freedom. The Irish were predominantly Catholic, and many fled religious persecution in Ireland. In New Jersey, they could establish churches and practice their faith freely.
Throughout the 19th and early 20th centuries, Irish immigrants continued to come to New Jersey. They sought economic opportunities and a better life for themselves and their families. They settled in cities such as Newark, Jersey City, and Paterson.
They established close-knit communities and left a lasting impact on the state's culture and society. Today, the descendants of these immigrants continue to celebrate their Irish heritage. They contribute to the rich tapestry of New Jersey's diverse communities.
Irish culture and traditions in the US − pubs, holidays, and more
Irish culture and traditions are an integral part of the Irish diaspora in the United States. The community's presence in New Jersey is no exception, with its unique blend of Irish culture and American influences.
Here are some ways the Irish diaspora in New Jersey celebrates and maintains its cultural heritage.
Local pubs in New Jersey – some fantastic Irish pubs
New Jersey is home to a vibrant Irish community. One way the community maintains its cultural traditions is by opening local pubs.
These pubs are not only places to grab a pint of beer but also serve as a hub for the community to gather and socialise.
Here are some of the most popular Irish pubs in New Jersey:
The Dubliner: Located in Hoboken, this pub is a popular spot for locals and visitors alike. They serve various Irish dishes, including shepherd's pie and bangers and mash, and have live music on the weekends.
P.J. Finnegan's: Located in Westwood, this pub is a great spot to catch a game or watch live music. They serve traditional Irish dishes like corned beef and cabbage and have a great selection of Irish whiskeys.
The Shannon Rose: With locations in Clifton and Ramsey, The Shannon Rose is a popular spot for Irish cuisine and drinks. They have a large selection of beer on tap, including many Irish options, and serve classic dishes like corned beef, cabbage, and shepherd's pie.
St. Patrick's Day celebrations – a significant celebration
St. Patrick's Day is a significant celebration in New Jersey. The Irish diaspora takes great pride in their heritage and culture.
It is a public holiday in Ireland celebrated on 17 March each year. In New Jersey, it is marked with different events. These include parades, cultural exhibitions, music, dance performances, and traditional Irish cuisine.
One of the biggest celebrations is the St. Patrick's Day parade in Morristown. It attracts thousands yearly. Other notable celebrations include the Newark St. Patrick's Day Parade and the Belmar Lake Como St. Patrick's Day Parade.
The celebrations are not limited to one day. Many pubs and restaurants offer specials and traditional Irish fare throughout the week.
The Irish diaspora in New Jersey takes pride in keeping their traditions alive during these celebrations.
They wear green, drink Guinness, and often attend mass at their local church. It's common to see bagpipers, traditional Irish dancers, and musicians performing throughout the state during the St. Patrick's Day festivities.
Irish in the Atlantic City casinos – making their presence felt
Irish Americans have also made their presence felt in the entertainment industry of Atlantic City. One of the most prominent ways they have done so is through their involvement in the casinos that line the city's famous boardwalk.
Atlantic City's first casino, Resorts Casino Hotel, was opened in 1978. It was quickly followed by many others. This includes the Trump Taj Mahal, which opened in 1990, and the Borgata Hotel Casino & Spa in 2003.
Today, Atlantic City has over nine major casinos. The Hard Rock Hotel and Casino, Tropicana Casino & Resort, Golden Nugget Atlantic City, Caesars Atlantic City, and Bally's Atlantic City are a few to mention. Each of these casinos offers a variety of games.
This includes blackjack, craps, roulette, poker, and slot machines. Visitors also enjoy luxury accommodations, live entertainment, and fine dining options.
Irish music and dancing on New Jersey streets – an integral part of Irish culture
Irish music and dancing are an integral part of Irish culture. It has been said that "Irish music is the blood that flows through the veins of every Irishman".
This holds for the Irish diaspora living in New Jersey, where Irish music and dancing are celebrated with great zeal.
During the summer months, the streets of New Jersey come alive with Irish music and dancing. The Irish festivals and cultural events held in the state are a testament to the strong Irish community present in New Jersey.
The New Jersey Irish Festival, held annually in September, is one such event that celebrates Irish music, dance, and culture. The festival features traditional Irish music bands, Irish step dancers, and Irish food and drink.
The Irish-American Association of NorthWest Jersey is another organisation that promotes Irish music and dance in the state.
They host regular Irish music sessions and céilí dances open to the public. The association also offers Irish language classes, traditional Irish music lessons, and other yearly cultural events.
Irish churches and religious organisations – bringing their faith to the US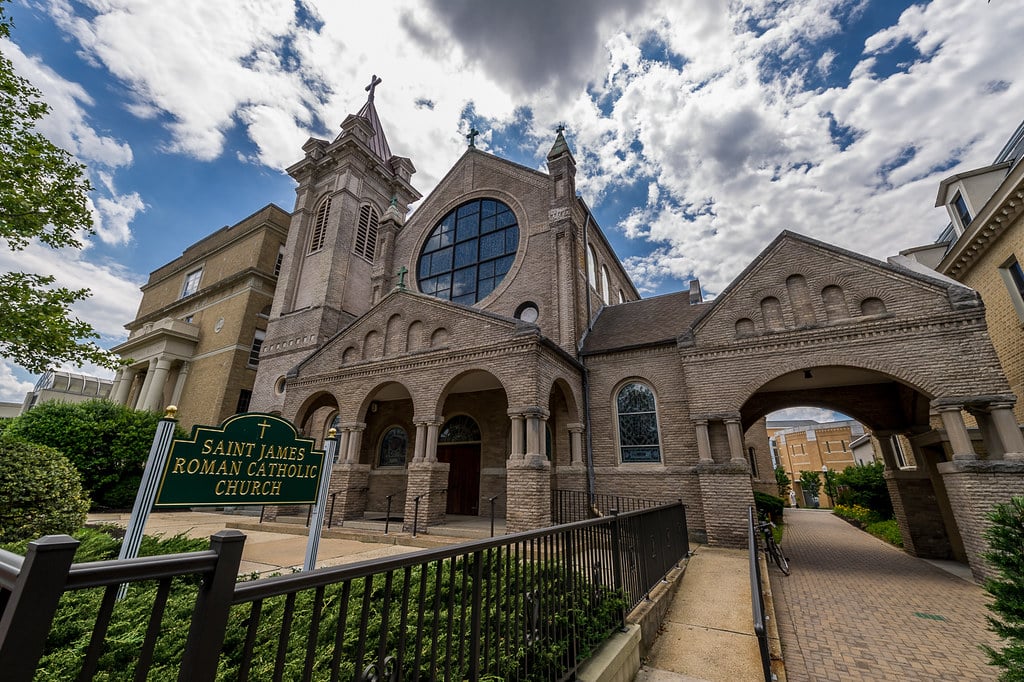 Irish immigrants have brought their deep Catholic faith to the United States. This reflects in the many Irish churches and religious organisations in New Jersey.
One of the most prominent is the Saint Patrick's Pro-Cathedral in Newark. Founded in 1846, it was the first Catholic Church in New Jersey. It was also the first Cathedral in the country to be named after Saint Patrick.
Another notable religious organisation is the Ancient Order of Hibernians. It's a Catholic fraternal organisation established in 1836 to serve the needs of Irish immigrants.
It has chapters in many parts of the United States, including New Jersey. The organisation promotes Irish culture and heritage and supports the Irish community.
Aside from these organisations, many other Catholic churches in New Jersey have strong Irish roots. These include Our Lady of Victories in Sayreville, Saint Joseph's in Toms River, and Saint Mary's in Middletown.
The Irish community in New Jersey also celebrates religious holidays and traditions. These include Easter, Christmas, and All Saints Day.
They attend mass and participate in religious processions. Thus, they bring their unique Irish traditions and customs to their faith practices.
Role of Irish people in New Jersey's economy – the contributions of the Irish diaspora
The Irish diaspora has significantly contributed to New Jersey's economy. Irish Americans have been involved in various industries in the state, ranging from construction to finance.
They were in the construction industry for many years, with many owning construction companies. Many Irish Americans also own real estate firms in the state.
The Irish play important roles in the finance industry in New Jersey. Many of them work in financial institutions like banks and investment firms.
They have held key positions in these institutions and have contributed to the growth of the state's economy through their work.
Additionally, Irish Americans have impacted the New Jersey hospitality industry. Many own or work in restaurants, bars, and hotels. These have become vital to the state's tourism industry.
Your questions answered about how the Irish diaspora lives in New Jersey
How large is the Irish diaspora in New Jersey?
According to the US Census Bureau, New Jersey has one of the largest Irish diasporas in the United States. Over one million residents identify as Irish or have Irish ancestry. This number makes up about 12% of the state's total population.
What are some common Irish traditions that are celebrated in New Jersey?
Irish Americans in New Jersey continue to celebrate their heritage through various traditions.
These include St. Patrick's Day parades, Irish music and dance performances, and Irish cultural festivals. Plus, many Irish Americans in New Jersey continue to pass down their ancestral traditions, such as the Irish language, to future generations.
How do Irish Americans in New Jersey stay connected to their Irish heritage?
They often do this through various cultural organisations and groups that offer opportunities to learn about and celebrate their Irish roots. Some also visit Ireland or participate in cultural exchange programs to further connect with their heritage.
Get featured on Ireland Before You Die
Do you want to get your Irish business more online exposure? Especially to those interested in travelling the best places in Ireland? Then why not get a dedicated feature on Ireland Before You Die. Find out more 
here.