Calling all adventurists to West Belfast, as Ireland's longest zipline is set to open this weekend. Read on to discover all about 'River Rapid'.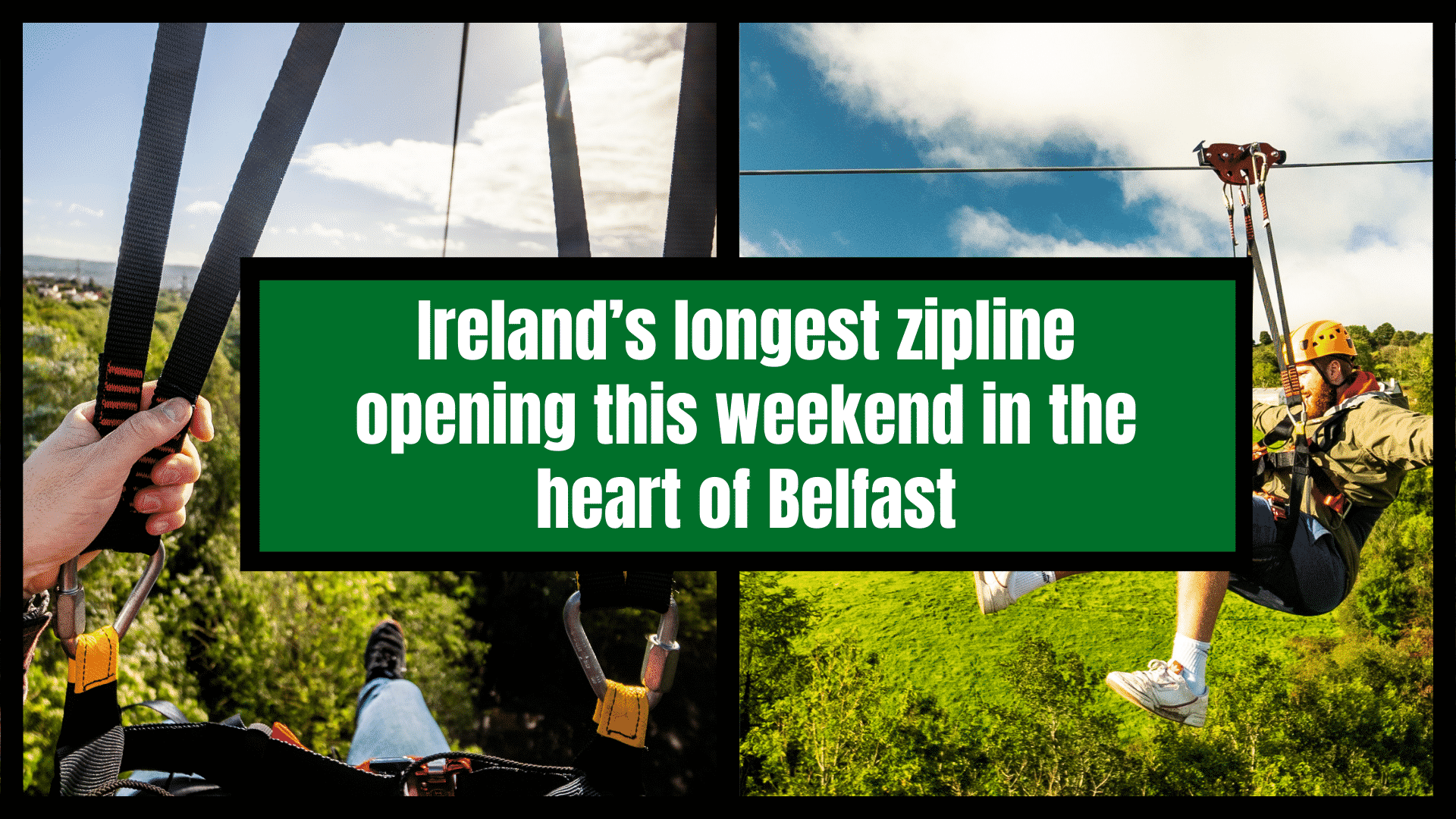 Colin Glen Forest Park, located in the heart of west Belfast, will now be home to the longest zip line in Ireland this weekend as it prepares to open its 2,297 ft (700 m) long dual zip line.
Opening on Friday, the 'River Rapid' adds another string to the adventure park's growing bow. It is sure to attract even more visitors over the Easter break.
If you want to find out more about Ireland's longest zipline opening in Belfast, read on.
What is the River Rapid? – Ireland's longest zipline
Only last year, Colin Glen Forest Park opened a series of new attractions. These included the Black Bull Run, the 820 ft (250 m) Forest Flyover zipline, and the Emerald Isle's first alpine coaster.
Now, Colin Glen has taken another step further with the addition of the River Rapid. The exciting new attraction is due to open this Friday, 15 April 2022. It will share a new zipline package along with the Forest Flyover.
River Rapid will comprise a 2,297 ft (700 m) dual zipline with a 100 ft (30 m) high take-off. The zipline allows you to fly across the Colin River at speeds of up to 50 mph (80 kph).
You will be greeted with stunning views of the Belfast skyline as you zip across the forest, over the treetops, and people below in this new and exciting addition to west Belfast.
All you need to know before attending – get your measurements right
Tickets are now on sale for this incredible event, which can be purchased here. Tickets cost £18 (€21.50) for children and only £20 (€24) for adults.
If two people wish to use the dual lines simultaneously, this will cost £35 (€41.85), while a family of four costs only £50 (€59.80).
In order to board Ireland's longest zipline, you must be aged ten and over, measure at least 4.3 ft (1.3 m) tall, and weigh at least 30 kg (66 lbs). At the same time, the maximum weight for a passenger is 120 kg (265 lbs).
Funding for Ireland's longest zipline – investing in Colin Glen
Ireland's longest zipline has formed part of a multi-million-pound investment that has been supported by Belfast City Council, the Department for Communities, and the Department of Agriculture, Environment, and Rural Affairs.
Belfast City Council believes this is "part of Colin Glen's wider plans to continue developing a world-class outdoor adventure park."
Meanwhile, Sinead Grimes, Director of Physical Programmes at the Council, said, "The opening of River Rapid represents the final major milestone in this landmark project".
Colin O'Neill, Colin Glen Chief Executive, had this to say about the project; "We're thrilled to finally open River Rapid to the public and look forward to welcoming people from all over the island of Ireland and beyond to our forest park this summer to try it for themselves".
See the River Rapid in action for yourself here: