Waterfalls are among nature's most enchanting of natural formations and here in Ireland, we are home to many. These beautiful locations are found along the course of a river or stream and they are at their absolute best after heavy rainfall which luckily, we do not have a problem with here!
They vary greatly in size and force ranging anywhere from a trickling stream drizzling down a rugged rocky hill to a powerful gushing flow cascading over the edge of a cliff and crashing into a pool below. Sheila Reilly highlights a list of Irelands most magnificent waterfalls, all well worth a visit.
1. Glencar Waterfall – Leitrim
The very popular Glencar Waterfall tops the list. At 50ft high it is particularly awesome after heavy rain, so awe-inspiring in fact that the famous W.B. Yeats having visited it many times as a child was moved to include it in his poem 'The Stolen Child';
'Where the wandering water gushes, From the hills above Glen-Car,
In pools among the rushes, That scarce could bathe a star,'
Situated at Glencar Lough the drive to it is every bit as stunning as the Waterfall itself with countless spots along the way where you will want to pull over and take a moment to soak in your surroundings. There is a lovely wooded walk up to the Waterfall, just a couple of minutes long but you can take a longer trail if desired.
There is no charge to see the fall and the area has parking, restrooms, a picnic area, a small café and a playground all on site – some of which are subject to opening times so you may want to check before you go. Hidden in the shadow of beautiful Benbulben, this is not one to be missed.
2. The Devils Chimney Waterfall – Leitrim/Sligo border
Just a little way westward from the well-known Glencar Waterfall is a much lesser known hidden gem which just so happens to be officially Irelands tallest Waterfall. The Devils Chimney or 'Sruth in Aghaidh an Aird' (the stream against the height) is an incredible 492ft high and the area surrounding it is much more rustic and untouched than its neighbour Glencar. Accessed through a beautiful woodland path you can hike to the top of the waterfall on a newly constructed trail, approximately 30-60mins long depending on your own fitness level and there are stopping points along the way. The walk is moderately strenuous but very pleasant and rewarding in views.
One Caveat to note with this Waterfall is that sometimes during periods of dry weather the waterfall does not flow. If you cannot see the waterfall on the cliff face from the carpark then it is not flowing. Interestingly, however, the strong effect of the weather on this waterfall can also give rise (when the wind blows from the south) to the strange phenomenon of the waterfall being blown back upward over the very cliff from which it falls. It is this strange occurrence that gave rise to its name, the devils chimney and it can be seen here:
3. Powerscourt Waterfall – Enniskerry, Wicklow
At an impressive 398ft high the very picturesque Powerscourt Waterfall and indeed the stunning area surrounding it are well worth your time. Set in the foothills of the Wicklow mountains the parkland is abrim with magnificent and intriguing flora and fauna.
The walk to the base of the waterfall is short, easy and manageable for all.
It is an ideal area for a family day out, or even Sunday stroll with your picnic packed. Very spacious it has ample room for children to play and is the perfect location for your picnic or BBQ.
There is a cover charge to get in and there is also parking, restrooms, a playground for small children and a kiosk with a decent array of choice on site, however, these are subject to opening times so check before you trek! You may also want to visit the fabulous Powerscourt House & Gardens while you're in the area, just a few kilometres away from the fall.
4. Torc Waterfall – Killarney, Kerry
Situated at the base of the Torc Mountain standing between 70-80ft high the Torc Waterfall is encompassed in the stunning Killarney National Park and is very popular with tourists from all over the world and home birds alike, visiting it along their way of the famous Ring of Kerry.
It is just a 5-minute walk from the carpark to the foot of the fall through scenic woodland and for an even better view, you can climb some 100 steps that sit alongside the fall if you wish. As one of Irelands better-known tourist attractions, it can get quite busy and congested during peak summer months so you may want factor this in when deciding to visit.
5. Glenevin Waterfall – Clonmany, Donegal
This pretty waterfall is 30ft tall and is one of Inishowen's most spectacular attractions. The walk to the fall is short and exceptionally beautiful as you stroll through a wooded valley alongside a meandering stream complete with several picnic areas and vantage points along your route.
For the more outdoorsy among us, this waterfall is a good starting or finishing point for more demanding walks to Raghtin More. There is a car park, tea room and toilets available on site and this attraction may be subject to opening times.
There is no cover charge for the waterfall but there is a donation box, which may help toward upkeep and more recently repairs as sadly due to flooding of late in the area a lot of the pathway has been damaged and may be out of action well into 2018. A point to consider before going.
6. Kilfane Waterfall & Glen – Thomastown, Kilkenny
Next, on the list comes Kilfane Waterfall & Glen. A little off the beaten path and not too well known, this very well restored historical paradise, listed as an Irish Heritage garden inspires wonder in those who visit. You trek through magical woodlands crossing tiny bridges nestled under ancient trees down a valley towards the Waterfall and a little thatch cottage where you can bask in the tranquillity of your surroundings. Staying true to its 18th-century roots and largely untouched or changed this is a little gem in Kilkenny.
Pack a picnic as there are picnic spots along your trail. There is a cover charge and the cottage which serves refreshments is open only 3 days a week. The gardens and Waterfall open only for a couple of months during the Summer so check to make sure it is open before you make the journey, however, note that it is worth making when it is.
7. Assaranca Waterfall – Ardara, Donegal
Assaranca waterfall is one of nature's special finds. Situated just outside Ardara on the way to Killybegs you will find this waterfall flowing just off the side of the road before you come to the majestic Maghera beach and caves. A perfect spot to stop, think and appreciate the beauty of nature.
8. Mahon Falls – Waterford
Standing at 262ft huddled in the Comeragh Mountains the Mahon Falls is surrounded by natural beauty. There is a fantastic trail for those who like to hike or a shorter easy gravel path for those who just wish to see the splendid falls. There is no cover charge to see these falls. It is a good spot for a family day out so pack a picnic! There is a carpark nearby the falls and usually a pop-up van selling teas & coffees.
9. Glenmacnass Waterfall – Laragh, Wicklow
Also standing at 262ft tall Glenmacnass is the next waterfall on our list. Situated at the beginning of the Glenmacnass Valley in an unspoilt stretch of bogland between the Sally Gap crossroads and Laragh this isolated area of splendour is great for those who like to be at one with nature. There is carpark above the waterfall just a 2-minute walk away from it or there are lots of areas around to hike for those who wish to do so.
10. Tourmakeady Falls – Mayo
On the shores of Lough Mask in County Mayo lies an enchanting woodland walk through the Tourmakeady Forest which leads up to this beautiful Waterfall. Surrounded by the peaceful sounds of birdsong, leaves rustling in the breeze and soft flowing water whilst making your way to this charming waterfall is escapism at its best.
11. Gleninchaquin Falls – Kenmare, Kerry
Gleninchaquin Park is a lesser known and well maintained hidden gem in Kenmare with this delightful waterfall nestled in its midst. Standing at an impressive 459ft and one of Irelands highest it is certainly worthy of a spot on our list.
Walking through the rich meadows and scenic mountainous landscape on route to this fabulous fall is the perfect way to spend an afternoon. Pack a picnic as there is ample spots to stop for lunch along your stroll. The park is subject to opening times and there is a cover charge. There is also a carpark, tea room and restrooms on site.
12. Aasleagh Falls – Galway/Mayo border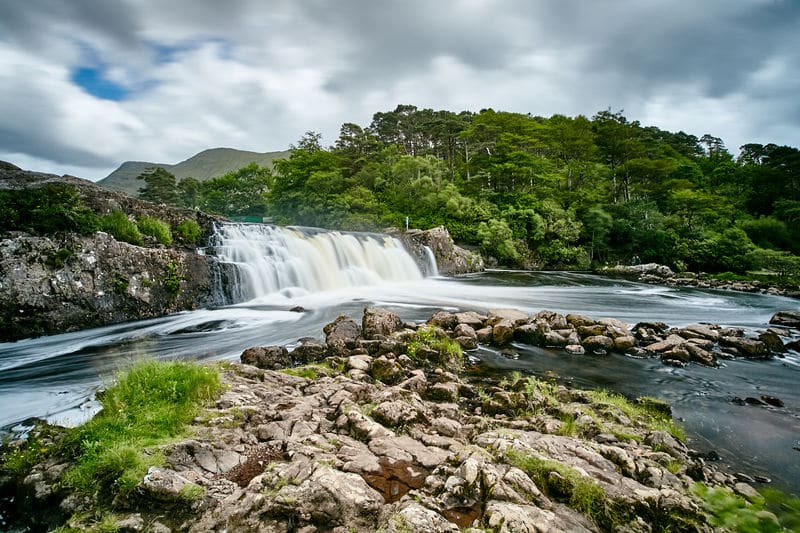 Panoramic rather than high this stunning waterfall is located along the River Erriff just before it meets Killary Harbour. The entire area of South Mayo is extremely picturesque and this captivating fall is not to be missed along your travels.
13. Glenbarrow Falls – Laois
This spectacular 3-tiered waterfall is a key feature along the Slieve Bloom loop close to the geographical centre of Ireland. A trekker's dream the trail to this waterfall is a mix of hidden valleys, forest tracks, riverbanks, old roadways and grassy trails.
14. Glenoe Waterfall – Antrim
Glenoe Waterfall, Co. Antrim. A beautiful waterfall nestling in the glens of Antrim. A short stroll from the charming village of Glenoe, steps and paths wind around a small glen with one of the most picturesque waterfalls in Ireland.
15. Clare Glens – Tipperary/Limerick border
Last, but not least on our list is the Clare Glens Waterfall, another beauty situated along a scenic trekking trail. Huddled in the glens is a red sandstone gorge through which the Clare River flows and displays numerous wild and rustic waterfalls along its path.
Grab your boots and explore natures wonder.