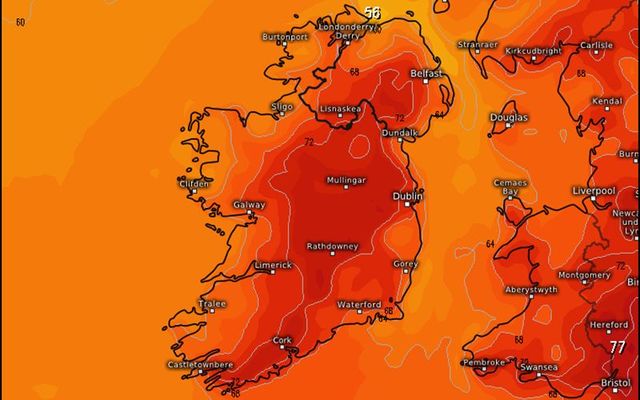 Say Goodbye to Winter as Ireland to be hotter than Barcelona and Milan this Valentine's Weekend.
You may have noticed a change in temperature over the last few days when the usual three coats and multiple scarves you've come to accept seemed a bit too much, but things are really heating up this Valentine's Day, and we don't just mean in the bedroom.
In a strange turn of events, Ireland is set to be hotter than Barcelona and Milan this weekend as temperatures are predicted to soar this Thursday and are due to continue on into the weekend, reaching a high of 15°C.
Just as you were really starting to embrace the multiple layers, the icy windscreens and the hot water bottle you bring to bed, the Irish Weather throws this curveball at you.
No, this is not April Fools Day, and yes, we are being serious. Just as serious as global warming it seems.
A Met Eireann spokesperson has said that "Thursday will be mild, breezy and largely dry with a fair amount of cloud but some decent sunny periods also. Highest temperatures of 11°-14° with fresh southerly breezes".
This unusually mild weather will the carry on to Friday and for the rest of the weekend.
Despite the fact that the average temperature in Ireland in February is usually a cool 3°-7°, Met Eireann is reporting temperatures of 15° on Friday accompanied by sunshine and dry spells which they have described as being "very mild for February".
Meanwhile, the Met Office predicts that temperatures in Barcelona will be a mere 13°C during the weekend, while temperatures in Milan will just hit 11°C on Saturday and Sunday. These are in line with average February temperatures for both Milan and Barcelona.
You are better off in the East on Friday however as there are reports of "patchy rain which will edge in across parts of the southwest, west and northwest on Friday but it will be dry elsewhere".
There will be further "patchy outbreaks of rain across the west and north of the country overnight but largely dry elsewhere". Maybe it's not time to break the summer clothes out of the back of the wardrobe just yet!
As for Saturday Met Eireann tell us that it will be "rather cloudy across Munster, Connacht and west Ulster on Saturday with occasional rain or drizzle. Mostly dry elsewhere with a mix of cloud and hazy sunny spells. Maximum temperatures of 9 to 12 degrees in moderate southerly breezes. Persistent rain developing across the western half of the country overnight but it is expected to hold dry further east".
Whatever you get up to this Valentine's Day, we hope you enjoy this unexpected little bit of sunshine. This is Ireland after all, you never know this could be the only summer we get this year.