While Ireland may not have the perfect weather for a seaside holiday, it sure makes up for it in breathtaking coastal scenery and beautiful beaches.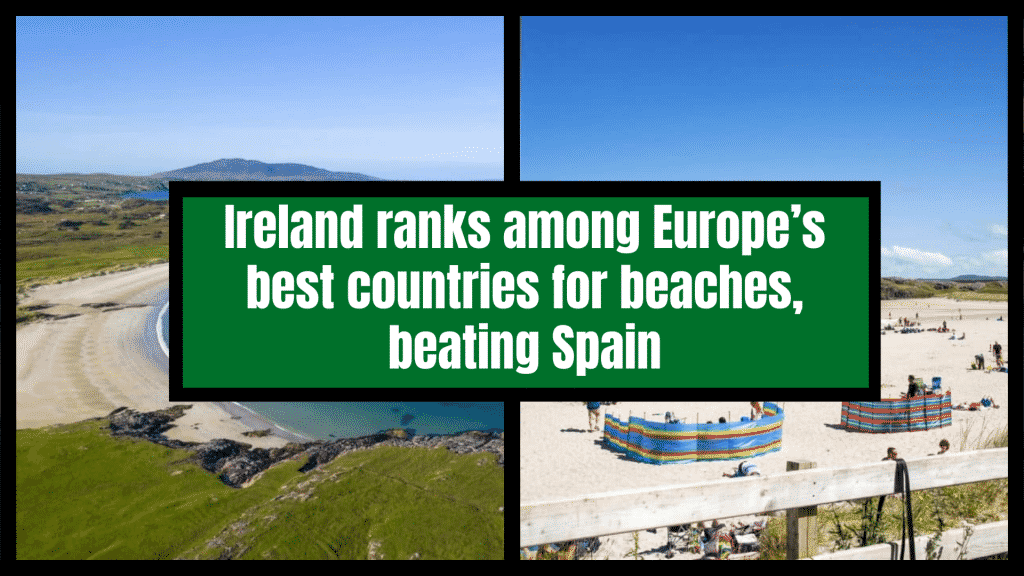 The Emerald Isle is known for its rugged scenery, breathtaking coastal stretches, and epic landscapes.
It may not be the first place you think of when it comes to planning a beachside holiday. However, it probably should be as Ireland has ranked among Europe's best countries for beaches.
Ranking alongside the likes of Greece, Italy, and Portugal, Ireland has been recognised for its beautiful beaches that line the coast of this stunning island nation.
The perfect coastal escape – plenty of beaches to choose from
From the beautiful northern coastline of Donegal and the Causeway Coast to the southern stretches of Wexford and Kerry, Ireland is home to plenty of breathtaking strands where you can breathe in the salty sea air.
For this reason, the Emerald Isle has ranked in Europe's top five best countries for beaches. Thus, beating the likes of Spain and Croatia.
Various Irish beaches have made the big time in movies such as Brooklyn and Saving Private Ryan. So, it really comes as no surprise that our beautiful coastal stretches are regarded as some of the best in Europe.
How the research was conducted – analysing online data
In the study conducted by holidu.co.uk, Ireland ranked in fifth position among Europe's best countries for beaches.
To discover the top destinations, researchers analysed monthly Google searches and Instagram hashtags. For Ireland, they found that Irish beaches had an average of 880 monthly Google searches and a whopping 42,036 Instagram hashtags.
Ireland offers so many picturesque beaches. So, we aren't surprised that users on the social media platform are keen to share their shots online.
Europe's best countries for beaches – from the Mediterranean to the Atlantic
Ranking alongside Ireland on the list of Europe's best countries for beaches is Greece, which takes the top spot.
Boasting an incredible 5,400 monthly Google searches and 142,294 Instagram hashtags, the beautiful Mediterranean country is world-renowned for its eye-catching coastline.
Just a short trip across the water from Greece, Italy claimed second position. Italy claimed a matching 5,400 average Google searches but a much lower 71,746 Instagram hashtags.
Portugal took third position with 3,600 monthly Google searches and 61,366 Instagram hashtags. Meanwhile, just beating Ireland to claim fourth position is France, with 3,600 monthly Google searches and 42,606 Instagram hashtags.
Losing out to Ireland for a place in the top five is Spain in sixth. The sunny country claimed 8,100 monthly Google searches and 29,947 Instagram hashtags.
Croatia claimed seventh (5,400 Google searches and 26,176 Instagram hashtags) and Malta seventh (6,600 Google searches and 16,074 Instagram hashtags).
The Netherlands claimed ninth, with 480 Google searches and 18,926 Instagram hashtags. Meanwhile, Poland closed out the top ten with 1,600 monthly Google searches and 16,582 Instagram hashtags.
So, while you're planning your Irish road trip, you can discover the full rankings and other top beachside destinations here.