Heading to Ireland on a budget? No problem.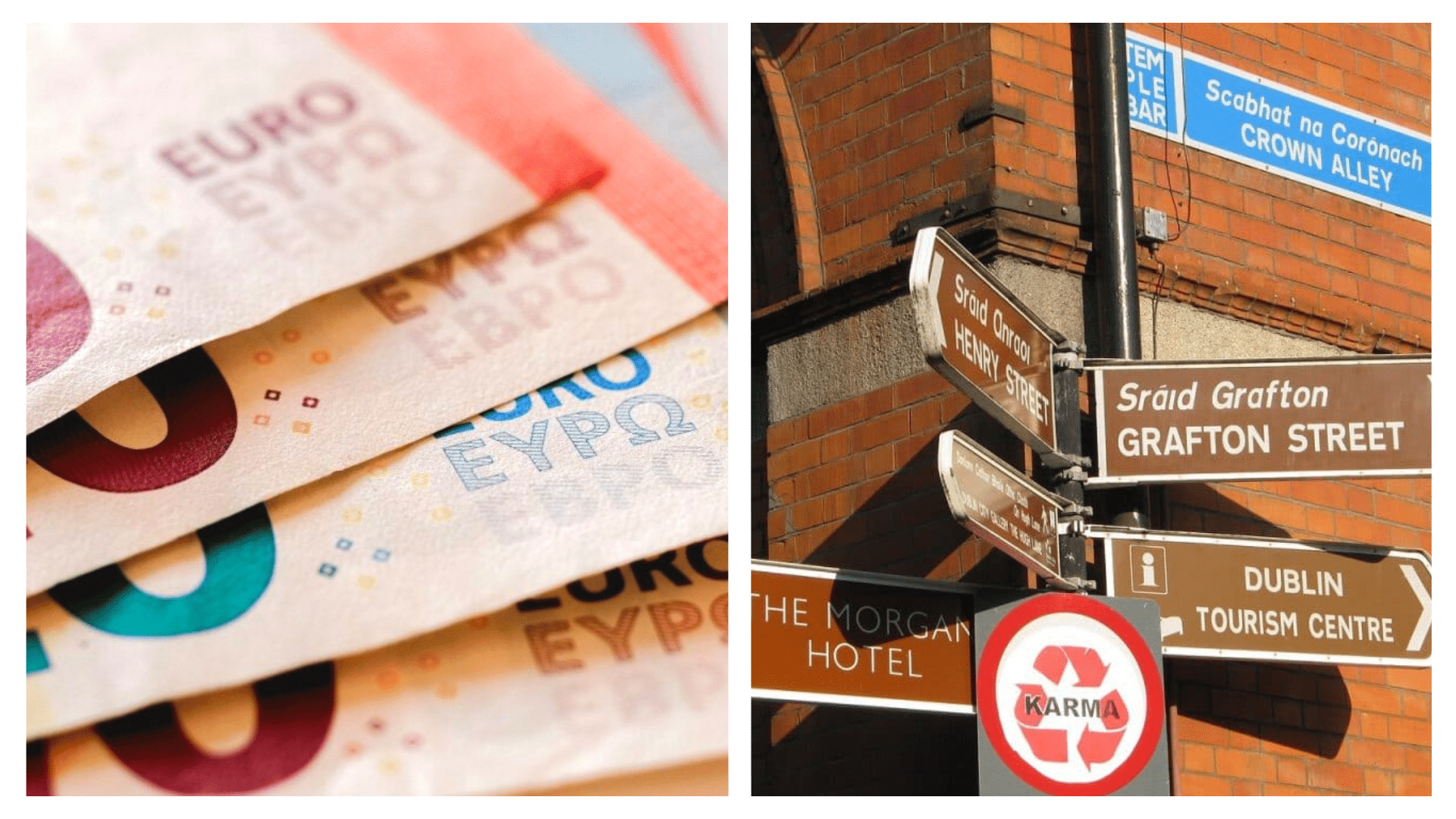 With the fallout of the Covid-19 pandemic, Ireland, like many countries around the world, was faced with outrageous inflation and a rise in the cost of living that many can't keep up with.
While costs of day-to-day essentials, as well as luxury goods, restaurants, and bars, have skyrocketed in certain areas, you can still enjoy Ireland on a budget.
Ireland is one of the most naturally beautiful countries, with countless mountain hikes, coastal walks, and free city walking tours at your disposal.
So, if you're saving your pennies and looking to travel around Ireland on a budget, read on for our guide on how to save some pennies.
Ireland Before You Die's top tips for visiting Ireland on a budget:
Take more money than you think you will need in case of emergencies. Consider investing in travel insurance for the same reason.
Book flights and accommodation in advance to ensure the best prices for both.
Consider using a bank card with no additional charges for foreign currency transactions (Revolut, Starling, Monzo, etc.).
Remember that Northern Ireland and the Republic of Ireland use two different currencies. NI uses the pound, while ROI uses the euro.
In many parts of Ireland, particularly rural areas, public transportation options are lacklustre. It might be both more time efficient and economical to rent a car.
Visit grocery stores or budget supermarkets (such as Lidl and Aldi) for local produce and cook for yourself occasionally if your accommodation has cooking facilities.
Where can I go in Ireland on a budget? – budget-friendly locations
Every traveller wants to go to Dublin when they visit. Given that it's the capital city, this is only natural. The good news is that there are a lot of free activities you can take part in in Dublin City.
This is the good news because the bad news is if you plan on staying in Dublin, you'll need to use the cash you've saved on activities to put you up in a hotel for the night.
However, fret not; we'll get into accommodation options a little later on in the article. For now, let's talk about where to go.
As we mentioned before, there are a number of great free activities in Dublin. The same can be said for the other big cities in Ireland, like Belfast, Cork, and Galway.
For our lists of the best free activities in these cities, you can check out our articles on them below.
Dublin: HERE, Belfast: HERE, Cork: HERE, Galway: HERE.
Travel on a tight budget – how to navigate for as little as possible
When it comes to travelling around the cities, walking is usually a great option if attractions are close to each other.
When attractions are a little further away, most Irish cities have cheap, easy-to-access city bikes. In Dublin, this is Dublinbikes. In Belfast, it's Belfastbikes. In Cork, it's TFI bikes and the same for Galway. These city bikes are a great option and super cheap.
When travelling in Dublin, also consider using the Luas as it starts at just €1.70 for one zone to €2.50 for four zones.
For travelling between cities, Bus Éireann and Aircoach are fantastic options. With Aircoach, you can travel from Dublin to Belfast for as little as €8, so always take a look at both sites to compare and find the cheapest option.
These buses are usually clean, comfortable, and really easy to navigate. Also, if you are prepared enough in advance, check out Irish Rail for your destination because tickets can be around a similar price when you book several days before.
If you plan on travelling lots between counties, rent a car as this will certainly be the most affordable option in the long run. KAYAK is a great site for finding cheap car rentals in Ireland.
READ MORE: The IB4UD guide to renting a car in Ireland.
The most affordable destinations in Ireland – where you can save your pennies
Waterford
Recently voted the most affordable city in Ireland, Waterford is a great destination for anyone visiting Ireland on a budget.
For starters, the Comeragh Mountains and the driving route many take around them are a great way to get in touch with nature on the Emerald Isle.
With a plethora of beaches, walks, and free attractions, like the Waterford Greenway and the Cathedral of the Most Holy Trinity, you can enjoy a lovely day or two in Waterford without breaking the bank.
Plus, the city has a number of very affordable accommodation options, too.
Donegal
Arguably the most beautiful county in Ireland, Donegal and its natural beauty is a free playground for one and all.
From the stunning Slieve League Cliffs to the beauty of Malin Head and beyond, you could save a lot of money on your trip to Ireland by spending much of your time in Donegal.
While there are, of course, many activities you can partake in that will cost a few euros, you can have an incredible time hiking Donegal's breathtaking scenic routes and lazing around beaches at absolutely no cost. 
If you are planning on spending a long time in Donegal, we recommend renting a car.
Sligo
Another county along the Wild Atlantic Way to consider is County Sligo. Donegal's lesser-visited neighbour to the south, this is another great county to explore by car with so much beauty to soak in all around. 
From Benbulbin to Knocknarea, Strandhill Beach to Enniscrone, you don't have to splash loads of cash when you visit Sligo.
Mayo and Kerry are two other great options when visiting Ireland on a budget. Like the other counties we listed above, the price of restaurants, bars, and attractions is comparatively lower than in the capital of Dublin.
Accommodation in Ireland – book well in advance
As we mentioned before, accommodation can be very expensive in the bigger cities like Dublin or Belfast.
However, it is not impossible to stay for a night or two without completely breaking the bank. For example, if you book in enough advance, you can find hotels at a reasonable rate.
People often make the mistake of thinking Ireland is like the rest of Europe. For example, if you're visiting Budapest or Prague, you could theoretically arrive on the day, walk up to a hostel, and book your stay in a dorm room or private room on the spot.
While you can potentially do this in cities in Ireland, there just aren't as many hostels or budget-friendly options, and booking them last minute will almost certainly cost an arm and a leg more than if you had booked in advance.
Airbnb has skyrocketed in recent years, so we recommend getting on a site like Booking.com well in advance to book your accommodation. Lastly, for free accommodation, you could try couchsurfing. 
This isn't the safest option for solo travel, but it can be a solid option if you're travelling with a couple of friends.
Notable mentions
Planning: Plan your Ireland itinerary in advance. This way, you can map out what you can afford before your trip and avoid unexpected costs.
Accommodation and food: Take advantage of communal kitchens in hostels to save some money on food.
Heritage card: Buying a heritage card will save you money in the long run as it ensures unlimited access to many of Ireland's top visitor attractions and historic sites without having to pay an admission fee.
Walking tours: There are free walking tours in cities all over Ireland. Google beforehand to find out where they meet and what time they set off.
LEARN MORE: Our guide to the best walking tours in Ireland for every traveller.
Your questions answered about Ireland on a budget
If you still have questions, we have you covered! In this section, we've compiled some of our readers' most frequently asked questions and popular questions that have been asked online about this topic.
What is the most affordable way to travel Ireland?
If you plan on taking a proper trip to loads of different counties in Ireland, we recommend car rental. Although you'll be paying for petrol or diesel, this will be more cost-effective than constantly getting buses and trains, especially when travelling in a group.
What is the cheapest month to visit Ireland?
November to February is the off-season for visiting Ireland. It is likely that you'll find more deals and cheaper accommodation at this time.
Can you live cheaply in Ireland?
Ireland is currently experiencing a cost of living crisis. As such, it is not a cheap place to live right now as rent prices and the daily cost of living continue to rise. Having said that, aside from rent, there are ways to save money when living in Ireland.
RELATED READS:
Daily costs to visit Dublin, Ireland: our guide to prices and cost of living
Daily costs to visit Belfast, Northern Ireland: our guide to prices and cost of living