Planning a trip to the Emerald Isle in September? Maybe a staycation? Discover all you need to know in our guide to the weather, climate, and top tips for visiting Ireland in September.
Ah, September. The crisp morning air, hints of russet orange in the trees, and the chance of rain rapidly increasing, Irish weather in September can perhaps best be described as, erm, changeable.
But that doesn't mean it isn't a great time to visit the Emerald Isle.
There are lots to do and see, plus you can enjoy the slightly cheaper rates of the end of the tourist season. Read on for more useful tips on visiting Ireland in September to help plan your trip.
Weather for Ireland in September
Experiencing nature in Ireland in September can be beautiful. Hints of golden browns and burnt oranges are beginning to show in the trees, and the crisp touch of autumn can be felt in the breeze.
There is still plenty of wildlife around, and birdsongs can be heard for a few weeks yet.
It is a time when we can play in autumn. We can throw on a cosy jumper and enjoy the glow of a log-fire because we want to, not because it is so cold it is essential.
Weather in September in Ireland can be unpredictable. However, the chances are you will still be able to enjoy the milder temperatures of late summer.
Visitors can expect an average high of 13°C and an average low of around 9°C.
However, this does not mean you should leave the waterproofs at home. History shows that trying to predict the weather at this time of year can be fruitless.
In September 2018, Storm Ali hit Ireland with heavy wind and rain. Whereas, last year, we enjoyed a mostly dry few weeks, with some sunny interludes.
What to pack
Even though September can treat us to a long period of dry weather, do not forget to pack an umbrella.
If you are visiting for a city break, we advise packing some sweaters and cardigans. While the temperatures will remain mild, the beginnings of autumn can be felt in September, particularly in the evenings.
Want to explore the outdoors? If you are planning a hike, remember to bring proper hiking boots to keep your feet dry and warm. Invest in a good waterproof raincoat.
On the other hand, September has been known to bless us with extended bursts of sun, so keep space in your suitcase for a sun hat and some t-shirts too, just in case.
Things to do and see
Due to the unprecedented global effects of COVID-19, many events that had been scheduled for September 2020 have now been postponed or cancelled.
But as lockdown measures have begun to ease, there is still plenty to do and see on your visit here.
Cafés and bars across the country have slowly begun to open their doors once again, with hygiene measures in place to protect staff and visitors.
Schools have opened again, so you'll be able to take advantage of the late summer weather while avoiding the crowds.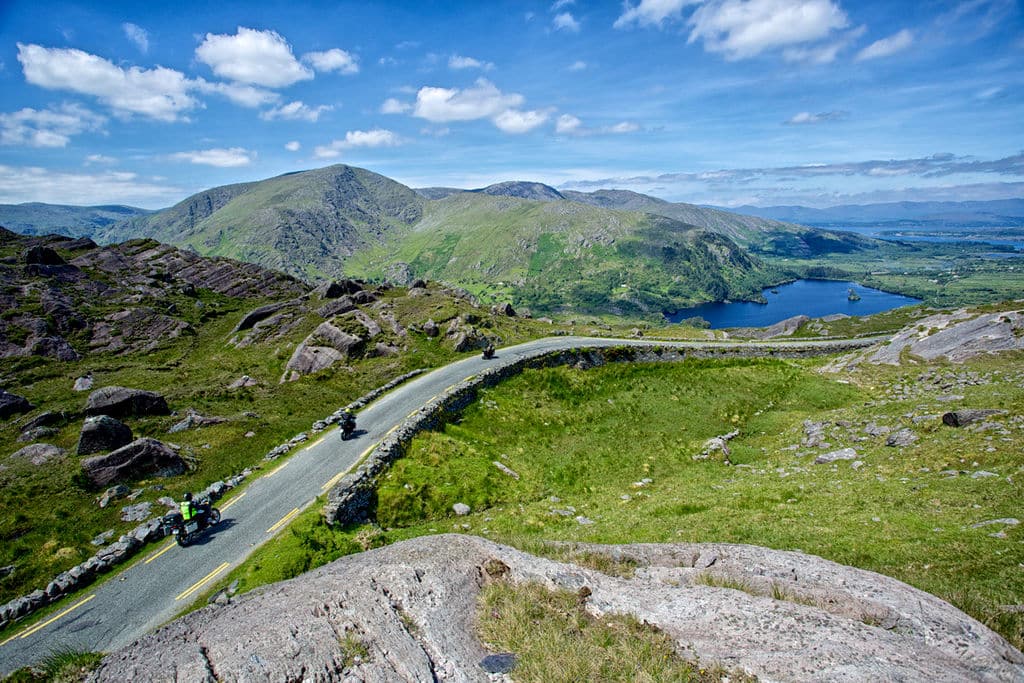 Fortunately, Ireland has an abundance of natural beauty and outdoor activities waiting to be experienced.
Fancy a road trip? The Wild Atlantic Way is a tourism trail on the west coast of the island, and on parts of the north and south coasts too.
The stunning 2,500 km driving route passes through nine counties and three provinces, stretching from County Donegal's Inishowen Peninsula in Ulster to Kinsale, County Cork, in Munster.
It's by far one of the most scenic trails the country has to offer, and definitely worth the visit. Plus, in September, you'll be able to miss out on some of the 'wilder' aspects of the trail, with typically milder weather.
Treat yourself to one of Ireland's most highly regarded coastal walks.
The entire Causeway Coast Way stretches for 33 miles, from Portstewart to Ballycastle, passing Dunluce Castle and Northern Ireland's most popular tourist attraction, The Giant's Causeway.
It is definitely a spot to cross off your bucket list.
September is an excellent time for a city break in Ireland, too. With typically cheaper rates compared to the tourist peak of July and August, you could end up getting a good deal on hotels.
There's enough to keep you occupied in Dublin for weeks. From history and culture to food and nightlife, it's the ideal spot for a weekend away in September.
Take advantage of the outdoor eating and beer gardens before the colder bite of October and November comes around.
Belfast, in Northern Ireland, is also an excellent spot for a weekend city break in September. Delve into a rich and fascinating history, and enjoy the vibrant nightlife in the famous, cobbled Cathedral Quarter.