The fantastic OM Dark Sky Park in County Tyrone offers visitors a unique look at the night sky, unhindered by light pollution.
A brand new nighttime film experience opens at OM Dark Sky Park. It takes visitors on an immersive journey through the night sky, seeing stars, suns, satellites, and more.
OM Dark Sky Park and Observatory is located in the heart of rural County Tyrone in Davagh Forest, far away from light pollution.
The experience takes guests away from the hustle and bustle of life on the ground. Thus, allowing them to learn all about the night sky above.
A brand new addition – even more to discover
Since opening in June 2021, the £1.2 million OM Dark Sky Park and Observatory has welcomed visitors young and old looking to discover the world above.
Now, brand new exhibitions have been added to the exciting attraction. One of which is a nighttime film experience new to OM Dark Sky Park and Observatory.
The immersive outdoor film experience will take visitors on a journey through the solar system. Thus, offering up a unique nighttime perspective.
Incredible nighttime film experience opens at OM Dark Sky Park – see the solar system up close
The brand new experience, known as 'OM Odyssey', will take guests on an immersive journey through the solar system.
Along the way, you will discover stars, satellites, planets, and more. You can even check out various natural wonders that live here on earth.
You can even discover the fantastic Aurora Borealis, which lights up the sky at various times throughout the year.
Premiering last Wednesday, the incredible nighttime film experience uses the latest high powered projection technology to create a truly immersive show.
An "amazing experience" – far away from city lights
Chair of Mid Ulster District Council, Councillor Paul McLean, was one of the lucky people at the film experience's premiere last Wednesday.
He said, "To stand under the darkest of dark skies and see films screened like this is a truly amazing experience.
"Our new OM Solar Walk is spectacular on its own, given the landscape you move through. But is at a whole new level when you add the augmented reality that takes you on a journey to discover the sky and the land at once.
"We have always said that the uniqueness of this place lay in its skyscape and its landscape. These new additions to OM Dark Sky Park and Observatory are testament to that.
"Davagh Forest is rapidly becoming one of Mid Ulster's most enticing visitor destinations," he continued.
However, he acknowledged that it remains "true to an ancient landscape, a history and heritage that spans millennia, and a community that is passionate about the place where they live."
A fantastic attraction celebrating the solar system – lots to see and discover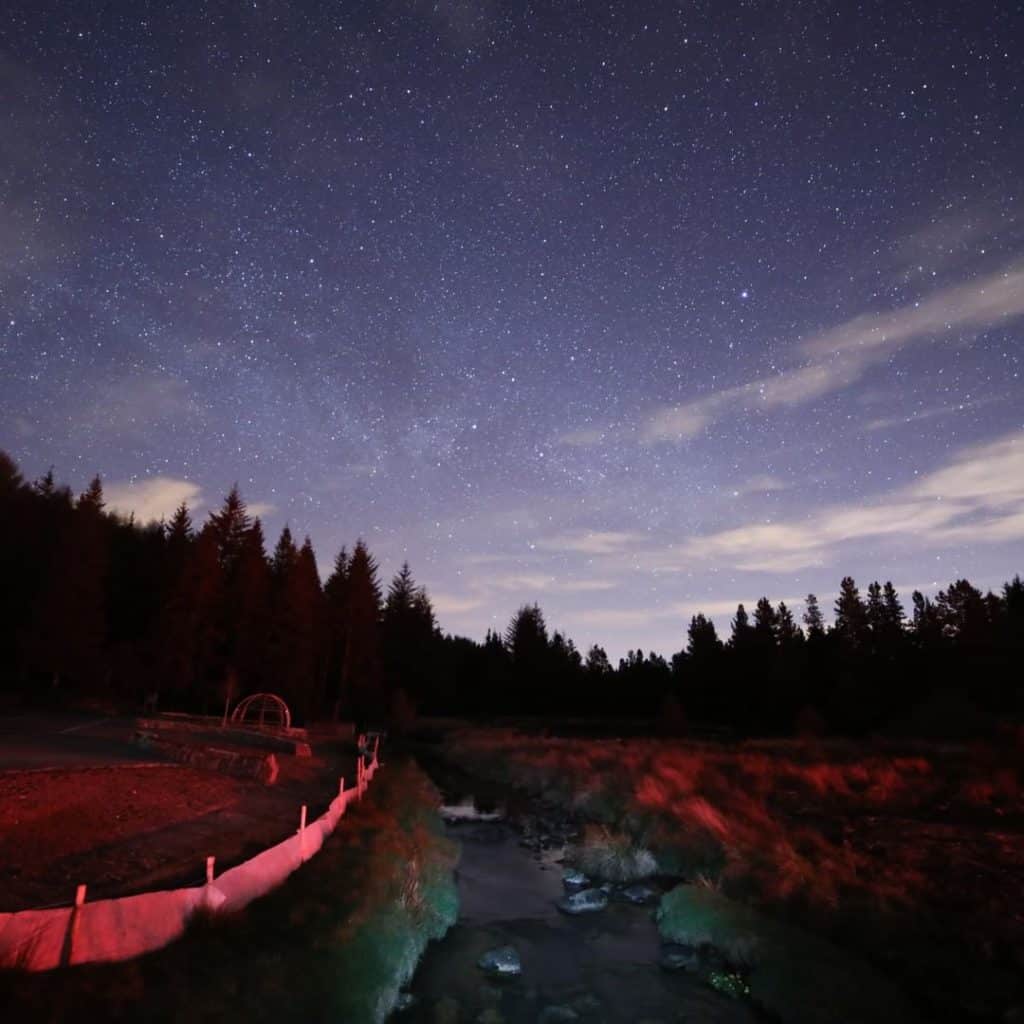 The incredible nighttime film experience is not the only new attraction at the OM Dark Sky Park. Guests can also journey along the fantastic new 3.4 km (2.1 miles) solar walk.
OM Dark Sky Park and Observatory is the only designated Dark Sky Park in Northern Ireland. It is one of only two in Ireland, with the other located in County Kerry.
The attraction is open seven days a week from 11 am to 7 pm, all year long. So, there is plenty of opportunity for guests to experience the night sky in all its glory.
Admission to the park costs £5 for adults, £3.50 for children and over 60's, and kids under two go free. Tickets for the OM Odyssey Outdoor Film Experience cost an additional £3 per person and booking is essential.