When is the first day of spring? In Ireland, it's pretty set in stone. But it may not be when you think it is.
When does winter end? Is it after the last snowfall of the year? When the daffodils begin to poke their familiar heads above the ground? Or is it on the spring equinox, which this year falls on March 20th?
In our modern calendar, the meteorological beginning of spring is March 1st. But in Ireland, people had only one answer to this question for centuries. The first day of spring, for ancient Irish people, fell on February 1st and was known as Imbolc (there's some debate in the pronunciation, but the most common is 'Im-ulk').
The date was hugely significant for ancient Irish people, marking the midway point between the winter solstice and the spring equinox. During a time before central heating and when the dangerous combination of open fires and thatched roofs could mean the death of entire families during winter, it's not surprising why.
Origins of Imbolc
Imbolc (translated as 'in the belly' – referring to pregnant ewes) offered hope to ancient Irish people that the harsh reality of winter would not last forever. It was now that cows and goats would begin to produce milk, when daylight hours were growing longer, seeds were planted, and frosts began to thaw.
Historically, it was widely observed throughout Ireland, Scotland, and the Isle of Man. Imbolc is one of the four Gaelic seasonal festivals — along with Beltane (May 1st), Lughnasadh (August 1st), and Samhain (November 1st).
Traditionally, this day was one of celebration for one of the most important goddesses in pre-Christian Ireland, Brigid.
Known as the goddess of fire, poetry, and healing, Brigid was celebrated throughout Ireland in ancient times. The Christian Church couldn't fully eradicate the love ancient people had for her. To satisfy the Pagan population, the Church transformed the deity into a saint. The feast day of Saint Brigid falls on February 1st every year and is still celebrated in Ireland and beyond.
Traditions of Imbolc
The first day of spring was marked with intense celebration. Friends, family, and neighbours would come together to feast and celebrate the return of the sun's strength, as well as their survival through the winter months.
The making of 'Brigid's crosses' is still widespread in Irish primary schools on this date. But did you know that these crosses pre-date Christianity in Ireland itself?
It is said that an earlier form of the craft once existed, with people constructing an effigy of the goddess Brigid out of rushes or straw, and hanging it above their front door to protect their homes from evil spirits and malevolent energy. This practice has somehow survived all these years, and you'll find the cross above the door in many Irish homes.
The goddess was said to visit homes on Imbolc. Ancient Irish people would perform some 'spring cleaning', brushing away the dust that had collected over the long winter months stuck indoors. They would open all the doors and windows of their homes on February 1st to welcome Brigid into their house for protection and good fortune over the coming year.
People believed that the goddess was particularly fond of women and children, and many mothers would invoke her protection in the year ahead.
The Irish first day of spring was also a time when people would pay visits to holy wells dedicated to Brigid around the country. This custom continued after Christianity spread throughout the Emerald Isle, with many wells associated with Saint Brigid.
Get celebrating!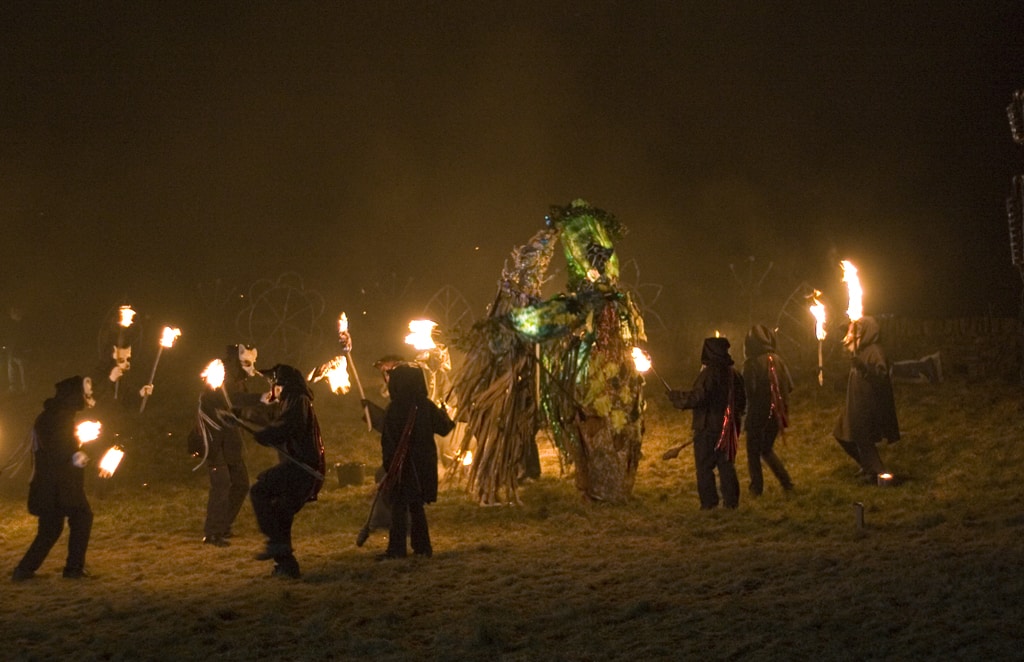 Although modern-day celebrations of Imbolc are certainly not as widespread as they were in ancient times, there's no reason why you can't bring a bit of the spirit of this ancient Irish festival into your life today.
If you fancy getting crafty, why not try your hand at making the cross, or use this day as an opportunity to get some much-needed spring cleaning done.
If nothing else, Imbolc could serve as a helpful reminder that the dark and cold months won't last forever, and there is always light just around the corner. So, go and celebrate the Irish first day of spring.