In an inspiring new video interview with The Future of Marketing TV, Ireland Before You Die founder Stevie Haughey tells the story of how it all started and shares social media tips and insights.
Kicking off a new video interview series, Peter Craven of The Future of Marketing TV sat down with Stevie Haughey, founder and managing director of Ireland Before You Die. Haughey started Ireland Before You Die in 2014 from his university bedroom, and since then it has grown into a media company inspiring people around the world to travel to Ireland.
In the interview, Haughey talked about why and how he started Ireland Before You Die, how he built a Facebook following of more than 400,000 people, and what he learned along the way. Here we share some highlights from the interview and a link to the video.
"Falling in love with Ireland again" – how it all started
When asked how Ireland Before You Die came about, Haughey admitted he never thought it would become as big as it has. "I was passionate about Ireland and wanted to put it on the map," he said. "And it sort of accidentally became what I do for a living."
Where did this passion come from? He said he owes it to the fact that he moved away from his home in Northern Ireland to attend university in England. "Being away from home, away from the Emerald Isle, you start to appreciate home more," he told Craven. "Every time I came back, I started falling in love with Ireland again, but also realised that a lot of my English friends had been to more of Ireland than I had."
Haughey felt embarrassed to admit that he hadn't been to sites like the Giant's Causeway or the Cliffs of Moher, and he became inspired to see and experience more of his homeland. In doing so, he looked for travel tips online, and what he found—or rather, what he didn't—surprised him.
"I couldn't see any cool Facebook pages that showed what Ireland was about," he said. What he did find seemed a bit "corporate" and didn't necessarily depict Ireland from a local's perspective.
That's when he decided to create his own Facebook page.
Growth and a surge in interest – 70,000 followers within the first few weeks
The "Places to See in Ireland Before You Die" Facebook page started out mainly sharing photos of Ireland, and then Haughey created a website and began sharing his own articles on Irish travel and culture as well. At the start, Haughey had no idea it would grow the way it did. He had created a few Facebook pages in the past for fun, but none of them had taken off. Something was different about this one, though. This one clearly resonated with people.
"Within a few weeks we got 70,000 followers," he said. "I just didn't expect that to happen at all." Now he has over 400,000 followers on Facebook—not mention a huge following on Twitter and Instagram, all pointing to the company's vibrant website with articles by writers all over Ireland. Ireland Before You Die even has its own shop with Irish clothes and accessories.
Haughey has received many messages over the years from people telling him his content has inspired them to visit Ireland. "That's what gets us up in the morning," he says. "Just bringing people here and showing them what it's about."
Social media tips and insights – what he's learned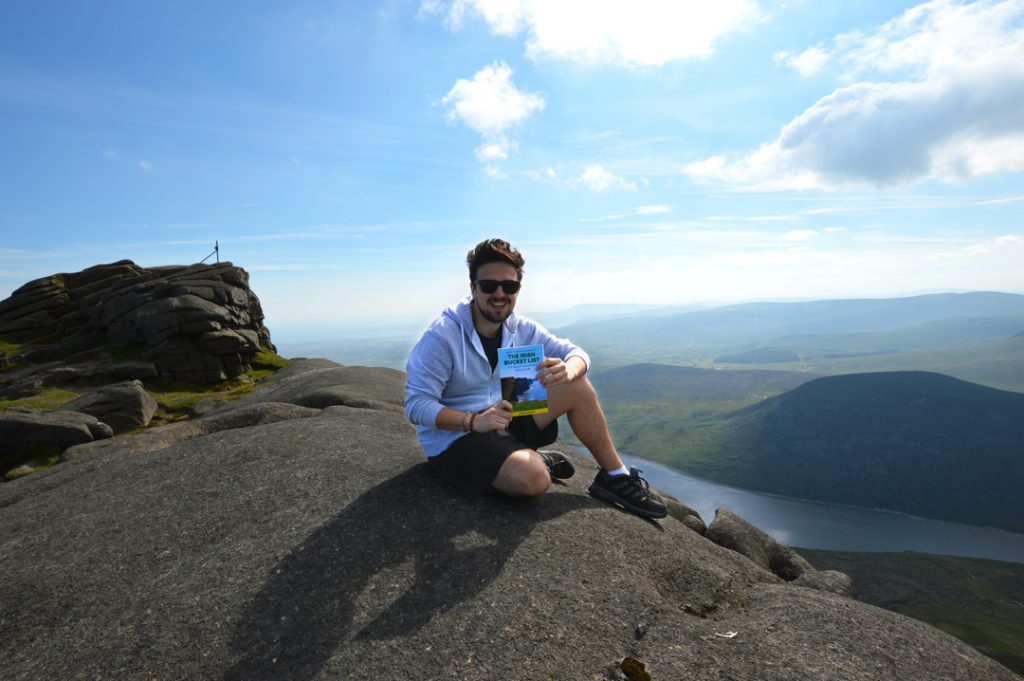 Having built Ireland Before You Die's following on his own, Haughey has acquired a lot of social media knowledge and insight over the years. The bottom line when it comes to growing a social media page, he advises, is value. "I think people go on a Facebook page to get value," he said, "whether it be educational or entertainment. And ours is being both entertaining and educational, so people do get value from our page."
He added that Ireland Before You Die's mix of community-based contributions (photos and videos submitted by followers) as well as original content (articles, photos, and videos) avoids that "corporate" feeling that Haughey knows would deter his audience—people with a love for Irish travel and culture.
The aim to is to "make cool inspiring content that people will enjoy," Haughey said. "And the more they enjoy it, the better we do."
A bright future – ideas for expansion and further growth
When asked what's next for Ireland Before You Die, Haughey expressed clear excitement. "I really want to cement ourselves as the biggest and best Irish travel website," he said, adding that in addition to continuing to produce great website and social media content, he wants to publish more guidebooks following the success of his first one, The Irish Bucket List: 101 places to see in Ireland before you die.
"And I think further down the line I would like to have my own tour company," he went on, explaining that he hopes to "give people an actual experience to go along with all the information we already give." The future, it's safe to say, looks bright for Ireland Before You Die.
The interview – watch the video
The interview with Stevie Haughey was published on The Future of Marketing TV's YouTube channel. Check it out below and let us know what you think!