As one of Ireland's most charming seaside villages, Howth is a bucket list destination. Here is your ultimate guide featuring all you need to know from where to eat, to what to see.
Howth is a quaint fishing village on the northside of Dublin, not far from the hustle and bustle of the capital city and is a great place for a sunrise in Dublin.
Having once maintained a sleepy seaside mood, it has grown to become one of Dublin's most precious jewels on the tourist trail.
With postcard settings, fantastic seafood, thriving bars, and stunning coastal hikes, this village makes for a great day out.
Let's look at little closer at this Dublin village that has captured the hearts of many tourists and Irish natives.
Overview – an amazing place to get away
The history of Howth stretches back centuries, and its presence even appears in ancient Irish mythological texts.
Acting as a working fishing harbour since at least the 14th century, it is safe to say its roots run deep into the tapestry of Irish culture.
Located in the village is one of Ireland's oldest occupied buildings: Howth Castle. This was home to the line of ancestors of the St. Lawrence family. They occupied the territory since the Norman Invasion of 1180.
When to visit – aim for the off months
Irish weather is inherently unpredictable. With that being said, it isn't easy to pinpoint an exact time or month when the climate will be favourable.
In Dublin, the summer months are typically warmer, although these are the most popular periods for crowds of tourists.
We suggest May or September, as the village will be less overwhelmed by visitors, while also retaining a buzzy atmosphere. These months can also offer some stunning sunshine, too.
What to see – there's so much to do
Howth is a fantastic destination for those who love the great outdoors and a splash of history, too.
We advise you to get a boat to Ireland's Eye (runs every day during summer and by request off-season) – a rugged and uninhabited island only a short distance from the coastline. This makes for a great day out with a picnic in tow.
Another not to miss activity that can be enjoyed year-round is a hike of Howth Head. There are lots of trails to choose from, depending on your preferences and level of fitness.
And, if you're looking for something a little more laid back, we suggest you wander the piers and check out the traditional fishing boats and views over the big blue sea.
Directions – just a short trip from Dublin
Howth is only a short distance from Dublin City. With that being said, we wholly recommend using public transport links that drop you in the heart of the village.
Both the Dublin Bus and DART (Dublin Area Rapid Transit) offer frequent services to and from the village all year round.
Things to know – full of coastal hikes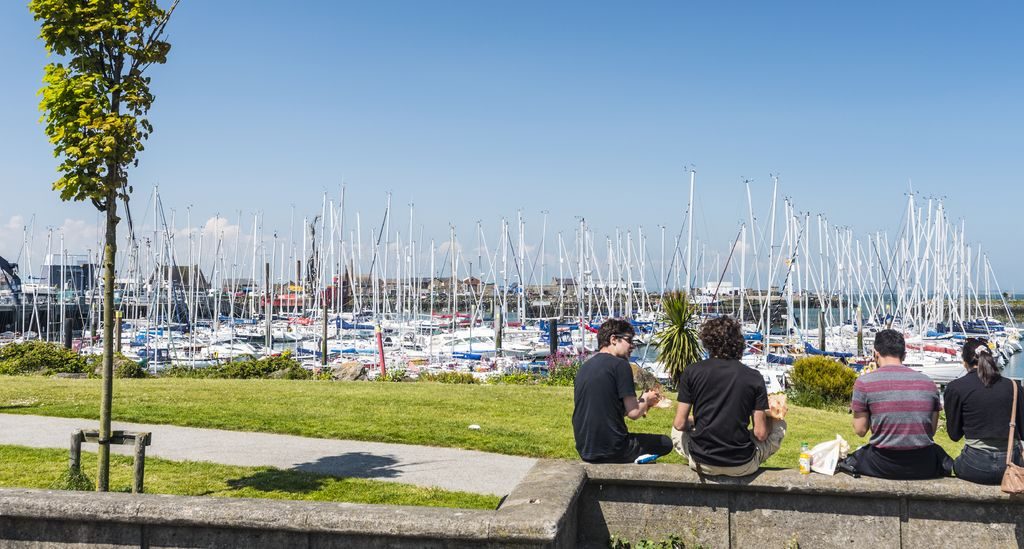 As Howth is a coastal village with challenging hikes and cliff walks, we suggest you dress for the elements.
A rain jacket, as well as some appropriate walking shoes, are a must if you intend on hitting the trails.
What's nearby? – pay a visit to the castle
Just outside the village is Howth Castle, set on the grounds of Deer Park estate. There is also the National Transport Museum, Howth Castle Cookery School, and a golf course. Not to mention Deer Park's challenging hiking trails which offer breathtaking views over Dublin City.
Where to eat – there are some amazing picks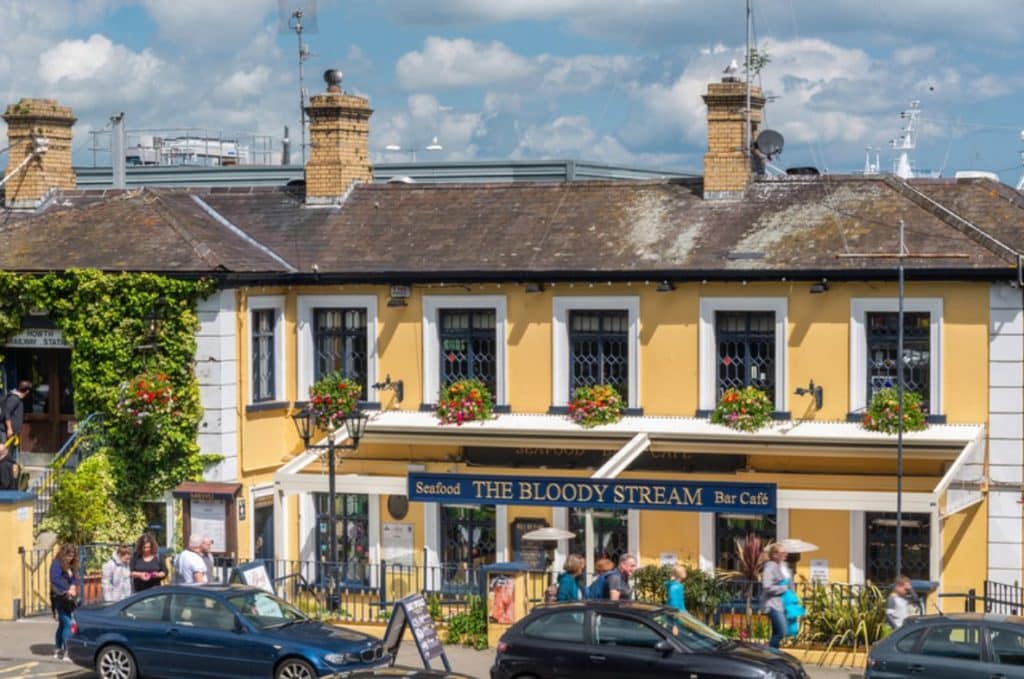 For breakfast plates and top-notch coffee, head to The Grind in the village.
Lunch is a no-brainer: The Dog House Blue's Tea Room offers a quirky and eclectic dining experience that provides cosiness and quality in equal measure.
For those keen to enjoy a classic Irish pub dinner, try out The Bloody Stream. It is conveniently located under the DART station and serves up traditional fare like chowder and fish and chips.
If you're looking for a seafood extravaganza, we suggest Aqua. This fine dining experience will not disappoint!
Where to stay – great places to lay your head
The Georgian Rooms offers elegant heritage-style lodging in the heart of Howth Village. Expect style, sophistication, and the buzz of a vibrant seaside village just outside your door.
Located on the waterfront, King Sitric is a popular seafood bistro that also offers boutique accommodation. Modern and airy, these nautical-inspired rooms are ideal for your Howth adventure with views across the bay.
If you're looking for a more laid-back, local experience, we suggest the Gleann-na-Smol three-star B&B. Expect a casual and homely approach to lodging, close to all the attractions that are on offer.
Addresses:
Ireland's Eye: Location: Irish Sea
Howth Castle: Address: Howth Castle, Howth, Dublin, D13 EH73
National Transport Museum: Address: Heritage Depot, Howth Castle Demense, Northside, Dublin
Howth Cookery School: Address: Howth Castle, Deer Park, Northside, Howth, Co. Dublin
Deer Park Golf: Address: Howth, Dublin, D13 T8K1
The Grind: Address: St Lawrence Rd, Howth, Dublin
The Dog House Blue's Tea Room: Address: Howth Dart Station, Howth Rd, Howth, Co. Dublin
The Bloody Stream: Address: Howth Railway Station, Howth, Dublin
Aqua: Address: 1 W Pier, Howth, Dublin 13
The Georgian Rooms: Address: 3 Abbey St, Howth, Dublin, D13 X437
King Sitric: Address: E Pier, Howth, Dublin
Gleann-na-Smol: Address: Kilrock Rd, Howth, Dublin