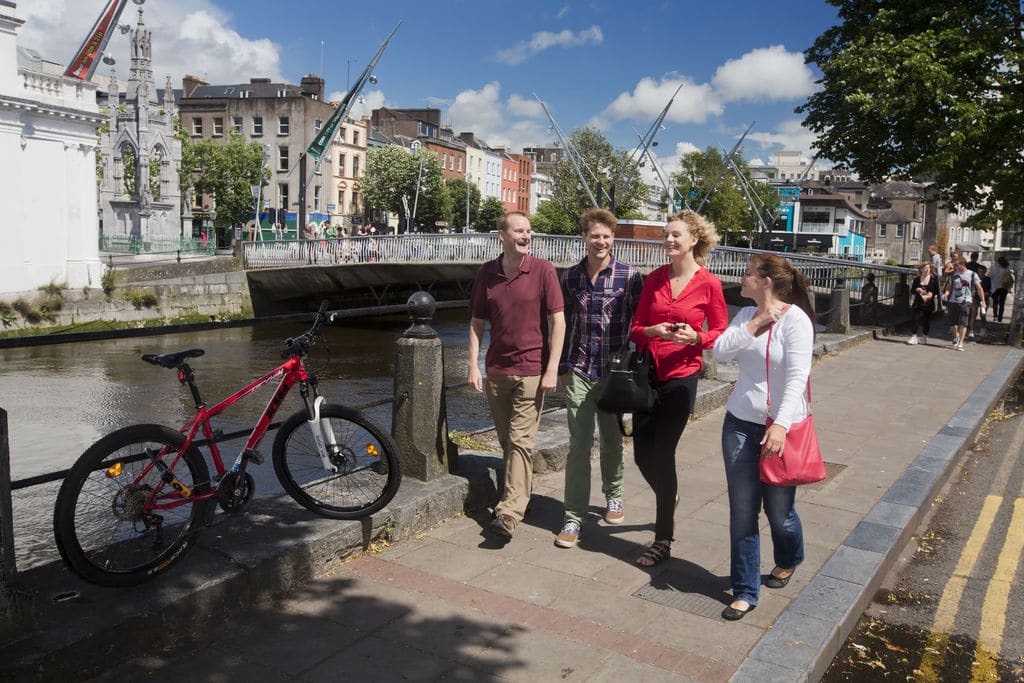 Cork is Ireland's most southern city. It is a fantastic city, full of culture and warmth.
There's just so much to experience in Cork, from scenic tourist attractions to amazing food to historic spots, that it can be hard to know where to start or what to include in your day.
That is why we've put together an itinerary for the perfect day in Cork.
Liberty Grill
Cork has so many excellent restaurants to choose from, however, if you're looking to have breakfast in the city, look no further than Liberty Grill. It is a really eclectic, chill place to start your day and energise yourself for the day ahead.
Opening at 8 am Monday to Saturday, Liberty Grill serves brunch, using only the freshest ingredients, locally sourced with seasonal highlights. It includes classic brunch options such as Eggs Benedict and French Toast.
Their menus are suitable for vegetarians and vegans alike, with a selection of appropriate dishes available.
Address: Washington House, 32 Washington St, Centre, Cork, T12 T880, Ireland
Blarney Castle or Fota Wildlife Park
Pass your morning discovering something new, choose one of these fabulous, famous tourist attractions to visit.
A lot of people are aware of Cork's Blarney Castle but don't know that there are also wonderful gardens on the grounds of the castle to explore. Inject a bit of magic into your visit and kiss the famous Blarney stone.
The legendary Stone of Eloquence, found at the top of our tower has a folklore tale attached to it: kiss it, and you'll never again be lost for words.
Take advantage of your day in Cork to discover and learn about wildlife at Fota Wildlife Park. It makes for the perfect family day out. They have every animal and bird you can imagine and then some you cannot.
With birds and animals gathered from all five continents, you're bound to learn something new with your visit.
Address: Blarney, Cork, Ireland & Fota, Carrigtohill, Cork
Shopping at Opera Lane
Indulge in some shopping on Opera Lane, Cork's favourite shopping district. It's one of the best places to shop as they have a wide range of popular stores all on one street.
You can find Topshop, H&M, Sketchers, Topman, River Island, Compu b, Office Shoes, Tommy Hilfiger, Starbucks, Specsavers, Therapie and the Gap all in one convenient location.
With that range of selection, you're bound to find something you want here.
It's a great place to shop if you get tired easily. If you're waiting for your friends or partner to finish shopping and you're all shopped out, you can stop off for a coffee at Starbucks, just at the top of the street.
Address: Princes St, Centre, Cork
O'Conaill Chocolate Shop Café
Pop into O Connails café after your shopping to rest your feet and relax with an absolutely delicious hot chocolate. It's a quirky little café and you can also sit outside.
If it's a nice day it's a great place to watch the world go by. The hot chocolate here is made from real chocolate and it's out of this world, it's even served with little chocolate drops.
There are loads of different flavours to choose from if you want a change from your usual hot chocolate, including orange flavoured hot chocolate.
If hot chocolate isn't your thing you can order barista coffee or a selection of other drinks as well. If you're feeling peckish you can also sample a selection of fresh cakes from their bakery.
Address: 16B French Church St, Centre, Cork, Ireland
English Market
Explore the historic English Market, serving the people of Cork City since 1788. It's a covered market so no need to worry about rain spoiling your experience, even though we 're used to being prepared for bad weather in Ireland.
It's one of the oldest municipal markets of it's kind in the world. The place is full of food, meat, fish, Cork speciality spiced beef, wines, fine chocolates, game and cafés.
Take your time strolling around and taking in all of the stalls and produce the market has to offer. It's even just a great place to get a coffee and people watch.
Address: Princes St, Centre, Cork, Ireland
Luigi Malones
In the centre of Cork city, Luigi Malones is the perfect place to stop by for some dinner. There's a 2-course lunch menu for €10 if you fancy eating before 4 pm.
The curtained entrance makes you feel like you're stepping into a magical escape, with high ceilings and plush, colourful furnishings. You might want to book beforehand as this place is really popular and can get quite busy.
Their menu is quite extensive and there's bound to be something for everyone to enjoy, from pizzas, salads, steaks, nachos, salmon, pasta and hamburgers.
Address: 1-2 Emmett Pl, Centre, Cork, T12 PN56, Ireland
Cork Opera House
If you're planning a day out in Cork why not finish your day by taking the weight off your feet and catching a show at this leading venue?
Cork Opera House has been entertaining the city for more than 150 years with everything from opera and ballet to stand-up comedy, pop concerts and puppet shows.
Cork Opera House has tons of great shows but make sure you book in advance to avoid being disappointed.
If you're looking for something a little lower key, Cork is filled with eclectic pubs and has an amazing pub scene.
Address: Emmett Pl, Centre, Cork, Ireland
Experience the Amazing Pubs of Cork
Once you have had a great day in Cork, there's no better way to finish off your day than having a drink in some of Cork's finest pubs!
Cork has a wide range of pubs to suit everyone. Because there is so many, you are best checking out our pub guides below on Cork's pubs to find the right one for you:
Five Cool and Quirky Bars in Cork You NEED To Experience
The 10 Best Beer Gardens Cork City Has To Offer
The 5 Best Cocktail Bars In Cork
The 12 Pubs of Christmas Route in Cork City