For those looking to escape the humdrum of everyday life, we have just the ticket.
Ever dreamed of stepping into The Shire? Well, these 'hobbit huts' in Mayo could be just what you're looking for.
While staying in luxury digs or chic city apartments may be just what the doctor ordered, sometimes it is good to branch out and try new things. A stay in one of the incredible 'hobbit huts' for rent on Airbnb is the solution, we think.
Located in County Mayo, this unusual 'glamping' (essentially a term for fancy camping) experience is likely to be unlike anything you've ever experienced before.
Especially if you've ever fantasized about living in the Shire region of J. R. R. Tolkien's fictional Middle-earth, it will be worth every penny to rent one of these 'hobbit huts' in Mayo.
The property – live like a hobbit underground
The listing on Airbnb for the 'hobbit huts' in Mayo reads, "Ever wondered what it would be like to live like a hobbit underground? Our little, earth-covered house is nice and toasty." We're sold!
This unique property evokes notions fit for a fairytale and is as charming as they come.
Sleeping in the serenity of the Mayo countryside, this set of 'hobbit huts' sits on a 'glamping' ground that offers an array of unique accommodation options.
The 'hobbit huts' are recessed into rolling green hills with stone façades and charming front courtyards fit for fairies, along with a fire pit and seating.
There is an on-site communal kitchen, which guests have 24-hour access to and even a games room fitted with a pool table and cinema screening room.
As if things couldn't get better, guests can stream videos or films directly from their phone (Netflix, YouTube, etc.) onto the large-scale projector screen. Talk about living it up!
If you're not already packing your bags and heading online to rent one of these 'hobbit huts' in Mayo, you will be when you learn there is even an on-site hot tub. Note: Access to the hot tub must be prearranged with the host.
And lastly, to top it all off, an authentic pizza oven is available for guest use. All you have to do is bring your own ingredients or a pre-made pizza and bake away!
The fine details – the little extras that make this place so special
These unique 'hobbit huts' are as cute and charming as they come. With creativity and concept interwoven into every aspect of the design, guests are sure to be transported to fantasy land.
Round windows, grass roofs, and fairy-style doors (which will fit a grown human, don't worry) denote the design and ensure you'll be enchanted from start to finish.
The huts each consist of one double bed and a sofa bed, sleeping a total of four guests.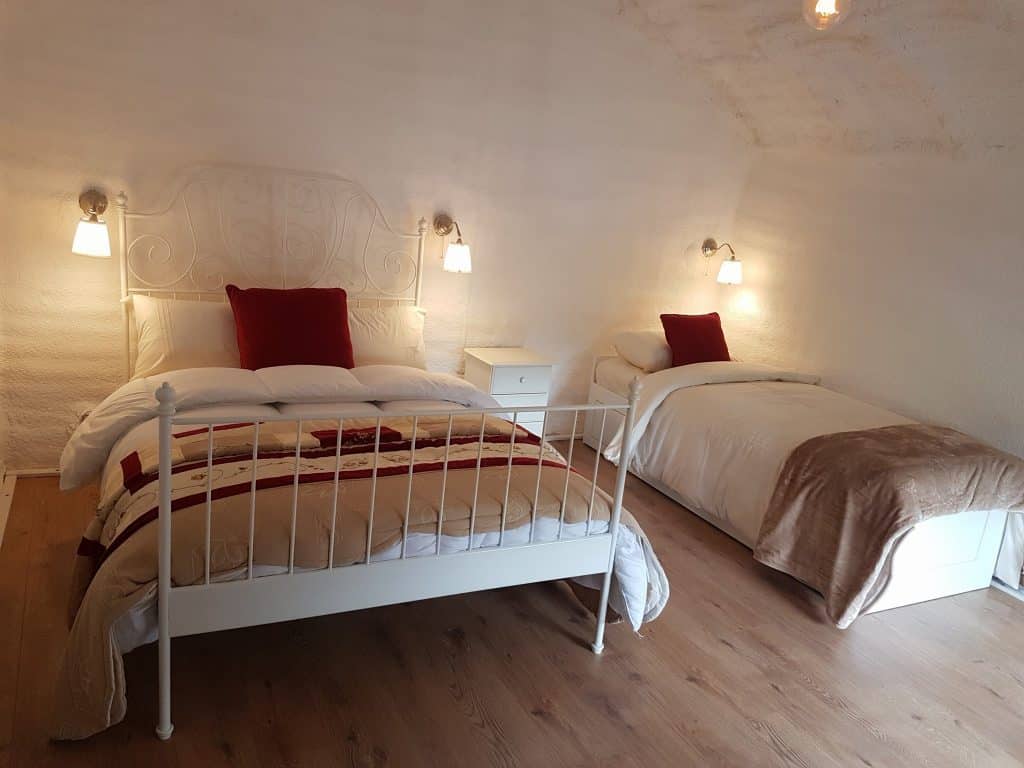 While there are no kitchen, toilet, or shower facilities in the huts, guests are encouraged to make use of the communal spaces and share this one-of-a-kind experience with the other guests.
The communal kitchen boasts all modern amenities. It is fully stocked with unlimited cereals, tea, and coffee to kick-start your morning in the stunning surroundings of County Mayo.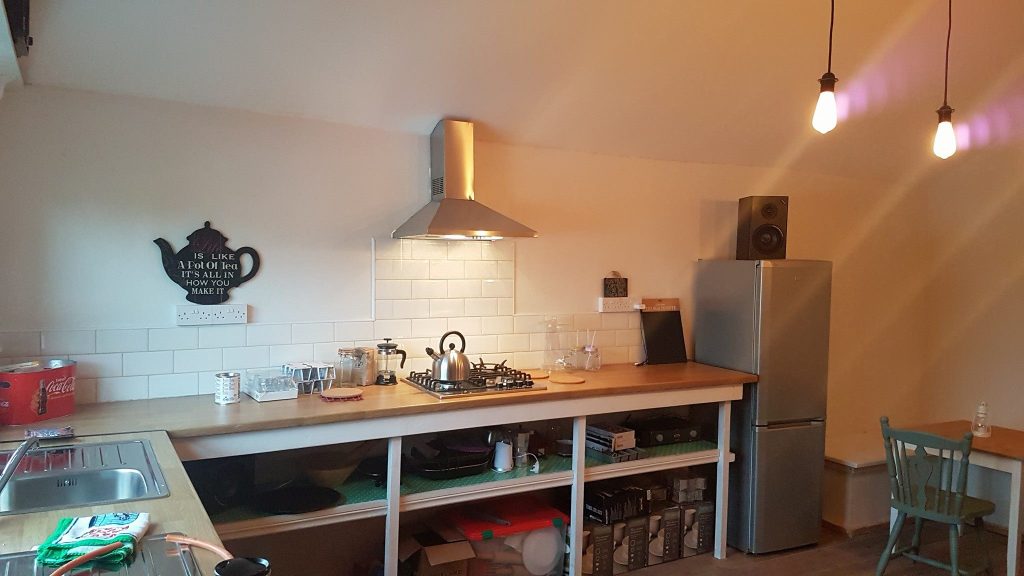 The property makes for a much-needed detox from the hustle of everyday life. With that being said, it is important to note that there is no Wi-Fi or standard TV on-site. However, there is the cinema room!
There are unlimited fire logs to keep the guests keen and outdoors in front of their very own fire pit. Stargazers and nature enthusiasts are bound to have a blissful time.
The reviews – guests love it here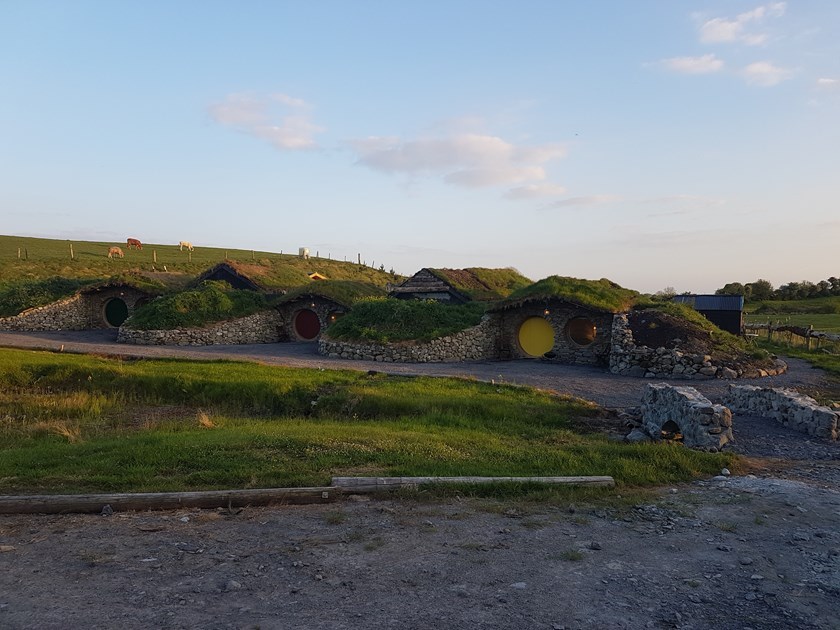 Across the board, this unique property has smashed the reviews. Airbnb considers several factors when it comes to property reviews, including accuracy, communication, cleanliness, location, check-in, and value.
And for this fantasy escape? Five stars across the board!
One guest wrote, "If I could give Stephen 6 stars, I would. An excellent host with beautiful accommodations (especially if you're a Lord of the Rings fan). Even though the weather was a bit rough, Stephen still showed us an amazing time. Would highly recommend the hot tub even if it's cold out. Definitely coming back!"
Another guest shared a similarly spectacular experience: "Stephen's place is incredible. My girlfriend and I made homemade pizzas using the wood-fired oven and then relaxed in the sauna and hot tub. I highly recommend Mayo Glamping!"
If you're keen to rent one of these 'hobbit huts' in Mayo, we suggest you book well in advance. This unique property is in high demand. You can book via Airbnb here.
Get featured on Ireland Before You Die
Do you want to get your Irish business more online exposure? Especially to those interested in travelling the best places in Ireland? Then why not get a dedicated feature on Ireland Before You Die. Find out more 
here.