Belfast is a world-famous city which is rich with history and culture, as well as industrial prowess. From excellent restaurants to historical tours, there is something for everyone to enjoy in Northern Ireland's largest city.
Besides the main and well-known attractions, there is so much more that Belfast has to offer, as it also possesses many hidden attractions that only the locals tend to be aware of.
This article lists our top five hidden gems in Belfast that the locals don't want you to know about.
5. Cregagh Glen – offers superb views of the city
The Cregagh Glen route follows an attractive glen into the Castlereagh Hills and offers superb views of Belfast from the summit. This route is also an Ulster-Scots walk and is part of the 'Danders Aroon' series.
This beautiful walk is full of rich heritage, which you can learn about along the way. Before taking this walk, be prepared that it can be a challenging but worthwhile climb!
Address: A55 Upper Knockbreda Rd, Belfast BT6 9QL, United Kingdom
4. The Great Light – one of the largest optics of its kind in the world
The Great Light is one of the largest optics of its kind ever built in the world and is approximately 130 years old, weighs ten tonnes, and measures seven metres tall.
The Great Light is a unique maritime heritage object which has played a considerable role in Belfast's economic, industrial, and maritime past.
As an exceptionally rare maritime artefact which produces one of the strongest lighthouse beams ever to shine, this irreplaceable relic is well worth seeing.
Address: Titanic Quarter, The Maritime Mile, Belfast BT3 9FH, United Kingdom
3. Colin Glen Forest Park – one of Ireland's best-kept secrets
Colin Glen Forest Park is undoubtedly one of Belfast's hidden gems, as it is one of Ireland's best-kept secrets.
Colin Glen is Ireland's leading adventure park and covers over 200 acres. At this state-of-the-art adventure park, you will find a land of storytelling full of world-class attractions.
Located just a short drive from Belfast city centre, Colin Glen is the perfect place to visit for anyone looking to experience a fun-filled day.
Address: HXC8+HH, Belfast BT17 0BU, United Kingdom
2. HMS Caroline – experience what life was like on a historic ship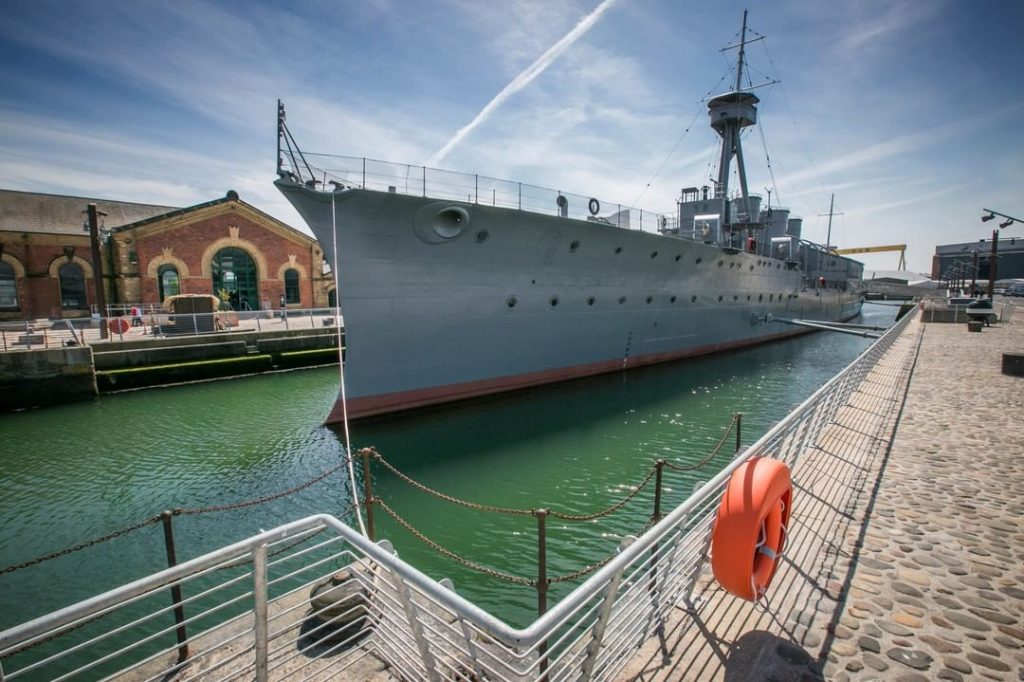 Have you ever wished to experience what life was like on a historic ship? If your answer is yes, then a visit to the HMS Caroline located in Belfast's Titanic Quarter should be on your itinerary.
The HMS Caroline will let you take a trip back in time and experience what life at sea was like during World War One.
You will also have the opportunity to get hands-on with interactive exhibits where you will have the chance to learn how to crack codes, signal ships, and launch torpedoes.
HMS Caroline is temporarily closed, but will reopen in March 2023.
Address: Alexandra Dock, Queens Rd, Belfast BT3 9DT, United Kingdom
1. C.S. Lewis Square – a must-see for any Narnia fans
In first place on our list of the top five hidden gems in Belfast is C.S. Lewis Square. The square, created to honour the famous Irish author, features over 300 native trees and seven statues of characters from C.S. Lewis's The Lion, the Witch and the Wardrobe.
The Centre also houses a coffee bar named after C.S. Lewis, known affectionately as 'Jack' to friends and family.
Address: Visitor Centre, 402 Newtownards Rd, Belfast BT4 1HH, United Kingdom
That concludes our article on the top five hidden gems in Belfast that the locals want to keep secret. Have you discovered any of them yet, and if so, how was your experience?